East Facing Vaastu Home Plan | Vastu Shastra Consultants
East Facing Home Plan : -
This is single bedroom vastu house plan. We tried maximum care in preparing this house plan according to Vaastu principles. This house is having Septic tank location, kitchen placement, Dining room, Family room, single bedroom (master bedroom), utility area, toilet, portico, water tank, stair case etc.
This plan is almost same with previous one, but the changes here are we removed one toilet and the remaining toilet merged in Bedroom. It is likes to be Northeast extension in master bedroom. The utility area remains same and all other things are also located in same areas. No changes done to other things. This plan is best one than the previous one.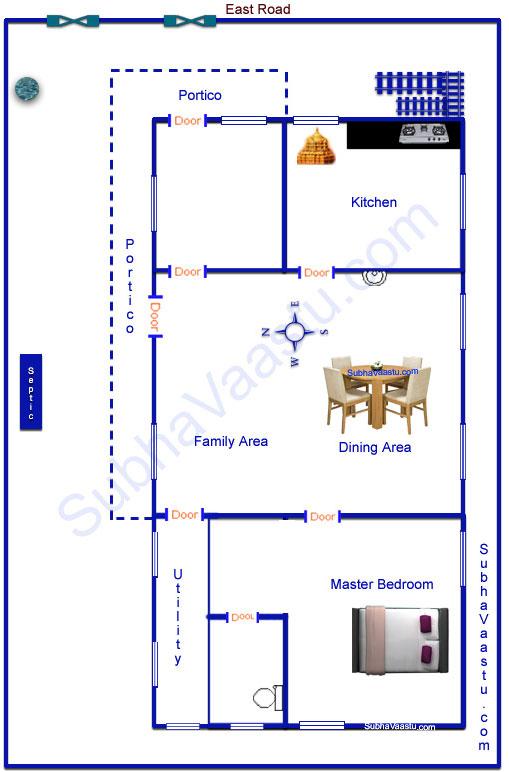 ---
---
Single Bedroom house plan, the water sump is towards Northeast, gate came towards Northeast-east direction, another gate came exactly opposite to main entrance door to the house. Septic tank came towards North direction. Master bedroom, the toilet is towards Northwest corner. Family room and dining room are attached, one kitchen and one living room. One utility area is available with this house plan. This plan is suitable for the average income group or middle class families.
---
---
---
---
Write your review on Vasthu Shastra Website SubhaVaastu.com :
Write a Review on our website. Or you may write your Opinions or suggestions . If your review is useful for the society we will publish it at our website and your name stands life long here. You may modify your review at any time, for example if you would like to change the city, country of living etc, along with this, you may ask us for change of your name, if you don't like to publish your original name. We respect your privacy, many wrote their reviews on our website, you may check at many web pages in our website.  Click this link to read many reviews from our website visitors and clients. Thanks in Advance.