Details

This Page Hits:6265
Vastu Consultant in Arizona | Phoenix
Vastu in Arizona: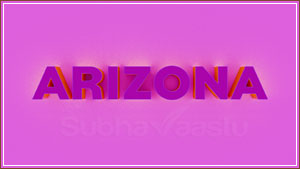 Vastu Shastra today is a renowned science that is serving its follower for centuries and helping them to gain peace, prosperity and happiness.
In our universe, there are some negative powers also present from which we need protection to ensure our happy lives and Vastu is the best answer to all these.
It is our outermost desire that you should imply the Vaastu Science before the Construction of a House.
There was once a case that a person built his Office but was facing a financial crisis and his business was going in loss. After, consulting Vastu Consultant, he made changes in his office and observed positive vibrations.
Thousands of more similar cases were regularly happening in our entire world, so better to approach one Vastu Guru before taking the office or planning to take the office.
One may check this link for "Vastu Reviews".
Same is the case with Homes, condos, and Shops, etc.
People often face tensions, instability, issues, and depression, but as soon as they imply vastu science, they have noticed positive changes with later or immediate effects.
Significant vastu tips for Arizona State
Before buying the NW facing home then first check the Northwest Facing House Vastu thoroughly and then only take the decision. Make sure to consult a Vaastu expert in your buying process.
Southwest facing house vastu often not liked by the residents but there is a good outcome of these as people have noticed positive results, once we observed the properties with all care, then residents enjoy peace and development in these homes.
US Vastu principles and Indian Vastu principles are not same, so don't rush to buy East facing house vastu, do consult a Vastu specialist before taking the step.
West facing house vastu in our opinion, are OK to buy in USA region as people are happy and experienced positive results.
Hinduism is the second-largest and one of the fastest growing religions in Arizona. Hindu culture is also thriving and most of the people are well settled and having important positions. It is our desire that these people should use and promote the Vaastu science in the Arizona state too.
Coming with Arizona Climatical conditions, its too hot, extremely sweltering summers, and mild winters.
Best time to visit are fall and later winter or early spring. Northern Arizona, including Flagstaff, Grand Canyon, and Sedona has total 4 seasons, but weather conditions are mild enough and sufficiently gentle to visit whenever we wish to.
Out of all states in USA, Arizona homes require water relaxation i.e., swimming pool. One may observe almost all the homes has swimming pools in Arizona area.
Read our Swimming Pool vastu link here.
What is vastu says with Swimming pool. Coming with main point on this pool, we need to know the latest researches. There is a confliction with vastu subject and pool placement here.
What vastu says with swimming pool.
The pool should be in the Northeast direction or North direction or East directions only. Good idea, there is no contradiction here.
On the same way many Vastu Pandits are saying that one should take only East facing house or North facing homes only. Very good.
One should learn the most important rule in Arizona or in USA. The resident should not have any pool in the front yard. This is the basic point.
Now let's start the argument. If a resident has taken East facing home, how can he built the swimming pool in the front yard? It's not permitted by the city council and local laws too and not good to see this placement in the community.
North and East facing homes only giving good results, this is another argument, now, how can we keep the pool in the home. Paramount point is that pool is required here.
Northeast Homes in Arizona State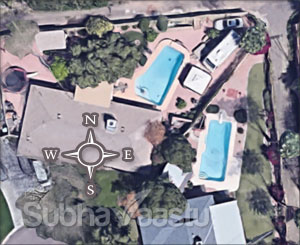 This image has two homes. These two homes are in Phoenix the capital city of Arizona state in USA. This type of placements is very rare. The main entrance doors may be in different directions. If one encounters such pool placement in Arizona state, then can try to buy such homes. But need to verify the entrance door placement.
Many were doing lot of mistakes in selecting the home in regard with vastu. Just by knowing few things in vastu, some residents buying homes with their limited knowledge. Later they are coming for remedies. Don't do such practicals. House cost is not 50K, nor 100K. Homes are costly in the USA. Some are going for 5 USD consultants. Don't reach charlatans. They are very dangerous. Life will become critical to determine many quandaries in future if taken the erroneous judgments. Be wise with life. Its most precious than any other.
6 Bedrooms and 4 Car Garages Home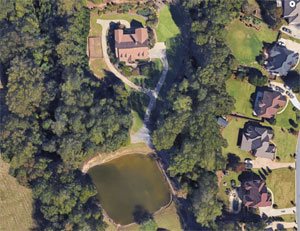 This property is "not" in Arizona, this home is in Eastern time Zone location in USA, this water pond is in South direction, pond is 2 time more bigger than the home. One vastu consultant in NJ suggested one resident to buy this home. Actually, this is very huge home. One may observe other homes at right side for comparison of this home. 4 car garage home. 5 full bath and 1 half bath, 6 bedrooms home.
Due to some other limitations, we are not interested to provide more details of this home. Why this home came to our consultancy. Note this point. Do anybody thought about the price of this home. Unbearable price.
This home elegance beguiled the buyer and spontaneously fell head over heels in love with this home beauty and bought it, perhaps, he knows about vastu prior buying this home, with his diminutive vastu knowledge and one impostor advice he fell into the trap. Due to some constraints, we are helpless to speak what occured next. Sorry.
House Construction Styles in Arizona State
Arizona lies in the southwestern part of the United States. In terms of geography, it is the 6th largest state.
Southern Arizona is hailed for its desert climate – which leads to extremely hot summers and mild winters.
Northern Arizona features pine forests, spruce trees, Mountain ranges (like San Francisco Mountains) as well as large and deep canyons (like Grand Canyon).
If are looking for purchasing a house in the naturally gifted state of Arizona, here are the common architectural styles to choose from:
1. Condominium Style
Condominiums are popular amongst those homebuyers who are seeking low maintenance cost as well as demand modern amenities.
The purchase of condominiums usually offers community bonuses – like dining, neighboring entertainment, etc.
Condominiums are available in various styles – from ground level residences to luxury towers.
The modern loft-style condominiums are usually found at One Lexington.
Condos such as Orpheum Lofts offer an industrial feel to the downtown.
2. Spanish Mission Homes
This architectural style was inspired by the California missions.
Spanish Mission houses got popularised between the 1890s and 1950s.
These houses offer a confined courtyard, thick doorways, and roofs that are constructed using clay tiles.
This style offers decorative elements as well, which can be found on the exterior arches and the roofs.
This style is well integrated with one- and two-story houses.
A classic example of this is Blosson Hills and Baltimore shadows.
3. Mediterranean Revival Houses
This style is heavily inspired by the Italian Renaissance, Spanish Colonial, as well as Beaux-Arts.
Mediterranean Revival style houses are prominently found in Arizona and most professionally planned communities use this style.
Its distinguishable features include circular windows, red-tiled roofs as well as iron balconies accompanied with window grills.
These houses are lauded to be exotic.
Classic Mediterranean houses are available for purchase in historic neighborhoods like Coronado and Mayfair.
Modern Mediterranean houses can be accessed from neighborhoods like Val Vista Lakes, Vistancia, Estrella Mountain Ranch, etc.
4. Santa Fe
Santa Fe is a classic housing style and it is estimated to be more than 3000 years old and was crafted by the residents of the Anasazi area.
During the colonial period, the Spanish and the Mexican designers brought their influence to this style. Still, the main style remains intact – which included the basic clay brick and the exterior covered with mud.
Currently, the Santa Fe style houses are made using durable plaster instead of concrete and blend the following aspects:
Hard Surface floors, raised fireplaces, and a flat roof composed of latilla and vigas. Latilla is the smaller wood poles that are rested against timber ceiling shafts (called Vigas).
5. Ranches Style Homes
Ranches are infamous for their L or U-shaped layout.
They offer a modern approach to the classic ranches of the American western time.
This architecture style was first built in the early 1920s and it expanded such that it included extensive landscaping as well as different varieties of roofing styles.
Presently the exterior of ranches can be made out of glass, wood, and even brick.
Ranches include large windows that are accompanied by overhanging roofs.
The Willo community hosts plenty of Ranches that are not tweaked in order to retain its historical relevance.
Newer Neighbourhoods like Mesa's Dahlia Pointe and Rancho Paloma also offer Ranches.
6. Bungalows
Bungalows emerged in the 19th century from the Arts and Crafts Movement.
This architectural style was created to represent the common people as people were exhausted from the lavishing Victorian-style homes.
Unlike their Victorian counterparts, Bungalows offered simplistic design and handmade craft.
They contain a fireplace in an open floor style, as well as built-in cabinets.
Bungalows got their peak after the end of World War II, and today they can be commonly found in the Roosevelt community.
7. Contemporary style houses in Arizona
As the name suggests, this style is different from the classical ornamental styles like Victorian and Tudor.
Contemporary houses are created using modern technology, special construction material, and asymmetrical in shape.
The architect responsible for inspiring many contemporary houses is Frank Lloyd Wright. His prairie style houses inspired plenty of houses in the Phoenix area itself.
Marion Estates, Marlen Grove, and Paradise Gardens are some examples of modern style houses in the Phoenix Area.
8. Pueblo Revival Style
This architectural style was inspired by the New Mexico Spanish missions and the pueblos. It got popularised in the 20th century.
These houses are made out of a flat roof which compliments their thick walls (made of plaster), while their rounded exteriors are constructed through concrete.
The doors are made out of wood and this style usually contains a backyard.
If you are looking for this architectural style, it can be commonly found in the Arcadia Historic District as well as the Coronado Historic Neighbourhood.
Arizona Overview:
Arizona is an American state located in the Southwestern region of the country. The state is one of the four corner states of the country and is 6th largest in terms of area. The bordering states of Arizona include Utah towards the North, colorado towards the Northeast, New Mexico towards the East, Nevada towards the Northwest and California towards the east.
The state is famous for its desert terrain, Canyons (most notably the "Great Canyon), Mountain ranges, National Parks, Reserves, Resorts, Monuments and Native American Reserves. The area of modern Arizona was once part of Independent Mexico but was annexed by America after the Mexican-American War.
Arizona was inhabited by the indigenous tribes for over thousands of years. Some of these tribes include Hohokam, Mogollon and Ancestral Puebloan. The cultural and religious sites of these tribes are still preserved and can be seen in different parts of the state.
The first European to explore the region was "Marcos de Niza", a Spanish explorer. Later many other explorers roamed through the region and made contacts with the local tribes. One of their main tasks was to discover the "Seven Cities of Gold" (a mythical city that was never found).
Later the region came under the reign of the Spanish Crown and was part of Mexico. In 1821, Mexico got its independence from Spain and the region of modern Arizona was known as "New California". During the Mexican-American War, the region of Arizona was ceded to America by Mexico.
By the start of 20th century, Mexican Revolution stated and Arizona saw numerous battles, raids, and skirmishes. In 1912, Arizona became the 48th state of the USA and one of the last contiguous states to be admitted in the USA.
The terrain of Arizona features deserts, mountains, hills, rivers, canyons, and forests. Forests covers approx. 27% of the area of the state. Also, the state has abundant landscapes and sceneries.
The famous "Grand Canyon" is one of the famous geographical features of the state and millions of tourists visit it each year. It is also regarded as Seven Wonders of the World. Meteor Crater is also one of the most famous destinations and one of the well-preserved impact sites.
The economy of the state is diversified while healthcare, transportation, and the government are the largest economic sectors. Other sectors include manufacturing, services, and agriculture.
Due to natural beauty and wonders, the state earns huge revenue form tourists that visit the state each year. Manufacturing items include computers, electronic equipment, electronic components, communication systems and other IT related products.
Transportation equipment includes space vehicles, helicopters, turbine engines, guided missiles, and chemicals. Other products produced in Arizona include fabricated metal products (structural and sheet metals, window and door frames), food products (soft drinks, baked goods, animal feeds, dairy products), machinery (for metalworking, electronics, agriculture) and primary metals.
Agriculture is limited in the state to lack of water and less arable land. Some of the agricultural products include lettuce, barley, potatoes, and wheat.
The population of Arizona is composed of following racial groups: White, Native American, Black, Asian (Japanese), and Native Hawaiian.
The largest ancestry groups are Mexicans, Germans, Irish, English, and Italian. Due to the state's border with Mexico, thousands of illegal Mexicans cross the border each year and enter America in search of better life and opportunities.
This is the reason Arizona has the largest Mexican population. English (American) is the most common language of the state. Other languages include Spanish, Navajo, German, Chinese, Tagalog, and Vietnamese. Christianity is the largest religion of the state followed by minority religion e.g. Hinduism, Islam, and Jews.
Hinduism is the second largest religion in Arizona after Christianity. Most of these people are immigrants from India which mostly settled in the state during 2000-2010.
Today, Hindus are fasting growing communities of the state and settled themselves in business, technological and medical fields. Also, numerous Hindu priests are present which offer religious and spiritual facilities to its followers.
Interesting Facts About Arizona State
Arizona State Capital City: Phoenix
Area 295,254 km²
Congressional Districts9
Population 7.016 million(2017 est)
Language English, Spanish, Navajo, German, Chinese, Tagalog, and Vietnamese
Main Cropslettuce, barley, potatoes, and wheat
State Bird Coues' Cactus Wren
State Animal NA
State Flower Saguaro Cactus Blossom
State Tree Palo Verde
Popular Rivers Colorado River, Whiskey Riverm Gila River, Virgin River, Blue River, San Franciso River
Spiritual Places Maha Ganapati Temple of Arizona, Sri Venkata Krishna Kshetra Temple, Shirdi Saibaba Temple Arizona, Shreenathji Haveli Pushtimarg Temple, Bharatiya Ekta Mandir, Radha Krishna Temple, BAPS Shri Swaminarayan Mandir, Jain Center of Great Phoenix, Christ's Church of the Valley, Arizona Community Church, Grace Walk Church, Central Christian Church, Dream City Church, Sun Valley Community Church, Sovereign Grace Church, Higlands Church, New City Church Phoenix, Hindu Temple of Arizona, Islamic Community Center of Phoenix, Islamic Community Center of Tempe, United Islamic Center of Arizona, Muslim Community Mosque Phoenix, Islamic Center of Tuscon, Masjid Omer Ibn Al-Khattab
Important Cities Phoenix city, Tucson city, Mesa city, Chandler city, Glendale city, Scottsdale city, Gilbert town, Tempe city, Peoria city, Surprise city, Yuma city, Avondale city
Border States New Mexico, Utah, Nevada, California, Colorado
Tourist Attractions Antelope Canyon, Lake Powell, Monument Valley, Grand Canyon Skywalk, Lake Mead, Petrified Forest National Park, Havasu Falls, Saguaro National Park, Montezuma Castle National Monument, Oak Creek Canyon, Meteor Crater, Slide Rock State Park, Desert Botanical Garden, Cathedral Rock, Grand Canyon railway, Wupatki National Monument, Red Rock State Park, Walnut Canyon National Monument, Camelback Mountain, Arziona Snownowl, South Mountain Park, San Xavier del Bac, Pima Air & Space Museum, London Bridge, Heard Museum, Biosphere 2, Grand Canyon National Park, Grand Canyon Village
Arizona Flag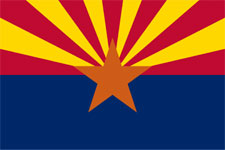 Arizona Location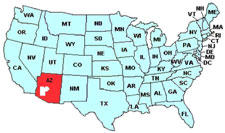 Desktop Wallpaper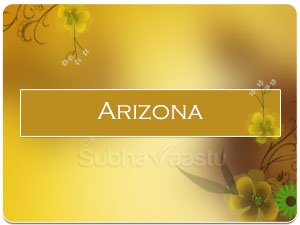 Mobile Wallpaper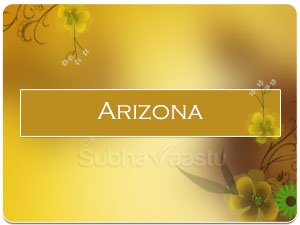 Vastu Testimonials Delivered By Respected Residents
Dear Suresh, I am pleased to inform you that like the way you provided consultation for my home and explained to me all the changes required inside and outside home. I really appreciate the diagrams that you prepared for my home with pictures and arrows showing the changes need to be done. Above all, you explained very well the reasons behind changes you recommended for my home with great clarity and sense of humor. No doubt in my mind, you are the best Vastu expert, I really appreciate your dedication by building and maintaining a very informative website that is helping thousands of people across the globe. Also, I sensed when I talk to you and when I was dealing with you, you follow honesty and integrity and you have a sincere desire to help others - Kotesware Rao - Dallas - USA
We are tech professionals and working in USA. After a year long search we brought the house. After buying the house I started looking for consultant who can help me evaluating the house. I came across Subhavaastu website which has lot of information. I contacted Mr.Suresh and requested him to help with our house vastu. It has been an incredible delight working with him.. He is very detailed oriented person and never compromises with his work. I am typically not interested to deliver the reviews. But after working with Mr. Suresh I decided to share my experience. Mr. Suresh has great expertise in providing vastu consultation to USA property. He is always available through email and phone l to answer questions. I am writing this review hoping it will help other people like me who lives in abroad. Please take advise before buying the house. I highly recommend Mr. Suresh as he has great experience with structure of USA properties and also he provides genuine consultation. I really appreciate Mr. Suresh's help in evaluating our house - Padma - Boston - USA
"I contacted Sureshji to consult on our current home. He was spot on in identifying vastu dosha in regards to the problems we were having. He suggested remedies but we are still looking for a new house. Since then I have been in touch with him for finding a right home for us. He is very sincere and truly wishes better lives for everyone. He doesn't compromise with quality and is always responsive to queries. He recommends solutions as per location as Vastu rules differ for each country. He is greatly contributing to the society with his knowledge of Vastu and dedication towards his work. Keep up the good work Sureshji and wish you success and happiness!" - Megha - Virginia - USA
I have consulted Suresh Garu during December 2014 during the process of buying a house in Texas, USA. I have occupied the house for one year now, and feel like dropping a review regarding my experience during the entire process. I am very much satisfied with the kind of service I received from him. He is very knowledgeable and I was often stunned by his detailed analysis during the course of my interaction with him. He was very much accessible over phone (perhaps more than 10 times for one house plan!) and the price is very much reasonable especially compared with the cost of the house. I noticed his burning desire to help me in making informed decisions on certain things. I have seen some people pretending to know this subject and misguiding those who come for help by saying only what we want to hear. SubhaVaastu is definitely not that one. Finally, I am strong believer of leaving certain things to experts in those subjects. I have been in US for more than 13 years and have seen people doing their own corrections (by reading website articles) trying to save few dollars. Please don't do that. You would end up in causing more damage. I highly recommend you to engage SubhaVaastu in your next project - Satish - Dallas - TX - USA
Inspirational Quotations
"As long as we require someone else to make us happy. We are slaves" - Swami Vivekananda.
---
---
"Great Personalities speak about thoughts. 'Average Person' talk about occassions. 'Narrow Minded' gossip about others." ― Eleanor Roosevelt . . . Let you question yourself, "Who You Are, either 'Great Personality', 'Average Person' or 'Narrow Minded' ?
Joke Of the Day
"A book was released and the cover name is "How to change your WIFE", and within ONE week, "25 MILLION" copies were sold. The publishers found a mistake in the title, actually, it should be "How to change your LIFE", when publishers corrected and released the new book into the market. The first month's sales were 3 copies".
Follow us on Social Media