Details

This Page Hits:300740
West Facing House Vastu Remedies And Vastu Tips
Vastu For West Direction And Fundamental Information:
How Many Degrees Is West Direction Has?
West direction has 270° (Two hundred and Seventy degrees) as per the directional compass.
Where Exactly The West Direction Is Located?
West direction is located in between Northwest and Southwest. West direction is exactly opposite to the East direction. 180° difference in between East and West directions.
Who Is the Lord Of West Direction?
This direction is ruled by Lord Varuna Dev.( Varuna is the lord/ruler of west direction. He is also the lord of RAINS which is essential for human beings and all other living things. Rain is responsible for the growth of plants and forests. Nothing can survive in this world without water.)
VARUNA has one face and two hands. He has a serpent in the right hand and a ROPE in the left hand. His Devi (Wife) is called PADMINI. He is golden textured. He rides on a big fish called MAKARA. His rope represents ATTACHMENT or LOVE. Hence, if this direction is afflicted, the people cannot detach from their bonds to family or friends and they suffer because of the excess attachment.
West direction planetary god is Shani Dev.
Means of transport vehicle is "Crocodile"
This is also called "Sunsetting direction".
Nature of this planet = Sorrows / Perseverance / Slowdown / Sustainability (Jeevanaadharam) / success raising on foes, overpower on the enemies, or defeat or gain control of opponents, (adversary, foe, archenemy, rival, challenger, competitor, opposer, antagonist, combatant, opposition, competition) and the like.
In some areas, West direction may also be called as Paschim Disha, Padamara disa, Varun dikh etc.
West is presided by Varun-God of rains. Ruled by Saturn. Hence great care has to be taken in this side.
West Direction Position in Compass?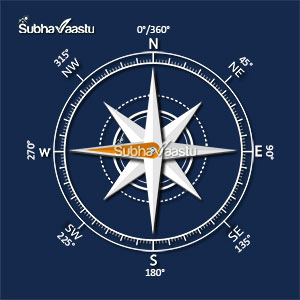 North is always showing on top and West shows on the left in maps (Observe the small circle in this image.). This is the international standard. For some convenience purpose, somebody changing the direction positions as per their accessibility purpose. In house vastu residents should be careful with this orientation. Floor should not be lower, depressed etc. Let us discuss the complete details below.
In this section, we will discuss West facing house vastu tips, remedies, dosh nivaran, solutions, corrections, and guidelines.
Further, we will discuss benefits/advantages and disadvantages, merits and demerits, defects and effects. Afterward, when we will conclude how this direction sounds good or defective. Further, we will discuss why many vastu consultants not recommending this direction to residents.
Is there any change can be possible to observe at occident countries in this direction. Is occident countries are beneficial than oriental countries. Every point is important in research.
West Direction is suitable for:
Generally, this direction is suitable for bedroom, store room, stocks room, entrance, trees, living room, pooja room, dining room, study room, conference room, family room, flower pots, foyer, home office room, guests waiting room, drinking water-can, library, showcase, male children bedroom, meeting hall, overhead tanks, (on some conditions toilet, bathroom), staircase, on some conditions kitchen etc.
West Direction is NOT suitable for:
Generally, this direction is not suitable for the swimming pool, septic tank, cesspit, water storage sump tanks, (on some conditions toilet, bathroom), girls bedroom, guest room, on some conditions kitchen etc.
West direction is called in different Languages:
| | |
| --- | --- |
| In Telugu = పశ్చిమం / పడమర | Gujarati = પશ્ચિમ |
| Kannada = ಪಶ್ಚಿಮ | Hindi = पश्चिम |
| Kerala Malayalam = പടിഞ്ഞാറ് | Maharashtra Marathi = पश्चिम |
| Punjabi = ਪੱਛਮ | Sindhi = اولهه |
| Tamilnadu Tamil = மேற்கு | Urdu = مغرب |
| Bengali (Bangla) = পশ্চিমে | German = nach Westen |
| French = Ouest | Latvian = uz rietumiem |
| Arabic = غرب | Filipino = kanluran |
| Malay/Indonesian = Barat | Italian = ovest |
| Japanese = 西 | Mandarin Chinese = 西方 |
| Russian = запад | Sinhala= බටහිර |
| Norwegian= vest | Assamese= Update Soon |
| Bodo = Update Soon | Dogri = Update Soon |
| Kashmiri= Update Soon | Konkani= Update Soon |
| Maithili = Update Soon | Meitei = Update Soon |
| Nepali = पश्चिम | Odia/Oriya = ପଶ୍ଚିମ |
| Afrikaans = Sidereal tyd | Sanskrit = Update Soon |
Residents asking their doubts:
Is West direction home is good or bad?
Need to know west facing house pros and cons?
If there any problem if I buy West facing Factory?
My friend told West facing house is bad, is it true?
Once read the entire page the doubts will be cleared. If you have any further questions, please Contact SubhaVastu
As per our knowledge and experience, all the direction properties are the same power if vastu is perfectly followed, there are no special powers allotted to one particular direction.
Easy Method To Find West Direction?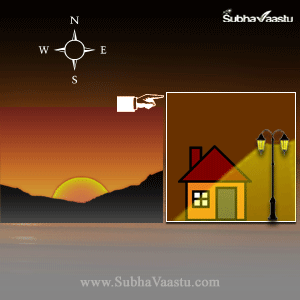 This is an animation image, prepared only for your kind information and easy understanding purpose. Here one house with a compound wall is showing and one moving hand indicating the Northwest to Southwest area. This part is called as West direction of a house or a plot.
Benefits of West Direction?
Those who live in this direction houses, (West facing house vastu direction) have bold opinions in their activities. It is very difficult to understand. Generally, they are cautious and observant in their approach.
They will not allow others to dominate them. They like to have freedom in their works. Sometimes they may have perversions also. But, they always aim for their own achievements. They will be strict in extracting work from others. Had very good love. Positive bonding with near and dears. Bold and generous people.
Normally, these residents want to see immediate results for their activities. This direction blesses energy for working, planning etc. This direction is responsible for one's professional or trade and standard in their business development.
It gives natural sunlight till late hours. Four of the demi-Gods, Pushpadanta, Varuna, Asura and Mitra occupy this sector.
Do's and Don't About West Facing Houses
When bought the Western facing plots, these procedures may help you in the future.
1. Clean the entire land. Provide more open space towards east direction to the house and less open space at west direction. More open space towards east direction removes great obstacles, or else would have to face untold miseries.
2. Low level or ditches towards Northeast is essential.
3. West floor being high and slopping towards the East in an ideal situation.
4. The compound wall in the west should be higher and thicker. Similarly, the eastern portion of the compound wall should be comparison be shorter and thinner.
5. Constructing the solid rock platforms to the west open site, not to touch the main house, is the best solution for many problems including health and finances. A lot of discussions be needed on this point. This is the most important point for people who suffer from much ill health, financial problems.
6. If on the west roadside there are ditches etc, adjoining the west compound wall, a large shed may be constructed without touching the main home, please get proper guidance from famous vastu pandit, he will guide many other points too.
7. Planting heavy trees to the West is greatly beneficial. It protects from various difficult situations. So many problems will be solved by having huge trees.
8.If on the western and southern side beyond one's plot area, if there are mounds, don't destroy them. Indeed they are good. In the same way, if there are pits on these two areas ensure they are fully filled up and would not become water bodies.
9. Planning of septic tanks towards the west is avoided.
10. Water storage tanks should not be planned at west direction.
Benevolent effects or Beneficial points of Positive Features | Pros And Cons:
1. A vastu compliant west house would lay the path for the head of the family on the path of progress, name, and fame, and standard life and the like.
2. Having larger open space towards East and North of the house would result in unimaginable blessings to the residents in particular to the male folks. Scoring over adversaries, indebtedness, losses in business, job loss etc. are some of them. In addition nagging ill-health conditions, job losses, financial stringency, men folk coming under unsocial or undesirable influences such as gambling etc would be greatly minimized to the betterment of all.
3. If the east floor is lower level than the west floor level, then good health and a happy life is the indication (for the menfolk).
4. If more open space is in the North as compared to South, financial security is assured and having money in hand.
5. If there is solid platforms or dais or pials built near to the West compound wall it bestows sound health and life security and job (work) security
6. Planting of strong trees on the west would give a feeling of security, success in every endeavor, and identity in society and bequeaths with prospering too. Blooming and gaining in business.
7. If eastern slopping verandah is built (without constricting Northeast), menfolk would have good health and financial stability.
8. If there is a basement or cellar or underground in East direction or Northeast quadrant, then money flow will be heavy and it helps to increase the peace and harmony and lowers the distress and frustration.
9. Planing swimming pool towards East direction or Northeast is a good idea.
10. Garage shed without touching the main home is too beneficial. Please ensure that the floor level of this garage should be higher than the floor level of the inside home.
11. Can have balcony or portico, but they should be properly planned by the expert only.
12. Some stating that entrance door or foyer at West direction is not good. But west entrance gate or entrance door or foyer is auspicious, for some extraordinary cases, these entrance gates may not giving good results, for example, if there is heavy open space at north direction.
13. If a residence has a huge backyard for this direction, they will get all victories, good news, best opportunities in the life, become famous in the society, their word has value in their friend circles and society.
14. This direction is best suited for scholars, religious preachers, and business establishments. This direction is recommended for politicians, leaders and big business people.
15. The wind coming from this direction is generally hot. It develops heat in the human body and the people will suffer from excessive heat-related diseases. So when the West is covered with trees and other huge buildings then bless with FAME and RICHES to the occupant.
Adverse Effects or Negative Impacts | Merits, And Demerits:
1. Any small non-compliant of vastu principles house would result in failures in life.
2. West slopping Verandah would result in ill health, paralysis, financial losses.
3. If there is no open space in the east, the adversaries becoming stronger, failure in all matters, unclear occurrences, not being able to contact the right people when needed would be the results. Fame loss, has to face many troubles.
4. If there be no open space towards the north, harassment by the female folk, or harassing then, financial losses etc are possible. If there be more open space towards the south, female folk would suffer ill health and men would suffer too.
5. Pits, ditches, well, low floor level etc in the west, would result in financial ruination, ill health, paralysis, incurable diseases, and some times death etc may be possible.
6. Water well feature in this direction may become peace ruining element.
Is Every West Facing Homes Are Bad:
In some cities/towns or areas for example, Bangalore city or Hyderabad city generally some Vaastu consultants never recommending to buy the west side plots, flats, houses, bungalows, shops, hotels, factories, etc, because they cannot explain the major or minor ill-effects of this direction.
Why they are not recommending, what are the facts and reasons behind this thought?
1. West direction house may get chances of having northern-northwest or southern-southwest street focus if it encroaches the road.
2. If there is no sufficient open space towards East then it may affect the residents.
3. Even if there is North direction plot or South direction plot is vacant in such situation also there is a high chance of getting northern-northwest or southern-southwest street focuses to this home.
4. If there is no home opposite to this home, at that time also it may tender pains. Can't get west direction support. (If there is a huge property like big home or apartment at West direction then it will provide good results)
5. Others east direction has very huge building then also there is a chance of affecting this West facing home.
6. Some homes has water storage sumps at in front of the homes, if so it will become either Southwest water sump or west water sump or northwest water sump, generally, this may damage the residents.
7. Rightway constructing the home at East and leaving more open space towards West may damage severely. For our surprise, this same structure some time may bestow with good results, as a short term and this is based on accompanying with some other surrounding facilitation.
8. Some may have basements at the west direction to keep their vehicles, in such state also it damages health, finances and many other things, we found disastrous effects of this structure.
9. Some residents constructing the portico at West and it extends towards Northwest, in such condition also they has to face many financial litigations.
10. Most of the cases, these residents may not have Northeast walks to go outside, in such circumstances also it hurts the residents.
11. Some has slanting roofs towards West direction, this could affect their finances and health grounds and life threating too.
After knowing some kind of the above information, many vaasthu experts "never" recommending residents to buy west facing homes. Due to many reasons, most of them never explain all of the above points. This may not be their fault. Please note that Vastu Shastra is a science of nature and it always works well.
Furthermore, considering we were apportioning with West facing homes, here are two relevant chapters that are meriting scrutiny:
Southwest facing house vastu remedies in this link, we can understand how this Southwest affect the residents and what are the remedies.
Northwest Facing House vastu remedies, this NW link explains the features, merits, demerits and remedies too.
If west floor level is elevated, is this good phenomenon:
If West flooring level is higher than the East direction then the family members of that house will be happier with good events in their respective house, no enmity, and diseases will also be reduced. If mountains are at Westside, then residents will be treated as leaders in their region and religion, that enormously impression mounts from that home vastu. The affliction of this direction may lead to ill-fame of the occupants, sorrows, ill-health etc.
Some say east facing house is Good than the West:
Sun starts his journey from East, so the warm shadows are showering at early mornings on east direction, so the east direction property is good than any other direction property. Please note one point or LOGIC here. The west direction home also east place, for that place also sun rays will touch, then the East direction and West direction properties are same almost the same here.
In some west houses sun rays may not touch, at that moment only we have to think on how to correct the house as per vastu principles.
One Example in Bangalore City:
As per one resident request, we visited Bangalore, Karnataka State. The resident selected some properties and he wants to finalize only one property among all other properties in one location.
One of his best friend who acquainted with one vastu consultant shared this information and showed properties and finally, they came to point one property, that property is East facing. When we observed the property and rejected that East facing plot and selected one West facing property. Why ? .. What is the reason behind it. (matter is from subhavaastu.com) The West facing property is having one big apartment at West direction/side. Indeed this is very favorable.
Regarding their selected East facing property, East side land is like a mountain/upper level. West floor elevation bringing good luck but East land elevation bringing bad luck. Surroundings strike an energetic role for the future secured and comfortable life.
Manmade Bad Street Focus:
Caution, while buying this west facing plots, houses, factories, flats etc, residents should approach only expert vastu consultant and buy after their approval (please avoid frivolous scholars in the market.). There are several precautions before buying this west facing properties. For your information, just observe this sample image.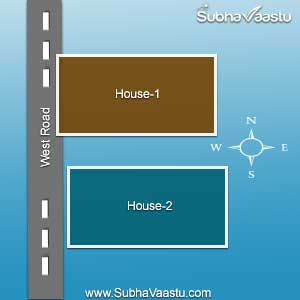 Here two houses are shown with "House 1" and "House 2". Both houses are west facing houses only. Looking for your deep concentration here, please carefully observe both images. "House-1" encroached road i.e., extended to the road and the "House-2" is parallel to the road. Due to this encroachment "House-1" hit by Southwest-south street focus and Northwest-north street focus. This is not at all good. Without having knowledge of some residents encroached roads, this could damage their life. That is why west facing homes should not overstep road.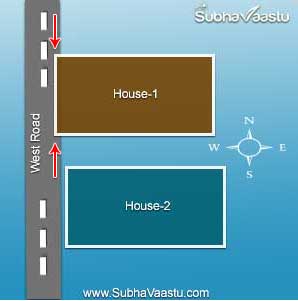 Now it is very clear to understand the Northern-northwest street focus and Southern-southwest street focus when a property is enchroaches the West side road, both arrows shown with red color for your understanding purpose. With this "House-1" stepinto road the "House-2" will become safe.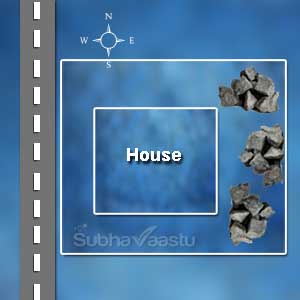 Observe this home. East open space is more than double of West open space. The homeowners kept many stones at backyard i.e., at east direction. Please note that we should not hold the stones, a heap of stones, waste materials, stock items, garbage, store materials, keeping such materials makes residents life more troubles, for example, loss of wealth, mental stress, the absence of peace of mind, troubles to the kids, strain, and fame loss etc. The immeasurable idea here is, removing all these unusable material and keep at Southwest corner or upstairs southwest portion areas, or sell them or through them etc.
Questions And Answers:
1. Can we have water wells, ponds, water lakes, rivers, stream, torrent at West direction?
Ans: No, this could damage many things. Don't buy such plot/house.
2. Can we plant Trees at West direction?
Ans: Planting trees at West direction is awesome. This is indeed very excellent thought. Please plant heavy trees at West direction.
3. Buildings or Apartments at the west direction executes any harm to us?
Ans: Huge buildings, Apartments, heavy structures at west direction is auspicious.
4. Planning to buy one West facing plot, opposite there is open vacant land, is this good?
Ans: When there is open land exactly opposite to the West facing home, then keep pending of buying the home, if you are buying the vacant plot, then don't construct until the opposite site owners started their construction. Or ask one vastu expert to visit and get his guidance. Please note that huge west open land may trouble the residents that they never imagine. Can't explain some of their troubles, but they may be severe, harsh and rigorous. If residents found a plot or home that has huge West open land, then without experts advice don't buy it.
5. Found one huge water tank opposite to our plot, (big storage structure on 8 pillars), is this good?
Ans: Having storage water tank at West direction supports you financially and physically. This may assist you to grow well. Further this never harms you. If this pillar structure has any storage room at bottom or footer level then this could vouchsafe with qualitative results. For further more guidance, approach one vastu pandit, he will guide you.
6. Can we plan septic tank at West direction?
Ans: Don't do that, septic tank at west direction is not good idea.
7. Mountains and hillocks at West direction is good?
Ans: Yes, absolutely good.
8. Having electricity power polls and transformers are good?
Ans: Having electrical polls is good, but for transformer, some issues are coming, for remedies please approach expert.
9. Having water storage sump is good or bad?
Ans: No, absolutely not good.
10. Mountains and hillocks at West direction is good?
Ans: Yes, absolutely good.
11. Can we plan basement/cellar for West facing house?
Ans: It is OK, but the basement (cellar or under ground room or Crypt or undercroft, tenement, Dunny, lower ground floor, mezzanine) should it continue upto Northeast corner.
12. Can we construct car shed or car garage, can we keep vehicles for parking,?
Ans: Yes, absolutely good, but the shed should not touch the main home, independent structure is really helpful. This shed can touch the compound wall (boundary wall)
13. Having entry door or entrance gate or window is harm to us?
Ans: No not at all, one can plan a gate or door at this direction. Window never do any harm.
14. Can we have home office at this direction?
Ans: Yes, accepted.
15. Can we have pooja room?
Ans: No problem, but first check to plan pooja room at either east or North directions.
16. Can we have garden?
Ans: Yes, but it should not be wider than the garden at East direction, if there is no garden at East direction then garden at West direction may not give good results, if resident is strict to have garden then plant very huge trees in this location.
17. Having internal or external staircase/steps is acceptable?
Ans: Internal is perfectly acceptable, but external staircase need to get experts advice before planning.
18. Can we plan elevator / lift?
Ans: Yes, acceptable Please check this vastu for lift link.
19. Can we keep treadmill?
Ans: Yes, definitely.
20. Mountains and hillocks at West direction is good?
Ans: Yes, absolutely good.
21. Keeping rocks at this direction is good?
Ans: Yes, certainly good.
22. Having sewage line at west direction makes any harm to us?
Ans: Normally, sewage lines at west direction is not recommended. But most of the towns, cities, has such feature, please close the top of this sewage lines with kadapa slabs.
23. Planning to construct toilets at West direction is OK?
Ans: Under some conditions it is acceptable. The toilets floor should not be depressed or lower than the main house floor, if it is mandatory then plan for 1 or 2 inches. Further construct one feet platform at West part of this toilet. First preference for the toilets is Northwest.
24. Having porticos is good idea ?
Ans: Yes, it is allowed.
25. Can we plan for master bedroom?
Ans: Yes, perfectly acceptable and indeed this is excellent idea.
26. Is constructing store room or stocks at this location?
Ans: Yes, very good idea.
27. Can we plan for water fountain?
Ans: Yes, you can, but the floor of this water fountain should not be lower than the common other area floor, it can be elevated, then this is acceptable.
28. Is West facing balcony good?
Ans: Yes, we can have balcony, its not at all a problem.
29. Pergola or cabana is acceptable?
Ans: Yes, unquestionably good, but cabana or pergola should not touch the main home.
30. Having kitchen at west direction is good or bad?
Ans: Most favorable directions for kitchen is either southeast or second best is Northwest, if both are not comfortable then one can plan kitchen (Galley, kitchenette, cooking area).
31. Planning Lanai is good idea?
Ans: Yes, acceptable, before that please get experts advice.
32. Is Breezeway is acceptable?
Ans: Compulsory get recommendation from vastu specialist, without expert advice don't plan breezeway.
33. Our floor is height / land elevation, road height, is this good feature or bad?
Ans: West elevated floor is perfectly good.
34. Lower levels, depression or lower roads, is this attribute is acceptable?
Ans: No.
35. Keepting furniture, sofa sets is bad or good?
Ans: Perfectly good, 100% acceptable.
36. Can we plan for servant maid room or labor quarters?
Ans: Not good, but in some reasons, and in some places labor quarters or servant maid rooms giving good results, this can be explained/planned by the expert after visiting your property, so please get right advice from them.
37. West street focus is good, can we buy this property?
Ans: This is not easy question to say answer, kindly check this link for right answer street focus on west direction home.
38. Computer table is acceptable?
Ans: Yes, please sit facing towards east direction.
39. West cut or truncation is acceptable?
Ans: This can be happen when the plot is skewed, please check this link for further information. inclined homes.
40. Can we extend West direction?
Ans: This happens only the site is inclined. West extension is not good. But in some few reasons, this may not damage the residents welfare.
41. Is west facing home good for rent?
Ans: If vastu of that house is good, then one can enter into the rental agreement. Please read the above points to understand whether this orientation properties are good or bad.
42. Where should we plan the conservatory?
Ans: This orientation is also good for conservatory, you can also plan for elevated floor level for this conservatory. Evening times will get very good sunlight. You know about importance of Sun rays and sittig before Sun at evening times. When conservatory planned properly, residents will reach here regularly and will get sunsetting sunlight and sun rays. Good for health, will get vitamin D.
Can I buy a West facing plot as an investment property though there is no homes opposite to my interesting plot, looking for your assistance - Rohit - Florida.
Shri Rohit Ji, if you are buying a home and living there, then it matters and we have to count everything. If you are buying an investment property that too a open plot, and there is no any homes opposite to your plot, then you can buy this west facing plot, but don't plan to construct home as of now. Once the opposite plot owners started construction then you can start your home construction. This is a safe method.
Vastu Testimonials Delivered By Respected Residents
Dear Suresh, I am pleased to inform you that like the way you provided consultation for my home and explained to me all the changes required inside and outside home. I really appreciate the diagrams that you prepared for my home with pictures and arrows showing the changes need to be done. Above all, you explained very well the reasons behind changes you recommended for my home with great clarity and sense of humor. No doubt in my mind, you are the best Vastu expert, I really appreciate your dedication by building and maintaining a very informative website that is helping thousands of people across the globe. Also, I sensed when I talk to you and when I was dealing with you, you follow honesty and integrity and you have a sincere desire to help others - Kotesware Rao - Dallas - USA
We are tech professionals and working in USA. After a year long search we brought the house. After buying the house I started looking for consultant who can help me evaluating the house. I came across Subhavaastu website which has lot of information. I contacted Mr.Suresh and requested him to help with our house vastu. It has been an incredible delight working with him.. He is very detailed oriented person and never compromises with his work. I am typically not interested to deliver the reviews. But after working with Mr. Suresh I decided to share my experience. Mr. Suresh has great expertise in providing vastu consultation to USA property. He is always available through email and phone l to answer questions. I am writing this review hoping it will help other people like me who lives in abroad. Please take advise before buying the house. I highly recommend Mr. Suresh as he has great experience with structure of USA properties and also he provides genuine consultation. I really appreciate Mr. Suresh's help in evaluating our house - Padma - Boston - USA
"I contacted Sureshji to consult on our current home. He was spot on in identifying vastu dosha in regards to the problems we were having. He suggested remedies but we are still looking for a new house. Since then I have been in touch with him for finding a right home for us. He is very sincere and truly wishes better lives for everyone. He doesn't compromise with quality and is always responsive to queries. He recommends solutions as per location as vaastu rules differ for each country. He is greatly contributing to the society with his knowledge of Vaastu Shastra and dedication towards his work. Keep up the good work Sureshji and wish you success and happiness!" - Megha - Virginia - USA
I have consulted Suresh Garu during December 2014 during the process of buying a house in Texas, USA. I have occupied the house for one year now, and feel like dropping a review regarding my experience during the entire process. I am very much satisfied with the kind of service I received from him. He is very knowledgeable and I was often stunned by his detailed analysis during the course of my interaction with him. He was very much accessible over phone (perhaps more than 10 times for one house plan!) and the price is very much reasonable especially compared with the cost of the house. I noticed his burning desire to help me in making informed decisions on certain things. I have seen some people pretending to know this subject and misguiding those who come for help by saying only what we want to hear. SubhaVaastu is definitely not that one. Finally, I am strong believer of leaving certain things to experts in those subjects. I have been in US for more than 13 years and have seen people doing their own corrections (by reading website articles) trying to save few dollars. Please don't do that. You would end up in causing more damage. I highly recommend you to engage SubhaVaastu in your next project - Satish - Dallas - TX - USA
Inspirational Quotations
"Never mind failures, they are quite natural, they are the beauty of life, these failures. What would life be without them?" - "Swami Vivekananda"
---
---
"Great Personalities speak about thoughts. Normal minds talk about occassions. Narrow minded gossip about others." ― Eleanor Roosevelt . . . Let you question yourself, "Who You Are"?
Joke Of the Day
Tinga Rao made a complaint in the police station and subject of the complaint is that the neighbour's wife is missing since a week.
"Then the Police asked why should you worry, when neighbours wife is missing."
"The cryptic answer of Tinga Rao was – "my neighbour is partying and enjoying the life for the past one week because his wife is missing. That I cannot tolerate"."
Follow us on Social Media