Details

This Page Hits:19019
Vastu Consultant in Hyderabad | Secunderabad | Telangana | Warangal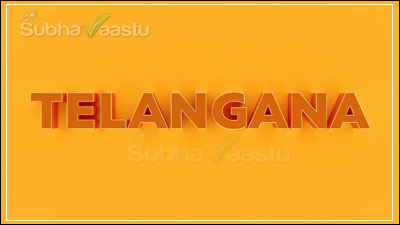 Vastu Consultant in Hyderabad, Telangana: The city of Hyderabad is famous for Dum Biryani and Irani chai. Hyderabad is a lucky city for many residents. Without advise of best vastu consultants in Hyderabad, no one is interested to buy homes. Appreciated on this awareness. Many hyderabad residents built Vastu homes in Hyderabad and still experiencing the benefits of Vastu Shastra.
Fortunately or unfortunately, some residents bought vastu books and after having some knowledge on this science and were built homes according to their own understanding of Vaastu principles. Later they are searching for Vastu remedies to come out from the adverse events.
Most of the tenants are now searching for the homes which have Good Vasthu. By observing the latest trend, owners giving high importance to house vastu and constructing the homes according to Vaasthu principles.
Right now residents are searching only for the Best Vastu Expert in Hyderabad for their homes, residents are strongly connected to the vastu consultant in Hyderabad.
Another good news is that now residents searching only for top Good Vastu Consultant in Hyderabad before buying home or plot or Flat Northeast, without experts advise no one is ready to buy a property, appreciated this change in our society.
Intelligent residents never check vastu consultant fees in Hyderabad, they are looking for the best results.
Vastu in Hyderabad:
The city is enormously developed. Now people do not have the required measuring plot within their budget, the prices unbelievably hiked. Critical thing is that if they found a good plot, there may have any legal problems or some suffering with many resources. or good labor is not available. Anyway we are providing some Vastu tips for Hyderabad city.
If they are contacting any contractor the quality is not that great. How to solve this problem? Due to a wide range of mobile phones available, labor is too busy watching movies some may be busy watching blu.... films. Labor is not properly working in the location.
We have personally observed labor watching movies in the working time. When we asking about their activity they are careless and said that the contractor is not there, yes, if there is no contractor before them, their first duty is watching the youtube channels and those blu....films. They were never interested to maintain quality. Who will save public now.
After seeing many experiences, now residents like to take only Apartment flats. It is really pity thing. When we visited for vastu consultancy services in Bahrain, we observed the same labor done excellent quality work there.
While in our inquiry they told us their contractor will punish if work is lacking with quality. Now compare the same labor works in Bahrain and in India. Who will answer for this question, whos mistake it is.
When residents planning to buy plot, please check that it should not have any water bodies at South direction or West direction particularly at Southwest direction.
When residents planning to buy a home, please check that it should not have any huge buildings particularly at Northeast.
If there is many apartments in all areas, then this Northeast apartment won't hurt, because its city, so the huge structures are common and skyscrapers also very popularly spread all over the city. Very simple logic.
If the plot has Northeast truncation then better to buy another plot.
Vastu Plots in Hyderabad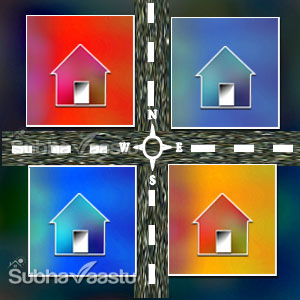 We prepared one sketch for your kind understanding purpose. In this image, the directions were marked exactly at the center of the roads. This image shows total of 4 homes. One is Northeast corner home, Southeast corner home, Southwest block home, Northwest block. Out of these 4, generally, the Northeast block home brings good luck here. After observing Neighborhood vastu we have given the recommendation to buy Southwest block home too.
Before finalizing the selection of the property, we need to observe many things, the decision may not be easy and the decision should be successful. It's highly recommended to obtain proper guidance from famous vastu consultant in Hyderabad.
One may not lose anything if they got advice from one vastu expert in Hyderabad. Their payment won't comparable with any other loss which inhabitant suffers in the future. Now we will discuss which block is good here.
In general, the Northeast block home is good and recommended by all vastu pandits. Please note that this rule may not be applicable to the apartment flats or all Northeast facing houses
తెలుగు వారందరికీ శుభాకాంక్షలు. శుభవాస్తు.కామ్ వెబ్ సైట్ ను సందర్శించినందుకు ధన్యవాదాలు ​తెలుపుకుంటున్నాము. విదేశాలలో వున్న మన భారతీయులు, ముఖ్యముగా మన తెలుగు వారు ఈ వెబ్సైటు అభివృద్ధి కోసం ఎన్నో విధాలుగా తాపత్రయ పడ్డారు.
ఏంతోమంది ఎన్నో రకాలుగా సహాయ సహకారములు అందించారు. మీ హృదయపూర్వక సహాయ సహకారములు లేకపోతే ఈ వెబ్సైటు ఇంత పేరు సంపాదించుకొనేది కాదు. ఎంతో మంది వారి ఇమెయిల్ లో ఆటో అడ్రస్ లో SubhaVaastu వెబ్సైటు ను తప్పనిసరిగా చూడండని తమ వారికందరికి తెలియజేసేవారు.
FaceBook, Twitter apps వచ్చిన తరువాత, తమ ఫ్రెండ్స్ అందరికి ఈ వెబ్సైటును తెలియచేసారు. స్వంత మనుషులు కూడా ఇంతగా తాపత్రయం పడలేరు. విద్యావంతులు ఎప్పటికి కష్టపడేవారి కి సహాయం చేసేందుకు ఎప్పుడూ ముందుంటారు. పేరు పేరునా ప్రతి ఒక్కరికి మనస్ఫూర్తిగా ధన్యవాదములు తెలుపుకుంటున్నాము. సర్వేజనా సుఖినోభవంతు.
North Street Focus House Vastu in Hyderabad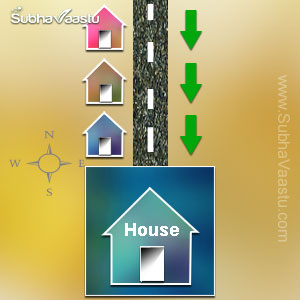 ఈ చిత్రమును గమనించండి. ఇందు 3 చిన్న గృహములు మరియూ 1 పెద్ద గృహము కలదు. ఈ పెద్ద గృహమునకు ఉత్తర వీధి పోటు కలదు. ఈ పెద్ద గృహమునకు ఈ 3 చిన్న గృహములు వాయవ్య భాగమున కలవు. గృహమునకు వాయవ్యమున చిన్న గృహములు, ఉత్తరానికి వీధిపోటు, ఉత్తర ఈశాన్యమున ఖాళీ స్థలము ను చూడగలము. ప్రతి ఉత్తర వీధి పోటునూ మంచిది లేదా చెడ్డది అని చెప్పలేము. ఎన్నో విషయాలను గమనించిన తరువాత మాత్రమే వీటి బాగోగులను విచారించాల్సి ఉంటుంది.
వీటి విషయములో ఏమైనా అంచనా పొరపాటుగా వేసినట్లయితే మొత్తం జీవితాలే నాశనమైపోతాయి. వాస్తు విషయంలో 4/5 సంగతులు తెలుసుకొని, సర్వస్వము తెలిసినట్లు ఫోజులు కొడితే చివరకు చిప్ప మాత్రమే మిగులుతుంది. అజాగ్రత్తగా ఉంటే చివరకు ఆ చిప్పను కూడా ఎత్తుకెళ్లే మహానుభావులు వుంటారు.
ఇప్పుడు ఈ వీధి పోటు మంచిదా కాదా అనే విషయం గురించి తెలుసు కుందాము. ఈ విషయం తెలుసుకునే లోపు, దయచేసి క్రింది చిత్రాన్ని కూడా ఒక సారి చూడండి.
Northwest Road Focus Home Vastu in Hyderabad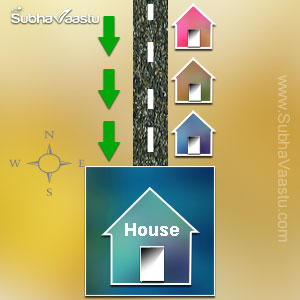 ఇప్పుడు ఆట ప్రారంభమవుతుంది, దయచేసి పైన ఉన్న చిత్రం మరియు ఈ చిత్రాన్ని రెండుసార్లు గమనించండి. అదే ఇల్లు, అదే వీధి దృష్టి, పైన ఉన్న చిత్రంలో చిన్న 3 గృహాలు వాయవ్య భాగంలో ఉన్నాయి, కానీ ఈ చిత్రంలో ఇప్పుడు చిన్న 3 ఇళ్ళు ఈశాన్య భాగంలో ఉన్నాయి.వాయవ్య భాగములో ఖాళీ స్థలము కలదు. ఉత్తర వీధిపోటు మంచిదని కొందరు, చెడ్డదని కొందరు చెప్తారు. ఇందులో ఏది నిజం. పై చిత్రములో 3 చిన్న గృహాలు వాయవ్యములో వున్నాయి. ఈ చిత్రములో 3 చిన్న గృహాలు ఈశాన్యములో వున్నాయి.
ఈశాన్యములో 3 చిన్న గృహాలు వున్న చిత్రములోని ఉత్తర వీధి పోటు మంచి ఫలితములను ఇవ్వాలంటే కష్టము. అదే పై చిత్రములోని వాయవ్యములో వున్న3 చిన్న గృహములు గల ఉత్తర వీధి పోటు గృహమునకు మంచిఫలితాలను ఇస్తుంది. అంచనాలో పొరపాటు అసలుకే ఎసరు పెడుతుంది. చిన్న పొరపాటు జీవితాన్ని నాశనం చేస్తుంది. వాస్తు శాస్త్రములో ఇటువంటివి ఎన్ని తలలు పట్టుకునేవి ఉన్నాయో, అంచనాకు అందవు.
వాయవ్యములో వున్న 3 చిన్న గృహాల వలన, ఉత్తర వీధి పోటు మరియు, ఉత్తర ఈశాన్యములో ఉన్న ఖాళీ స్థలము దాదాపుగా ఉత్తర ఈశాన్య వీధిపోటు ఫలితములను ఇవ్వగలదు. కావున ఇది మంచిది.
ఈశాన్యములో వున్న 3 చిన్న గృహాల వలన, ఉత్తర వీధి పోటు మరియు, ఉత్తర వాయవ్యములో ఉన్న ఖాళీ స్థలము దాదాపుగా ఉత్తర వాయవ్య వీధిపోటు ఫలితములను ఇవ్వగలదు. కావున ఇది మంచిది కాదు
Like to know about Vastu for East facing house click this link.
Looking for more information on Vastu for West facing house, check here.
Here is the link for Factory vastu.
Interested to know more about Vastu for North Facing House then click this link.
We tried our best to publish a lot of information on Office vastu
Had curiosity to know about Vastu for South facing house then check here.
Is really vastu helps to save our health, just try to visit this Health vastu link.
Planning to start a restaurant then check this Restaurant vastu link.
Passion to learn more on Southeast facing house vastu this would be the appropriate place.
In the year, 2016 Indian Medical Association monthly magazine published Hospital vastu
Getting tantrum after hearing Southwest facing house vastu, no need to worry. Provided appropriate info here.
Hissy fit to hear about Northwest Facing House Vastu, no way, there is a lot opportunities when we do some logical corrections.
Looking for SubhaVaastu Contact Details, it's here.
History of Hyderabad
Telangana, India's 29th state. Newly christened State of India, formed on June 2nd in the year 2014. Previously this place/land was called as Andhra Pradesh state. This land historical information was available from approximately 230 BCE.
Approximately from 230 BCE to 220 CE, Satavahana Dynasty were the rulers of this land. After their period many dynasties like Vishnukundina, Rashtrakuta, Vakataka, Chalukya, and Western Chalukya were ruled this entire land.
The word Telangana derived from the word "Trilinga", its a thought of expectation and many kinds of literature were also said the same.
Based on Hindu tale, Lord Shiva originated within lingam type upon 3 mountain tops, Kaleshwaram, Srisailam as well as Draksharama, that designated the actual limitations from the Trilingadesa, later on, known as Trilinga, Telinga, Telunga or even Telangana and Telugu.
This land was highly experienced the impressed golden period in the reign of great Kakatiya Rulers. Ganapathideva or Ganapati Devudu was a greatest ruler in Kakatiya Dynasty. He came to rule in the year of 1199.
Some literature says that during Ganapathideva period only the monument of Golkonda fort was constructed. Otherthan Ganapathideva, there are another two magnitude leaders like Rudramadevi (Prominently called as Rani Rudramadevi) and Prataparudra were greatest rulers of this Dynasty Kakatiya period.
A sequence of powerful and great leaders came from the dynasty. Their empire destabilized using the assault associated with Malik Kafur within 1309 as well as severe attacks done by Muhammad bin Tughluq, Prataparudra deva was defeated.
Kaktiya rulers ruling upto 1323. After this period under the ruling of Bahmani Sultan of Delhi was came under possession in 14th century.
Governor of Golkonda Quli Qutb Mulk fought against Bahmani Sultanate and formed or established Qutb Shahi ruling or Dynasty at about 1518.
In the year of 1687 September 21st the Great Golkonda Sultanate was arrived underneath by the Mughal Emperor Aurangzeb following a year long fight.
It means approximately one year the Golkonda fort was seized and later inside forces were weaken and Aurangzeb captured Golkonda Fort, then it came under his ruling. Later many rulers ruled this area upto Britishers invasion entire Indian land.
Telangana offers standard multicultural social history along with populace through Indian as well as outside India.
It's special lifestyle inheriting social traditions through Local customs inlayed throughout Moghuls as well as Nizams guideline along with notable as well as mainly southern Indian native customs as well as traditions.
List of Districts of Telangana State: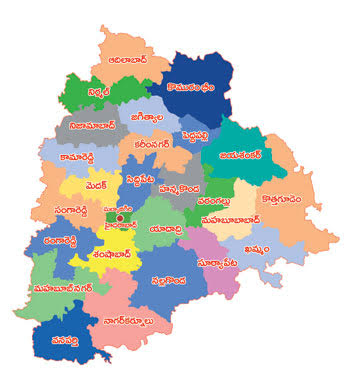 In the year 2014, June 02nd Telangana State was formed with initial 10 districts, now the changes was materialized came up with 31 districts and they are in turn divided into 584 mandals., for easy administration and increasing the number of districts for social process in which population and industry moves from urban center places to outlying districts and spreading of power away from the center to local branches, this may cause for rapid development in entire land and unemployment will also be solved.
Telangana State Capital City: Hyderabad
Area 112,077 km2 (43,273 sq mi)
Districts 31
Population 35,193,978
Literacy 66.46%
Language Telugu, Urdu
Main Crops Rice, maize, tobacco, mango, cotton and sugar cane
State Bird Indian Roller
State Animal Spotted deer
State Flower Senna auriculata
State Tree Prosopis cineraria
Popular Rivers Godavari, Krishna River, Manjira River and Musi River
Spiritual Places Alampur, Basara, Bhadrachalam, Vemulawada, Yadagirigutta, Mallela Theertham (Near Srisailam), Sri Rama Chandra Temple - Ammapalli (Near Hyderabad), Wargal Saraswati Temple (Near Medak), Medak Church (Near Medak), Chaya Someshwara Temple - Panagal (Near Nalgonda), Lalitha Someswara Swamy Temple - Somasila (Near Mahabubnagar), Kondagattu Anjaneya Swamy Temple (Near Karimnagar), Kaleshwaram (Near Karimnagar), Jatprole / Jetaprolu (Near Mahabubnagar), Edupayala Vana Durga Bhavani Temple (Near Medak), Medaram - Sammakka Sarakka Jatara (Near Warangal), Jain Temple - Kolanupaka (Near Warangal), Lakshmi Narasimha Temple - Nampally Gutta (Near Vemulawada), Kotilingala (Near Karimnagar), Sri Narayana Swamy Temple - Jainath (Near Adilabad), Chilukur Balaji Temple (Near Hyderabad), Keesara Gutta (Near Hyderabad), Sanghi Temple (Near Hyderabad), Dharmapuri (Near Karimnagar),
Important Cities Hyderabad, Warangal, Adilabad, Karimnagar, Nalgonda, Alampur, Khammam, Nizamabad, Basara, Bhadrachalam, Suryapet, Mahabubnagar, Medak, Vemulawada, Bhongir, Karimnagar
Border States Maharashtra to the north and northwest, Chhattisgarh, Odisha to the northeast, Karnataka to the west and Andhra Pradesh to the east and south
Tourist Attractions Alampur, Basara, Nagarjuna Sagar, Warangal, Adilabad, Bhadrachalam, Hyderabad, Khammam, Karimnagar, Kuntala Falls, Mahabubnagar, Medak, Nizamabad, Nalgonda, Vemulawada, Yadagirigutta, Mallela Theertham (Near Srisailam), Sri Rama Chandra Temple - Ammapalli (Near Hyderabad), Anantagiri Hills (Near Hyderabad), Wargal Saraswati Temple (Near Medak), Singur Dam (Near Medak), Medak Fort (Near Medak), Medak Church (Near Medak), Bhongir Fort (Near Nalgonda), Devarakonda Fort (Near Nalgonda), Rachakonda Fort (Near Nalgonda), Chaya Someshwara Temple - Panagal (Near Nalgonda), Jurala Dam (Near Mahabubnagar), Koilkonda Fort And Koilsagar Dam (Near Mahabubnagar), Gadwal Fort (Near Mahabubnagar), Sriram Sagar Dam (Near Nizamabad), Kondagattu Anjaneya Swamy Temple (Near Karimnagar), Kaleshwaram (Near Karimnagar), Edupayala Vana Durga Bhavani Temple (Near Medak), Ramappa Temple / Ramalingeswara Temple (Near Warangal), Ramappa Lake (Near Warangal), Medaram - Sammakka Sarakka Jatara (Near Warangal), Pakhal Lake & Wildlife Sanctuary (Near Warangal), Jain Temple - Kolanupaka (Near Warangal), Kinnerasani Wildlife Sanctuary (Near Khammam), Chilukur Balaji Temple (Near Hyderabad)Keesara Gutta (Near Hyderabad), Sanghi Temple (Near Hyderabad).
Telangana Location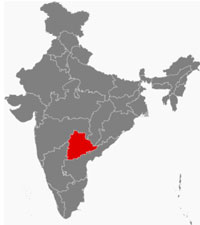 Telangana Map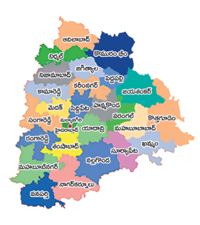 Desktop Wallpaper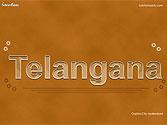 Mobile Wallpaper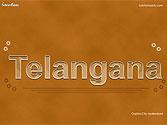 The 31 districts in the Telangana state are as follows:
Districts
Headquarters (HQ)
Mahabubnagar
Mahabubnagar
Medchal–Malkajgiri
Medchal
Nagarkurnool
Nagarkurnool
Rajanna Sircilla
Sircilla
Yadadri Bhuvanagiri
Bhongir
Present Telangana geographical map. It has boundaries like Andhra Pradesh towards South and East directions, Maharashtra towards North and Northwest directions, Karnataka came towards West direction and Chhattisgarh state towards the North-east direction.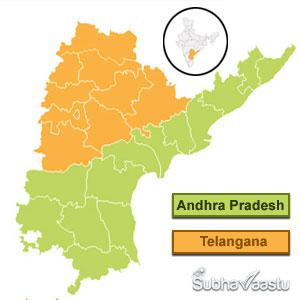 Observe the both Telangana and Andhra Pradesh states in one map.

Here we may see the both states in map. Previously it was with the same map. After bifurcation Telangana State was looks like above image.

We are proud to say that we have clients in all districts except Medak town. We have done vastu services / consultancy in all districts except Medak town. We have clients in Siddipet and visited 3 times to this town.
Small summary about Telangana districts:
We are providing every district information of Telangana below. There is a possibility of human errors in obtaining accurate data. Please help us to findout any errors in the below content, we are very ready to update with your kind altered content.
Adilabad District
Adilabad District / Edulabad District: The second biggest district in Telangana State and boundaries for this district is North by Chanda district from Maharastra and Yeotmal, East direction is again Chanda district and South is Nizamabad and Karimnagar and at West direction bounded by Nanded from Maharastra. Only 7 municipalities are there in this district, they are Adilabad, Mancherial, Nirmal, Chinnur, Bellampally, Kagaznagar, Mandamarri, Bhainsa, Utnoor, Asifabad.
There are total 52 mandals and as per source we have furnished the details below:
Adilabad (urban)
Indervelly
Adilabad (rural)
Narnoor
Mavala
Gadiguda
Gudihatnoor
Utnoor
Bajahatnoor
Bela
Boadh
Jainath
This district is famous for dhokra casting toy making crafts and its national famous.
Bhadradri Kothagudem District
Bhadradri Kothagudem district is a district in the Eastern regional part of Telangana state and headquarters located at Kothagudem town. It was carved out of erstwhile of Khammam district prior to the re-organisation of districts in the state.
The district is sub-divided into 24 mandals and they are as follow:
Kothagudem
Laxmidevipalli (New)
Palvoncha
Allapalli (New)
Tekulapalli
Annapureddypalli (New)
Yellandu
Bhadrachalam
Chandrugonda
Dummugudem
Aswaraopeta
Cherla
Mulkalapally
Burgampahad
Dammapeta
Aswapuram
Gundala
Manuguru
Julurpadu
Pinapaka
Sujathanagar (New)
Karakagudem (New)
Chunchupalli (New)
Important Places In Bhadradri Kothagudem
Bhadrachalam
Kinnerasani Dam
Kinnerasani Wildlife Sanctuary
Hyderabad District
Hyderabad District includes the area of the Greater Hyderabad Municipal Corporation, Secunderabad Cantonment, Lalaguda and Osmania University of Telangana State with 16 administrative mandals in Hyderabad.
It is India's one of the famous place for IT Hub. There are several mixed cultural people in Hyderabad district. In, 1978 Hyderabad district was split into Hyderabad Urban District and Hyderabad Rural District (which was later renamed as Ranga Reddy District.)
Charminar is famous for Pearls and bangles.
The 16 mandals of Hyderabad district are:
Amberpet
Khairtabad
Ameerpet
Marredpally
Asifnagar
Musheerabad
Bahadurpura
Nampally
Bandlaguda
Saidabad
Charminar
Secunderabad
Golconda
Shaikpet
Himayathnagar
Trimulgherry
Important places in Hyderabad & Secunderabad
Addagutta
Fathe Darwaza
Langar Houz
Safilguda
Adikmet
Gachibowli
Macha Bollaram
Saidabad
Ahmed Nagar
Gaddiannaram
Mallapur
Saleem Nagar
Akberbagh
Gajula Ramaram
Mallepally
Sanathnagar
Aliabad
Gandhinagar
Manghalhat
Sanjeeva Reddy Nagar (Ameerpet)
Alwal
Ganesh Nagar (Jeedimetla)
Mansoorabad
Santoshnagar
Amberpet
Gautham Nagar
Maredpally
Saroornagar
Ashoknagar (Domalguda)
Ghansi Bazar
Mehdipatnam
Seethaphalmandi
Asif Nagar
Golnaka
Mettuguda
Serilingampalle
Attapur
Gosha Mahal
Moghalpura
Shaikpet
Azampura
Gowlipura
Moosapet
Shalibanda
Bagh Amberpet
Gudimalkapur
Moosrambagh
Shapur Nagar
Bagh Lingampally
Gunfoundry
Mothinagar
Shivarampally
Balkampet
Habsiguda
Moula-Ali
Shobana Colony (Fathenagar)
Banjara Hills
Hafeezpet
Muradnagar
Somajiguda
Bansilalpet
hanuman nagar
Mylardevpally
Sri Nagar Colony
Barkas
Hayathnagar
Nallagandla
Sultan Bazar
Barkatpura
Himayathnagar
Nallakunta
Suraram Colony
Begum Bazar
Hussain Alam
Nanalnagar
Talabchanchalam
Begumpet
Hydernagar
Nawabsaheb kunta
Tappachaputra
Bholakpur
IS Sadan
Noorkhan Bazar
Tarnaka
boduppal
Jagadgirigutta
Old Bowenpally
Tolichowki
Borabanda
Jahanuma
Old Malakpet
Uppal
Bouddha Nagar
Jambagh
Padmarao Nagar
Uppuguda
Champapet
Jangammet
Patancheruvu
Vanasthalipuram
Chanda Nagar
Jubilee Hills
Pathergatti
Vasanthapuri Colony
(Old Malkajgiri)
Chandrayan Gutta
Kachiguda
PNT Colony
Vengalrao Nagar
Chavni
Kanchanbagh
Purana pul
Vidyanagar
Cherlapalli
Kapra
Quthbullapur
Vijayanagar Colony
Chilkalguda
Karmanghat
R.C.Puram
Vivekananda Nagar
Colony
Chintal
Karwan
Rahamath Nagar
Yapral
Chintalbasti
Kavadiguda
Rajendra Nagar
Yousufguda
Dabirpura
Khairtabad
Ramakrishnapuram
Ziaguda
Dayara/Musheerabad
Kishanbagh
Ramanthapur
Defence Colony
Kothapet
Ramgopalpet
Dhoolpet
Kothapet
Ramnagar
Doodhbowli
KPHB Colony
Ramnaspura
Erragadda
Kukatpally
Red Hills
Erramanzil (Punjagutta)
Kurmaguda
Rein Bazar
Falaknuma
Lalithabagh
Intersting Places to visit In Hyderabad
Charminar
Golkonda Fort
Birla Mandir
Chilkur Balaji Temple
Nehru Zoological Park
Shilparamam
Osmania University and many more.
Jagtial district
Jagtial is a district of Telangana state in India. Previously it was a part of the Karimnagar district prior re-organisation of districts in the state.
There are 18 mandals in the Jagtial district and they are:
Jagitial
Korutla
Jagitial Rural
Metpalli
Raikal
Mallapur
Sarangapur
Ibrahimpatnam
Beerpur
Medipalli
Dharmapuri
Kathlapur
Buggaram
Pegadapalli
Gollapalli
Mallial
Jangaon District
Jangaon district in the Indian state of Telangana with headquarters located at Jangaon. It was a part of the Warangal & Nalgonda district before re-organisation of districts in the state.
There are 13 mandals Jangaon District and they are:
Bachannapeta
Chilpur
Devaruppala
Zaffergadh
Gundala
Kodakandla
Jangaon
Palakurthi
Lingalaghanpur
Station Ghanpur
Narmetta
Raghunathapalle
Jayashankar Bhupalpally
Jayashankar Bhupalapally district is a district in the Indian Telangana state. The district headquarters are located at Bhupalpalle. Formerly, it was a part of the Warangal district, prior to the re-organisation of districts in the Telangana state.
The district is sub-divided into 20 mandals and they are as follow:
Bhupalpally
Mahamutharam
Ghanpur (Mulug)
Mulug
Regonda
Venkatapur
Mogullapally
Govindaraopet
Chityal
Tadvai
Tekumatla (New)
Eturunagaram
Malhalrao
Kannaigudem (New)
Kataram
Mangapet
Mahadevpur
Venkatapuram
Palimela (New)
Wajedu
Karimnagar:
Karimnagar is a district in northern Telangana state, India. Karimnagar is the biggest city and is the district headquarters. The district has two municipal corporations at Karimnagar and Ramagundam (Telangana State major power production plant / City of Energy). Formerly it was known as Elagandala later got renamed by Nizams to Karimnagar. It is bounded by north Adilabad District, on South Warangal district, in the southwest Medak District and on west Nizamabad District.
There are 16 mandals in Karimnagar district and they are:
Kothapalli
Veenavanka
Karimanagar
V.Saidapur
Karimnagar (rural)
Sankarapatnam
Manakondur
Huzurabad
Timmapur
Jammikunta
Vadlur-Begumpet
Ellandakunta
Gangadhar
Ramadugu
Choppadandi
Chigurumamidi
Places to visit:
Vemulawada (Vemulavada)
Dharmapuri Temple
Kondagattu Temple
Kaleshwaram Temple
Sivaram Wildlife Sanctuary
Khammam:
Khammam is a district in Telangana state with Khammam as district Headquarters.
There are 41 Mandals in Khammam district and they are:
Bonakal
Kalluru
Chinthakani
Thallada
Raghunathapalem
Enkuru
Khammam (rural)
Penuballi
Khammam
Sathupally
Konijerla
Vemsoor
Kusumanchi
Madhira
Mudigonda
Nelakondapalli
Kamepalli
Singareni
Thirumalayapalem
Wyra
Places to visit:
Khammam Fort
Narasimhaswami temple
Lakaram lake
Kinnerasani Wild life sanctuary
Mahbubnagar:
Mahabubnagar or Mahboobnagar district was formerly known as Rukmammapet and Palamoor, is a District of Telangana state.
There are 64 Mandals in Mahbubnagar district and they are:
Achampet
Kondurg
Addakal
Kosgi
Alampur
Kothakota
Amangal
Kothur
Amrabad
Lingal
Atmakur
Maddur
Balanagar
Madgul
Balmoor
Maganoor
Bhoothpur
Mahabubnagar
Bijinapally
Makthal
Bomraspet
Maldakal
C.C.kunta
Manopad
Damaragidda
Midjil
Daroor
Nagarkurnool
Devarkadra
Narayanpet
Dhanwada
Narva
Doulatabad
Nawabpet
Farooqnagar
Pangal
Gadwal
Pebbair
Gattu
Peddakothapally
Ghanpur
Peddamandadi
Gopalpet
Tadur
Hanwada
Talakondapally
Ieeza
Telkapally
Itikyal
Thimmajipet
Jadcherla
Uppununthala
Kalwakurthy
Utkoor
Keshampet
Vangoor
Kodair
Veldanda
Kodangal
Waddepally
Koilkonda
Wanaparthy
Kollapur
Weepangandla
Places to visit:
The biggest banayan tree (Pillalamarri)
Mancherial:
Mancherial district is a district located in the northern region of the Indian Telangana State. The District is carved out of erstwhile Adilabad District. The district headquarters located at Mancherial Town.
There are 18 Mandals in district and they are:
Chennur
Dandepally
Jaipur
Jannaram
Bheemaram (new)
Kasipet
Kotapally
Bellampally
Luxettipet
Vemanpally
Mancherial
Nennel
Naspur (new)
Tandur
Hajipur (new)
Bheemini
Mandamarri
Kannepally (new)
Important Places:
Kawal Wildlife Sanctuary
Pranahita Wildlife Sanctuary
Medak:
Medak is a district located in the state of Telangana, with headquarters located at Medak.
There are 20 Mandals in Medak district and they are:
Medak
Regodu
Narsapur
Sankarampeta
Tupran
Sivampeta
Ramayampeta
Tekmal
Alladurg
Chegunta
Chilpched
Eldurthi
Havelighanpur
Manoharabad
Koudipalli
Narsingi
Kulcharam
Nizampeta
Papannapeta
Yeldurthy
Places to visit:
Medak Fort
Edupayala Temple
Sri Uma Naga Lingeshwara Temple
Medak Cathedral Church
Medchal−Malkajgiri:
Medchal–Malkajgiri is a district located in the Telangana State of India. The District is carved out of erstwhile Adilabad District. The district headquarters located at Medchal.
The district comprises of 14 Mandals and they are:
Alwal
Ghatkesar
Bachupally
Kapra
Balanagar
Keesara
Dundigal Gandimaisamma
Medchal
Kukatpally
Medipally
Malkajgiri
Shamirpet
Nalgonda:
Nalgonda is the district in the Telangana state of India and headquarters located at Nalgonda.
There are 31 mandals in Nalgonda district and they are:
Chandur
Dameracherla
Chandampet
Chityal
Miryalaguda
Chintapally
Kanagal
Vemulapally
Devarakonda
Kattangur
Haaliya
Gundlapally
Gurrampode
Nidamanur
Gurrampood
Munugode
Peddavoora
Konda Mallepally
Nakrekal
Tripuraram
Nampally
Nalgonda
Madugulapally
Marriguda
Narayanapur
Thirumalagiri (Sagar)
Pedda Adiserla Pally
Narketpally
Adavi Devulapally
Neredu Gomma
Shaligowraram
Thipparthy
Places to visit:
Nagarjuna Sagar
Mattapalli
Nandikonda
Panagal
Nizamabad:
Nizamabad District is the district of Telangana state and headquarters located at Nizamabad.
There are 26 mandals in Nizamabad district and they are:
Armoor
Bodhan
Nizamabad (South)
Aloor
Yedapally
Nizamabad (North)
Balkonda
Renjal
Nizamabad Rural
Mendora
Kotagiri
Mugpal
Kammar palle
Varni
Dichpally
Velpur
Rudroor
Darpally
Morthad
Indalwai
Bheemgal
Jakranpally
Makloor
Sirikonda
Places to visit:
Alisagar
Badapahad Dargah
Sarangpur Hanuman Temple
Pocharam Lake
Sri Rama Sagar Project Dam
Ranga Reddy District:
Ranga Reddy district is one of the 31 districts in Telangana state and headquarters are located at Shamshabad. The district name was formed after the former deputy chief minister of the united state of Andhra Pradesh, K.V.Ranga Reddy.
There are 27 mandals in Ranga Reddy district and they are:
Chevella
Abdullapuramet
Amangal
Gandipet
Chowderguda
Moinabad
Hayathnagar
Balapur
Rajendranagar
Farooqnagar
Shahbad
Ibrahimpatnam
Kandukur
Serilingampally
Keshampeta
Shankarpalle
Madgur
Kadthal
Shamshabad
Kondurg
Maheswaram
Kothur
Yacharam
Talakondapalle
Nandigama
Saroornagar
Manchal
Sangareddy district:
Sangareddy (formerly Sangareddypeta) is the district in Telangana State with headquarters located at Sangareddy.
The district was sub-divided into 26 mandals and they are as follow:
Ameenpur
Kalher
Andole
Kangti
Gummadidala
Manoor
Hathnoora
Nagilgidda
Jinnaram
Narayankhed
Kandi
Sirgapoor
Kondapur
Jharasangam
Munipally
Kohir
Patancheru
Mogudampally
Pulkal
Nyalkal
Ramchandrapuram
Raikode
Sadasivpet
Sangareddy
Sangareddy
Zahirabad
Vatpally
Siddipet district:
Siddipet is the district of indian state of Telangana with headquarters located at Siddipet.
There are 22 mandals in district and they are:
Siddipet (Urban)
Jagdevpur
Siddipet (Rural)
Kondapak
Nangnoor
Mulug
Chinnakodur
Markook
Thoguta
Wargal
Doultabad
Raipole
Mirdoddi
Husnabad
Dubbak
Akkannapet
Cherial
Koheda
Komuravelli
Bejjanki
Suryapet district:
Suryapet is a district Telangana state of india. It was a part of Nalgonda district prior to re-organisation of districts in the state. Its headquarters located at Suryapet.
The district comprises of 23 mandals as follows:
Athmakur (S)
Maddirala
Chivvemla
Palakeedu
Mothey
Chilkur
Jajireddygudem
Huzurnagar
Nuthankal
Kodad
Penpahad
Mattampally
Suryapet
Mellachervu
Thirumalagiri
Munagala
Thungathurthy
Nadigudem
Garidepally
Ananthagiri
Neredcherla
Mallareddygudem
Nagaram
Vikarabad district:
Vikarabad is a district in the Telangana state with the headquarters located at Vikarabad. It was a part of Ranga Reddy district before the re-organisation of districts in the Telangana state.
There are 18 mandals in district and they are:
Bantwaram
Marpalle
Basheerabad
Mominpet
Bommaraspet
Nawabpet
Dharur
Parigi
Doma
Peddemul
Doulthabad
Pudur
Kodangal
Tandur
Kotepally
Vikarabad
Wanaparthy district:
Wanaparthy is the district of Telangana state of India. Its headquarters located at Wanaparthy. It was a previously part of Mahabubnagar district prior to re-organisation of districts in the state.
There are 14 mandals in Wanaparthy district and they are
Amarachintha
Pangal
Atmakur
Pebbair
Chinnambavi
Peddamandadi
Ghanpur
Revally
Gopalpeta
Srirangapur
Kothakota
Veepanagandla
Warangal Rural:
Warangal Rural district is a district of Telangana state, and its headquaters located at Warangal.
There are 15 mandals in Warangal district and they are:
Atmakur
Chennaraopet
Damera
Duggondi
Geesugonda
Khanapur
Parkal
Narsampet
Parvathagiri
Nallabelly
Rayaparthy
Nekkonda
Sangem
Shayampet
Wardhannapet
Places to Visit:
Ramappa Temple (Ramalingeswara temple)
Pakhal Lake
Medaram (Sammakka & Saralamma temple)
Warangal Urban:
Warangal Urban district is a district of Telangana state, and its headquaters located at Warangal.
There are 11 mandals and they are:
Bheemadevarpalli
Dharmasagar
Elkathurthy
Inavole
Hanamkonda
Hasanparthy
Kamalapur
Kazipet
Khila Warangal
Velair
Warangal
Important Places:
Warangal Fort
Bhadrakali Temple
Thousand Pillar Temple
Kakatiya Rock Garden.
Kakatiya Musical Garden.
Ramappa Lake.
Yadadri Bhuvanagiri:
Yadadri Bhuvanagiri district is a district in the Indian Telangana State with administrative headquarters is located at Bhongir.
There are 16 mandals in the district and they are:
Addaguduru
B. Pochampally
Alair
Choutuppal
Atmakur (M)
Narayanpur
Bibinagar
Ramannapet
Bhongir
Valigonda
Bommalaramaram
Motakondur
Mothkur
Rajapet
Turkapally
Yadagirigutta
Important places:
Yadagirigutta
Bhongir fort
Kolanupaka Jain Mandir
Note: Let us know if we missed any important place in your district, we will immediately update this page with concerened content.
One Resident Experience
I was reading on Vaastu to check the online compliance of our plot and then I came across subhavaastu. While reading on the website, I was impressed with so many articles and richness of the articles. I realized that our plot would need to be consulted due to some variations in the angles of the plot. Site itself gave a very good impression about values of Suresh Sir. So I had not hesitation and I reached out to Suresh Sir with some pictures and plot layout. Suresh Sir was very prompt in responding to the queries and had explained vaastu compliance of the plot upfront. My impression was right!! Thank you so much Suresh sir for your valuable time and insights with some references to understand the impact of Vaastu and making things clear to me - EK - Hyderabad
Download Telangana Desktop Computer Wallpapers
Vastu Testimonials Delivered By Respected Residents
Dear Suresh, I am pleased to inform you that like the way you provided consultation for my home and explained to me all the changes required inside and outside home. I really appreciate the diagrams that you prepared for my home with pictures and arrows showing the changes need to be done. Above all, you explained very well the reasons behind changes you recommended for my home with great clarity and sense of humor. No doubt in my mind, you are the best Vastu expert, I really appreciate your dedication by building and maintaining a very informative website that is helping thousands of people across the globe. Also, I sensed when I talk to you and when I was dealing with you, you follow honesty and integrity and you have a sincere desire to help others - Kotesware Rao - Dallas - USA
We are tech professionals and working in USA. After a year long search we brought the house. After buying the house I started looking for consultant who can help me evaluating the house. I came across Subhavaastu website which has lot of information. I contacted Mr.Suresh and requested him to help with our house vastu. It has been an incredible delight working with him.. He is very detailed oriented person and never compromises with his work. I am typically not interested to deliver the reviews. But after working with Mr. Suresh I decided to share my experience. Mr. Suresh has great expertise in providing vastu consultation to USA property. He is always available through email and phone l to answer questions. I am writing this review hoping it will help other people like me who lives in abroad. Please take advise before buying the house. I highly recommend Mr. Suresh as he has great experience with structure of USA properties and also he provides genuine consultation. I really appreciate Mr. Suresh's help in evaluating our house - Padma - Boston - USA
"I contacted Sureshji to consult on our current home. He was spot on in identifying vastu dosha in regards to the problems we were having. He suggested remedies but we are still looking for a new house. Since then I have been in touch with him for finding a right home for us. He is very sincere and truly wishes better lives for everyone. He doesn't compromise with quality and is always responsive to queries. He recommends solutions as per location as Vastu rules differ for each country. He is greatly contributing to the society with his knowledge of Vastu and dedication towards his work. Keep up the good work Sureshji and wish you success and happiness!" - Megha - Virginia - USA
I have consulted Suresh Garu during December 2014 during the process of buying a house in Texas, USA. I have occupied the house for one year now, and feel like dropping a review regarding my experience during the entire process. I am very much satisfied with the kind of service I received from him. He is very knowledgeable and I was often stunned by his detailed analysis during the course of my interaction with him. He was very much accessible over phone (perhaps more than 10 times for one house plan!) and the price is very much reasonable especially compared with the cost of the house. I noticed his burning desire to help me in making informed decisions on certain things. I have seen some people pretending to know this subject and misguiding those who come for help by saying only what we want to hear. SubhaVaastu is definitely not that one. Finally, I am strong believer of leaving certain things to experts in those subjects. I have been in US for more than 13 years and have seen people doing their own corrections (by reading website articles) trying to save few dollars. Please don't do that. You would end up in causing more damage. I highly recommend you to engage SubhaVaastu in your next project - Satish - Dallas - TX - USA
Inspirational Quotations
"As long as we require someone else to make us happy. We are slaves" - Swami Vivekananda.
---
---
"Great Personalities speak about thoughts. 'Average Person' talk about occassions. 'Narrow Minded' gossip about others." ― Eleanor Roosevelt . . . Let you question yourself, "Who You Are, either 'Great Personality', 'Average Person' or 'Narrow Minded' ?
Joke Of the Day
"A book was released and the cover name is "How to change your WIFE", and within ONE week, "25 MILLION" copies were sold. The publishers found a mistake in the title, actually, it should be "How to change your LIFE", when publishers corrected and released the new book into the market. The first month's sales were 3 copies".
Follow us on Social Media