Details

This Page Hits:19369
Tamilnadu The Land of Temples | Great Cultures | Incessant Traditions
Vastu in Tamilnadu: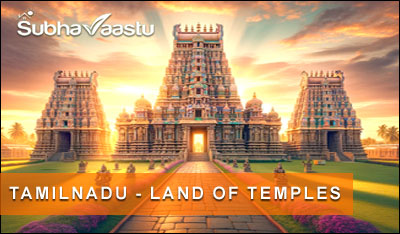 Vastu Consultant Services in Tamilnadu: We come across many clients in Tamilnadu. Successfully provided free vastu consultancy services in many parts of Tamilnadu. For example: Given 120 days Free Vastu Services when Chennai flooded with rains, here is the complete details of our services to Chennai. Read Chennai Rains link.
We are regularly visiting Chennai and sometimes visited Ooty, Coimbatore, Madurai, Erode, Vellore, Trichy, Karur. Some years back residents from Tamilnadu may not have enough interest on vastu shastra consultancy services, but from past 10 years i.e., early 2000's they start liking to have only expert vastu consultant services for their homes. Surprise change appears in Tamilnadu. Thanks to Tamil people, great thought.
Visit these below links to know more about all directions:
Top 17 tips on house facing east were freely provided in East facing home vastu. Read the benefits of the house through the mountainous east vastu data.
West facing home vastu dive into huge information.
North facing Home vastu fly into the sky for gargantuan content.
South facing home vastu drive to the colossal material.
Northwest facing home vastu reach mountain peaks. Always trying to fill the website with the latest information. Share your experience with us. We are ready to provide what you are looking here.
Northeast facing home vastu jump into the details ocean.
Southeast facing home vastu gear up to the destiny.
Southwest facing home vastu plunge into the details river.
Our main aim is everybody should live with peace and happiness. We particularly observed strong vision of residents of Tamilnadu that they never compromise on vastu shastra consultancy services, they hate cheap vastu consultancy. Tamil people are cleaver in this regard. They need the solution for their problems, they never looking for cheap vastu specialists, they know how these cheap fellows playing with them.
Raja Sekharan, who migrated from Karur to Chennai wish to buy a home in Velachery, he is searching for Best Vastu consultant in Chennai, meanwhile one Mr. XYZ contacted Raja Sekharan and introduced as he is the best vastu expert in Chennai and stated he has many clients in Adyar, Poes Garden, Nungambakkam, East-Coast Road / ECR, Alwarpet Boat Club area, Gopalapuram, OMR, Besant Nagar and Rutland Gate Road etc and his vastu fee is only Rs.509/- and suggested to buy one Yantra which costs about Rs.25,000/- to hang outside of the home which works for the bad evil never enter the home.
Another yantra cost about Rs.20,000/- which works if any bad evil enters this Yantra will through it out. Raja Sekharan is intelligent, he said he don't like to buy Yantras. After hearing Raja Sekharan confirmation, XYZ immediately increases Vaastu payment fee from Rs.509/- to Rs.25,000/-.
Finally, Raja Sekharan paid his taxi charges and left him at final. Raja Sekharan needs only vastu consultancy services, he knows all these tricks. The educated people and intelligent residents will definitely find out only famous vastu consultant in Chennai or best vastu consultant in Chennai when looking for vastu in Chennai. They won't let others a chance to cheat. Every rupee is hard earned money. They know the value of each and every rupee.
There are some vastu pandits, they never dupe anybody. They die for the residents. Such honest consultants still available in society. The only resident's duty is, needs to search for them. Once they took your project, they deliver perfect solutions.
Coming with yantras, they are. Sure, only certain people who provided yantras they will definitely work. Very soon, we will develop a link for all yantras handy guide which will be very useful for society. Comprehensive yantras information will be uploaded in our website.
One vastu consultant in Mylapore stated us nowadays residents like to know vastu through youtube channels, they are not coming directly to the vastu pandits in Chennai. After some days we heard the same statement from one vastu consultant in Tambaram and later we heard again from one vastu consultant in Coimbatore about the same statement.
Finally, residents lost their hard earned money in their efforts with their own vastu practicals which they learnt from YouTube and losing their money by doing several mistakes and finally, they rush to the experts to get solutions and relief. Why it happens. Why should people do such practicals, why they are not approaching directly to the vastu consultants instead of watching videos. It's only because of unhealthy competition in between vastu experts and variation in the vastu consultancy statements. Residents confused, to whom they follow. Some of them observing videos and doing practicals and lost their money. Some intelligent residents, approach only the experienced vastu consultants and achieving their goals.
We always admired by seeing Tamilians intelligence, education, confidence, qualifications, fighting glory, choosing only experts, respecting their language, unity, integrity. Hats of Tamilians.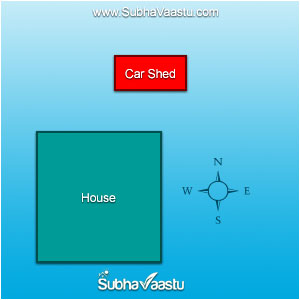 In this image the house constructed at Southwest corner (which is generally good ), we are not commenting on house facing here. Observe the car garage here. This car garage has came into exact Northeast-north. Here we need to understand one thing. If this garage is structural garage then it is a problematic. If garage is only cloth, pergola type then no need to worry on it. For every point we need to observe carefully, and analyze it with latest vastu principles. Otherwise residents may suffer with unnecessary mental agony, or lost their hopes.
Tamilnadu Information:
We are collecting good data on Tamilnadu state, this may be most useful for the people who wish to visit Tamilnadu state. Please participate in this web link development, this information attracts other state people or other country people to visit TN who wish for errands also this state is most convenient.
Tamil Nadu is the Southernmost state of India. The state is home to Indian Tamil community which has their own traditions, culture, and lifestyle. The capital of the state is Chennai, earlier it was called Madras. In terms of area, the state is eleventh largest and is one of the most developed states in terms of education, infrastructure, economy and human development index. Neighboring states are Kerala, Karnataka and Andhra Pradesh.
As Sri Lanka shares it's maritime boundary with the state. Tamilnadu state is the home to many Sri Lankan refuges during the Sri Lankan civil war.
Archeological evidence found, show that the area was home to one of the oldest civilizations and human inhabitation. Including Indus Valley Civilization, Chera, Chola and Pandya. Each civilization had played their own rule in enhancing trade, culture, and languages.
The system of the area was not disturbed until the influence of foreign rulers, firstly Muslims and later the British. Muslim armies regularly tyranny attacked India and returned again come back with full loaded armed forces and looted the country. In the 16th century, Muslim King "Babar" defeated Lodhi empire and maintained the permanent kingdom in India.
Later, in 17th and 8th century European traders started visiting the area and established the permanent base in many locations. Later East India company British defeated the Mughal empire and gained control of the whole Sub-Continent and the area was known as "Madras Presidency" and was under direct British control. Finally, India gained independence in the year 1947 and the Madras State was renamed as Tamil Nadu.
The area of the state has rich soil and is regarded as best for vegetation and corps. The state has also extensive forests and is home to the number of species including leopards, tigers, elephants, wild dogs, etc. The state has also popular National parks and wildlife reserves.
Tamilnadu state is highly developed, industrialized and has third largest economy among all the 29 states of India. If we examine the history of the state, it was basically agricultural based. It was one of the largest exporters of rice.
Other crops include sugarcane, tea, coconut, turmeric, rubber, mango, and Bananas. But modern Tamil Nadu is advanced not in terms of agriculture but also in terms of Industries and infrastructure. The state is industrialized and is Home to many heavy and small industries. Main industrial sectors include leather, automobiles, textiles and IT sector. State Government supports hugely on Factory development in each district throughout the state.
The state is rich in humble traditions and is famous for its culture, dressing, arts, food, and number of other things like ancient temples, ancient buildings, beautiful shorelines and number of tourist spots and recreational centers. Most of the population (50%) live in urban areas.
Hinduism (87.5%) is the main populated religion of the state and has many ancient Hindu temples. The official language of the state is Tamil and is spoken by 89% of the population as their main language. The state preserves the history of Hinduism and has thousands of cult Hindu temples. The people of the state still don't hesitate to follow their culture and traditions.
In addition, the state is also home to historical buildings, hill stations, religious sites. Also, number of festivals and traditions are celebrated throughout the year.
On the occasion of Pongal / Sankranthi festival (Mattu Pongal) day international famous and gorgeous Jallikattu (Sallikattu) which is also called as Eru Thazhuvuthal and Manju Virattu, it's an ancient traditional culture spectacle which a Bull (mostly Pulikulam or Kangayam Breeds) is freeing into the great crowd of people.
Most of the youth and participants tried to catch the big hump on the Bull back with arms and catch it while it tries to escape. Youth which is participated in this Jallikattu tying to hold the Bull hump as much as possible, they are trying to stop the bull. Most of the cases participants must ride enough to expel flags on its horns. Most popular non-incognizant occasion in Tamilnadu
Not only a few things, this state is famous for marvelous culinary. In this Dravidian civilization, people are making food most marvelous and fantastic. Mr. Ranganathan informed us Ambur Dham Biryani which is very near town to Vellore city. This is one of the famous South Indian dish and most famous in this state. This tasty biryani origin from Ambur.
Kanchipuram or Kanjivaram or Kanchi which is world famous for Silk Sarees. Sarees were traditionally woven by most expert weavers at Kanjivaram. We can found many intricate designs, attractive colors, they used Zari and Golden thread to prepare these sarees. This city is famous for Kanchi Kamakshi Temple - Thanks to Subramaniyan.
Sambar, this is well known to everybody. Once we taste Sambar in Tamilnadu, we never forget the taste years together. One of the delicious and ancient dishes in this state. Everyone who visited Tamilnadu must taste Sambar particularly in some hotels like Hotel Saravana Bhavan, Adyar Ananda Bhavan, Sangeetha Veg Restaurant, Murugan Idli Shop, Peshawri restaurant, Annalakshmi Restaurant, Madras Pavilion, Rayar's Mess.
We got information about famous Biryani centers in Ambur and Vaniyambadi and Dindigul Thalappakatti Biryani.
Help us to provide more good restaurants in Tamilnadu state. Information will be useful for food lovers. Do you know some of our clients in Dubai frequently visiting Mumbai only to taste Dosa.
When we heard about this information we did not believe it, after 100% confirmation only we are publishing this info here. If you provide good restaurants in Tamilnadu, many people all over the world visiting Tamilnadu. It may be most helpful for Tamilnadu state. With this you are not loosing any thing, but doing service to your state.
Tamilnadu State Capital: Chennai
Area 130,060 km²
Districts 32
Population 72,147,030 (2011 census)
Literacy 80.33% (2011)
Languages Tamil, English
Main Crops Rice, Mangoes, Sugarcane, Fruits, Tea, Pulses, Coconut, Turmeric, Bananas.
State Bird Common emerald dove
State Animal Nilgiri tahr
State Flower Gloriosa superba
State Tree Asian palmyra palm
Popular Rivers Kaveri, Palar River, Vaigai River, Bhavani River, Noyyal River, Ponnaiyar River, Amaravati River, Kollidan River, Cooum River, Adyar River
Spiritual Places Arulmigu Ramanathaswamy Temple, Meenaksi Amman Temple, Arulmigu Kapaleeswarar Temple, Airavateswarar Temple, Sri Lakshmi Narayani Golden Temple, Sri Ranganathar Swamy Temple-Srirangam, Pillayar Temple, Arulmigu Arunachaleswarar Temple, Shore Temple, Sri Varadharaja Perumal Temple, Sacred Heart Church, Santhome Church.
Important Cities Chennai, Coimbatore, Madurai, Salem, Thanjavur, Vellore, Tirunelveli, Tiruppur, Erode, Dindigul, Ooty, Thoothukudi, Tiruvannamalai, Rameswaram, Kodaikanal, Cuddalore, Nagapattinam, Hosur, Virudhunagar, Namakkal, Nagercoil, Pollachi, Perambalur, Viluppuram, Palani
Border States Kerala, Karnataka, Andhra Pradesh.
Tourist Attractions Bandipur National Park, Meenakshi Amman Temple, Mudumalai National Park, Brihadisvara Temple, Thanjavur, Marina Beach, Ramanathaswamy Temple, Anamalai Tiger Reserve, Shore Temple, Hogenakkal Falls.
Tamilnadu Location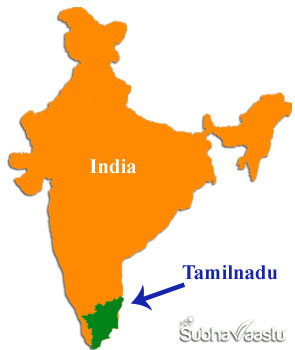 Tamilnadu Map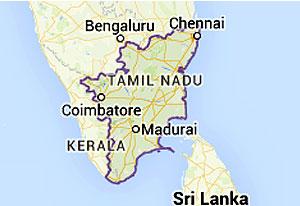 Desktop Wallpaper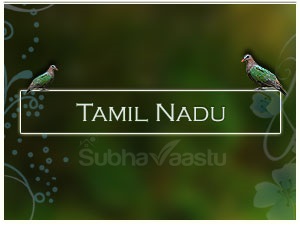 Mobile Wallpaper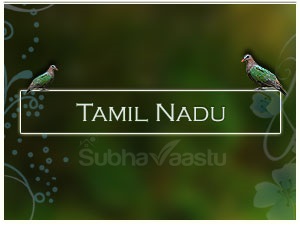 Important locations in Tamilnadu
Thiruvallur
OMR Road
Velacheri
Oragadam
Poonamalli
E.C.R Road
Anna Nagar
Valasaravakam
Avadi
Madipakkam
Medavakkam
Porur
Tambaram East
Kancheepuram
Gudovancherry
Pallikaranai
Adyar
Urappakkam
Adambakkam
Manali
Alwarthirunagar
Tharamani
Thirumullaivoyal
Mangadu
Anna Nagar
Mylapore
Tiruvanmiyur
Arambakkam
Thiruvottriyur
Ashok Nagar
Tiruverkadu
Nanganallur
Ayanpuram
Triplicane
Ayyappa Nagar
Nungambakkam
Vadapalani
Besant Nagar
Vandalur
Old Pallavaram
Velachery
Chetput
Padappai
Vepery
Chitlapakkam
Padi
Villivakkam
Choolai
Virugambakkam
Chromepet
Ethiraj Salai
Park Town
Washermanpet
Mambalam
Egmore
Pattabiram
Ekkaduthangal
Pazhavanthangal
Perambur
Perungudi
Gopalapuram
Polichalur
Ponneri
Greams Road
Ponniammanmedu
Abhiramapuram
Agaram
Alandur
Alappakkam
Alwarpet
Ambattur
Ambattur OT
Ambattur Industrial Estate
Ambattur Industrial Estate South
Ambattur Industrial Estate South Phase
Ambattur OT
Aminjikarai
Anakaputhur
Anna Nagar East
Anna Nagar West
Anna Nagar West Extension
Anna Road
Anna Salai
Arcot Road
Arumbakkam
Attipattu
Ayanambakkam
Ayanavaram
Iyyapanthangal
Broadway
Cathedral Road
General Post Office
Chepauk
Chetpet
Chintadripet
Chinmaya Nagar
Choolaimedu
CIT Nagar
East Coast Road
Ennore
Ernavoor
Flowers Road
Gandhinagar
Gowrivakkam
Guduvancheri
Guindy
Guindy
Gummidipoondi
Gerugambakkam
Hasthinapuram
IIT Campus
Indira Nagar
Injambakkam
Jafferkhanpet
Jawahar Nagar
Kaladipet
Kamaraj Nagar
Kanchipuram
Kandanchavadi
Kodambakkam
Karayanchavadi
Kattupakkam
Keelkattalai
Kelambakkam
Kellys
Kilkattalai
Kilpauk
KK Nagar
KK Nagar West
Kodungaiyur
Kolathur
Kondithope
Korattur
Korukkupet
Kottivakkam
Kotturpuram
Kovilambakkam
Koyambedu
Kundrathur
Kosapet
Little Mount
Madambakkam
Madhavaram
Maduravoyal
Mahabalipuram
Mahabalipuram
Manapakkam
Mandaveli
Mandavelipakkam
Mannady
Mannurpet
Maraimalai Nagar
Meenambakkam
Metha Nagar
Mettukuppam
MGR Nagar
Minjur
MKB Nagar
Mogappair
Mogappair East
Mogappair West
Moolakadai
Mount Road
Muttukadu
Nammalwarpet
Nandambakkam
Nandanam
Nandanam Extension
Nazarethpettai
Nehru Nagar
Nelson Manickam Road
Nerkundram
Nesapakkam
New Perungalathur
Nilangarai
North Usman Road
Old Mahabalipuram Road
Old Perungalattu
Old Washermenpet
Otteri
Palavakkam
Pammal
Parrys
Pattalam
Perambur Barracks
Periyamedu
Periyar Nagar
Pondy Bazaar
Poonamallee High Road
Puzhal
Pudupet
Pulianthope
Puludivakkam
Purasavakkam
Kotturpuram
Raja Annamalai Puram
Rajaji Salai
Rajakilpakkam
Ramapuram
Rangarajapuram
Red Hills
Royapettah
Royapuram
Nazarethpetai
Nazarethpettai
Old Pallavaram
Pazavanthangal
Perumbedu
Poonamallee
Vyasarpadi
Avadi Camp
Devampattu
Officers Training Academy
Eguvarpalayam
Jothi Nagar
T Nagar
Tambaram
ICF Colony
Madras High Court
Kunnathur
Nandabakkamudiyiruppu
Elavur
Ennore Thermal Station
Kaveripettai
Puzhal
Pulicat
RA Puram
Raj Bhavan
RajBhavan
Shed Avadi
Saidapet
Saligramam
Sathyamurthi Nagar
Selaiyur
Shenoy Nagar
Sholavaram
SIDCO Estate
Sowcarpet
Srinivasa Nagar
St. Thomas Mount
Tharamani
Teynampet
Thiruninravur
Thirupalaivanam
West Mambalam
West Porur
St. George
IIT
Tondiarpet
Thrisulam Village
Tiruvottiyur
Chandan Nagar
Palavanthangal
These are the List of Cities or Towns Covered under AMRUT Name of Town or city :
Chennai, Coimbatore, Madurai, Tiruchirappalli, Salem, Tirunelveli, Ambattur, Tiruppur, Avadi, Tiruvottiyur, Thoothukkudi, Nagercoil, Thanjavur, Pallavaram, Dindigul, Vellore, Tambaram, Cuddalore, Alandur, Kancheepuram, Erode, Tiruvannamalai, Kumbakonam, Rajapalayam, Kurichi, Madavaram, Pudukkottai, Hosur, Ambur, Karaikkudi, Nagapattinam, Velankanni.
There are four famous hill stations out of 12 hill stations in Tamilnadu. They are Ooty, Kodaikanal, Yercaud, Yelagiri.
Ooty: Ooty is near to Coimbatore city, approximately 85 Kilometers. Ootacamund short name is Ooty, the previous and original name is Udhagamandalam which is in Nilgiris District, Ooty is the headquarters of Nilgiris District. It took approximately 3 hours drive as the most of the road is on hills and its little tough to drive without having such driving experience. The nearest airport is only Coimbatore.
From Coimbatore take a taxi or number of buses available, the route is Mettupalayam and Coonoor and Ooty. While coming back from Ooty somebody may choose Kotagiri, this Kotagiri route may touch near to Mettupalayam area and thereafter reach Coimbatore city. Ooty is the best place for newly married couples. Ooty is the best tourist spot. The best time to visit Ooty is from February to June first week. Nilgiris an oldest mountain ranges and it was located at Tri-junction of Kerala, Tamilnadu and Karnataka.
This district Nilgiris is a part of Western Ghats. Ooty is also named as Queen of Hill Stations, there are also 2 another local famous hill stations are there one is Coonoor 19 KMS from Ooty and Kotagiri which is 31 kilometers from Ooty. There are many hotels in Ooty, out of them these are famous hotels as per our clients information: Hotel Lakeview, Hotel Darshan, Accord Highland Hotel Ooty, Meadows Residency, Taj Savoy Hotel, Sinclairs Retreat, Woodberry Residency, La Flora Amberley Resort, Hill Country Holiday Resort Lovedale, Elk Hill, Sterling Holidays Resort, Gem Park, Sherlock Hotel, Astoria Residency, Kluney Manor, Sagar Holiday Resorts, Fortune Hotel Sullivan Court, RK Holiday Homes, Sabol Holiday Resorts, Ponmari Residency, Hotel Preethi Classic Towers, Zest Danish Villa, Hotel Mayura Sudarshan, The Monarch Hotel, Sunshine Inn, Green Manor, Ooty Villa Park. If you have good information on any other hotels, let us know, we will update with latest information.
Kodaikanal: Kodaikanal is a hill station and it is in the Dindigul District. The best place for the honeymoon, taking rest, enjoying nature, tourist places, this location is a gift of the forest and natures blessings to humans. The atmosphere touches like to bless with new hopes to live. Kodaikanal is a princess of Hill stations. The best place for travel. Having good Hotels and restaurants, temples etc.
Request from Vastu Consultant Services Website SubhaVaastu.com :
If you belong to Tamilnadu State or you have knowledge on Tamilnadu State, please help us to improve user experience with good information, with your proper accurate facts of Tamilnadu State many visitors may visit Tamilnadu State and your local people will get more income and business through tourists. If you are looking to this Contact Us. Thanks in Advance.
We request all Manayadi Vastu Stapati, Vastu Experts, Vastu Consultants, Vastu Pandits, Vastu Specialists please participate by sending your vastu shastra experiences in Tamilnadu State. We will publish after thorough scrutiny. Your research will multiply the knowledge of many Vasthu people in society. Your researches on House vastu makes the society more happy in future.
Visit this link to know about Tamil Vastu Website
Vastu Testimonials Delivered By Respected Residents
Dear Suresh, I am pleased to inform you that like the way you provided consultation for my home and explained to me all the changes required inside and outside home. I really appreciate the diagrams that you prepared for my home with pictures and arrows showing the changes need to be done. Above all, you explained very well the reasons behind changes you recommended for my home with great clarity and sense of humor. No doubt in my mind, you are the best Vastu expert, I really appreciate your dedication by building and maintaining a very informative website that is helping thousands of people across the globe. Also, I sensed when I talk to you and when I was dealing with you, you follow honesty and integrity and you have a sincere desire to help others - Kotesware Rao - Dallas - USA
We are tech professionals and working in USA. After a year long search we brought the house. After buying the house I started looking for consultant who can help me evaluating the house. I came across Subhavaastu website which has lot of information. I contacted Mr.Suresh and requested him to help with our house vastu. It has been an incredible delight working with him.. He is very detailed oriented person and never compromises with his work. I am typically not interested to deliver the reviews. But after working with Mr. Suresh I decided to share my experience. Mr. Suresh has great expertise in providing vastu consultation to USA property. He is always available through email and phone l to answer questions. I am writing this review hoping it will help other people like me who lives in abroad. Please take advise before buying the house. I highly recommend Mr. Suresh as he has great experience with structure of USA properties and also he provides genuine consultation. I really appreciate Mr. Suresh's help in evaluating our house - Padma - Boston - USA
"I contacted Sureshji to consult on our current home. He was spot on in identifying vastu dosha in regards to the problems we were having. He suggested remedies but we are still looking for a new house. Since then I have been in touch with him for finding a right home for us. He is very sincere and truly wishes better lives for everyone. He doesn't compromise with quality and is always responsive to queries. He recommends solutions as per location as Vastu rules differ for each country. He is greatly contributing to the society with his knowledge of Vastu and dedication towards his work. Keep up the good work Sureshji and wish you success and happiness!" - Megha - Virginia - USA
I have consulted Suresh Garu during December 2014 during the process of buying a house in Texas, USA. I have occupied the house for one year now, and feel like dropping a review regarding my experience during the entire process. I am very much satisfied with the kind of service I received from him. He is very knowledgeable and I was often stunned by his detailed analysis during the course of my interaction with him. He was very much accessible over phone (perhaps more than 10 times for one house plan!) and the price is very much reasonable especially compared with the cost of the house. I noticed his burning desire to help me in making informed decisions on certain things. I have seen some people pretending to know this subject and misguiding those who come for help by saying only what we want to hear. SubhaVaastu is definitely not that one. Finally, I am strong believer of leaving certain things to experts in those subjects. I have been in US for more than 13 years and have seen people doing their own corrections (by reading website articles) trying to save few dollars. Please don't do that. You would end up in causing more damage. I highly recommend you to engage SubhaVaastu in your next project - Satish - Dallas - TX - USA
Inspirational Quotations
"As long as we require someone else to make us happy. We are slaves" - Swami Vivekananda.
---
---
"Great Personalities speak about thoughts. 'Average Person' talk about occassions. 'Narrow Minded' gossip about others." ― Eleanor Roosevelt . . . Let you question yourself, "Who You Are, either 'Great Personality', 'Average Person' or 'Narrow Minded' ?
Joke Of the Day
"A book was released and the cover name is "How to change your WIFE", and within ONE week, "25 MILLION" copies were sold. The publishers found a mistake in the title, actually, it should be "How to change your LIFE", when publishers corrected and released the new book into the market. The first month's sales were 3 copies".
Follow us on Social Media