Details

This Page Hits:604427
Vastu Master Bedroom | Vastu For Sleeping Positions
In this article we will discuss Master Bedroom placements in different directions.
Northeast Master Bedroom is Good or Bad?
Vastu Master Bedroom: Vastu says that it is best to have the Master bedrooms in the South, Southwest direction or West direction. The Northeast corner bedroom may not be used by the elder of the house.
Honestly speaking, generally, the Northeast cornered bedroom is not good, so don't plan the Northeast bedroom in the home, and it may not be used as a master bedroom, maximum try to avoid placing the bedrooms at East direction or north directions. Only in some cases these Northeast master bedrooms proffer with unexpected proficient results when there is heavy open space at either east or North directions including NE too.
Please note that this principle may not work for "some homes" in USA, UK, Australia, and other countries. Based on this information, please read the remaining below points.
If the elder of the house is using the Northeast corner bedroom it may affect his health and or on his financial/money matters.
Please note that this rule may not apply all the times or for all the homes. Sometimes if there is heavy open space towards Northeast and good focus is arrives from Northeast then the owner may have his bedroom at Northeast, anyway better to show that house and room to one best vastu master and then only decide to occupy. Approach experienced vastu master for all of your requirements.
Any room which you are using should be snuggery then it will be more energetic to have cozy results.
Southeast Master Bedroom is Good or Bad?
Residents sleeping in Southeast (visit to know about Southeast homes vastu ideas) (Agneya) towards East side bedrooms suffer from sleeplessness, anxiety and short temper.
Northwest Master Bedroom is OK to Sleep?
The owner sleeping in Northwest (Vayavya) bedrooms suffers instability, financial losses, unnecessary headaches from his working areas i.e., his office, lodge, hotels, shop, and factories, there is a possibility of having differences with life partner, has to face litigations, legal consequences, etc.
Which Direction Master Bedroom is Highly Suggested for the Breadwinner?
The Southwest master bedroom is perfectly suitable. The owner should occupy the Master bedroom. It is best for the house owner or breadwinner should sleep in the Southwest room and in case if it is not possible to sleep in SW bedroom then he/she has to choose to sleep either in South bedroom or West Bedroom.
What are the Benefits of Southwest Master Bedroom
These directions are favorable to improve financial status day by day, all of their works go smooth, their words have some attraction, he has the capability in maintaining his family members or his staff when they never heard his voice. His financial position grows as per his expectation.
Vastu for bedroom is most important for the residents, because maximum time in a day we lived is this bedroom. Spending time is most important, where we are sleeping, where we are living, where we are cooking, etc. Hence at the time of house construction it's better to contact one experienced vasthu consultant then everything go smooth.
Please remind one thing all Vaastu consultants are genuine and honest, so coming with vastu shastra consultancy don't choose the people who themselves as masters in vastu, approach only the experts, they are 100% safe and reliable.
Which Is The Best Place For Bedroom And Master Bedroom In A House
Prior to knowing this information, first we have to learn how many directions in a house.
1. East Direction
2. Southeast Direction
3. South Direction
4. Southwest Direction
5. West Direction.
7. North Direction
8. Northeast Direction
Shortly we will discuss Master Bedroom in Southwest, Northwest, Northeast, Southeast corners or directions.
in every house, home, residence, flat, villa, there must be these eight directions. Apart from that, there is a place at the center or Brahmasthan (we should not construct the bedroom at Brahmasthan).
The bedroom is different and the master bedroom is different, generally, the owner of the property or the head of the house may occupy the master bedroom. Other members of the home may be occupied the remaining bedrooms. Here first we will learn where is the best place for a bedroom in a house.
After get up from the bed some residents open their eyes and looking at their hands first and chanting the mantra. Some will look at their particular interested God, Some look at the mirror, some look at their family members, some looks at others photos and feels that the entire day will run with all good things.
Some elders say that after wake up from the bed, we have to see Lord Balaji, who is Kaliyuga Daivam, Smiling children face, green natural sceneries or waterfalls. First, observe with some practicals and settle with the one which gives you more good on an entire day. Please note that one is settled in a good Vastu house, he will get all good things generally. Anyway, we respect people's thoughts, but putting some facts may change their lifestyle.
Master Bedroom in Southwest Direction
In this image there are 4 colours and four parts., each portion represents a directional part of the house. Southwest is best suitable for the breadwinner to make it as their bedroom. Please note that in some cases the master bedroom at Southwest portion is also giving bad results, how? in this vastu science, every point is clubbed with research. Many expert vastu consultant people always trying to make people happy with new inventions.
If there is heavy open space at Southwest direction, then breadwinners occupied the SW bedroom suffer continuously.
If the entrance door for Southwest bedroom is in the wrong position, then also occupants suffered.
Biggest windows towards Southwest or South direction or west direction also makes them ill health problems, debts, their kids are not doing well, businesses are in loss, mental tensions, fight with people for living, many things may possible to happen.
Master Bedroom in West Direction
Apart from Southwest portion in a house, there is also another good direction for master bedroom i.e., West direction master bedroom. In some cases, the exact Northeast entrance for master bedroom may bestow high tensions to the residents. The East entrance door for the West direction master bedroom vouchsafe safe results. Generally, NE doors consign with good results, but NE doors are not suitable for every room.
Master Bedroom in South Direction
Apart from Southwest portion in a house, there is also another good direction for master bedroom i.e., South direction master bedroom. It is possible to see bad results if the South direction room has Northeast door. Why, it is like that, due to measurements, we need to fix the door for this South master bedroom. Blindly we should not fix door to any direction without experts advise.
Master Bedroom in North Direction
North bedroom is generally not recommended for bread winners of the family, but this North bedroom is acceptable for some other members of the family like kids, girls, some times elder parents, etc. If a home does not have Southwest or South or West bedrooms and having only North bedroom, then we have to think on this erratic placements.
We found many North master bedroom homes in USA, the users are living happily. It is possible if there is heavier open space towards North direction, this Vastu is imbued with logic, not with magic. Knowing vastu is a good idea, but practically, it may not giving expected auspicious results, when finalizing things wrongly. That is why most of the Vastu experts never likes to prefer phone consultation or email consultation. Because the facts come out only on personal observation.
Master Bedroom in East Direction
East bedroom is not good for breadwinner of the family, but it may be not bad for other family members, like younger children or kids etc. Sometimes the East direction master bedroom also giving good results based on heavy open space at East direction, water bodies at East direction, etc.
Master Bedroom in Northeast Direction: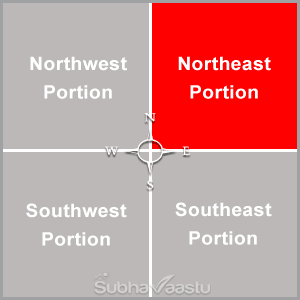 Northeast bedroom is not good for the breadwinner of the family, but it may be not bad for other family members, like younger children or kids, etc. Sometimes the Northeast portion master bedroom may deliver proficient results to the residents. It happened only because of heavy open space towards the Northeast direction. This is common for West or South facing homes, or southwest facing homes too.
Direction for the head to be placed while sleeping (Bed Cot Positions):
1. If the head is towards the South then, Sound sleep and lesser tensions, health improve.
2. If the head is towards the East, then improvement in knowledge, good for kids or children or employees.
3. If the head is towards the West, it may create ill health.
4. If the head is towards the North, then bad dreams, ill health and disturbed sleep.
5. The cupboard in the room's to be placed in West direction.
6. The bed in the room is at Southwest corner.
7. The dressing table in the room's Southeast or Northwest corner (with some conditions)
8. The cupboard in the room may be at South or west or southwest portions.
9. Place the bed or bed cot at South, West or Southwest.
10. The cooler at the room is towards the southeast or northwest direction, if not possible then place it at north or east directions but it should not touch the wall at these directions.
11. The flooring should be higher than the remaining house flooring (if the bedroom is at the southwest portion)
12. A bathroom should be at the southeast corner of the northwest corner, with some care (with some conditions) it may be placed at Nairuthi (Southwest) also.
Many visitors desired greater clarity with examples for bedroom and position of the bed and the like in several situations. Here is shown in a typical bedroom in a regular plot with a bed in the southeast corner. The points to be observed here are :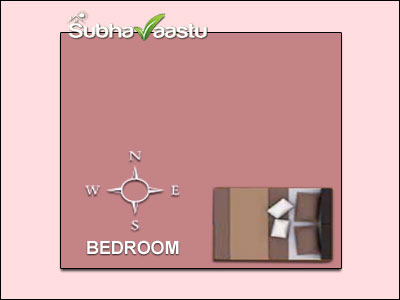 1. Greater load on the Southeast side of the bedroom when compared to Southwest.
2. One has to bear the consequences of this anomaly, these are: A. Incompatibility among the household members. B.Quarrels and troublesome relations with neighbors leading to poor reputation in the community.
C. Getting an unnecessarily bad name for no fault of residents.
D. Slow financial death or financially ruined.
E. A huge possibility of developing tendencies towards shortcuts in life in matters of law, finances and the like leading to further downfall in the society.
E. Developing illegitimate relations either in financial matters or sensual relations.
Here the bed is towards to Ishan (Northeast) corner, this is not at all good. Don't sleep in this position. This position called to be the worst bed position, we should not sleep at Northeast corners. Everything is against to the residents in this placement.Observe some other bed positions at next page, click the below next page button "Get more info Bedroom Vastu"
Which is the best place for wall clock at Bedroom?
Wall Clock In Bedroom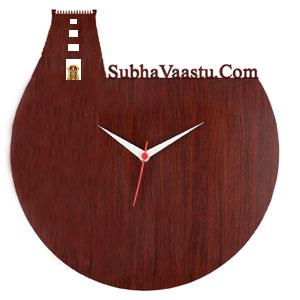 In a bedroom hanging of wall clock may be suitable towards East direction. If it's not possible then choose the North direction. Why we preferred East and North directions only, because these two directions are most positive and recommended for seeing when we woke up, that means, at early mornings generally residents require to know the timings, then they will first check the wall clock area. If the wall clock is towards East direction, then they will first see the EAST direction, this is simple logic. Some say that hanging of wall clock towards East and North are not recommended as its having some weight and better to hang towards South or West directions. How much weight the wall clock does have. It won't have one or two kilograms.
Which Is The Best Location Of Air Condition In Master Bedroom
For the Air condition (A/C) machine particularly for the split machine its better to have West or South direction. If its window A/C, then we should have to think on it. Because we have to check where exactly the window was placed and this window AC is fixed etc things has to be decided then only we have finalized the placement of window AC. Please note that this wall clock and AC machines are very simple fixtures, if the property is according to Vastu then these do not play an important role. Otherwise, we should check everything about their placements.
Dear visitors, if you have any doubts, raise here, we will answer with images, it helps everybody inclues you.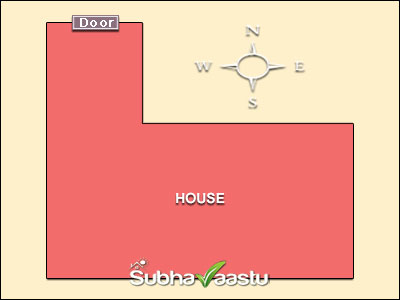 Somebody looking how to arrange the TV, Fridge, AC machine, Washing machine, iron safe, etc, unfortunately, they are not looking about the house structure. Observe the house here, it has Northwest-north increased and the main entrance door is also there. If the property is like this way, then first residents have to correct the major mistakes in the house, but somebody looking only very small things in the house and forgot about the major mistakes in the house, finally, these people are commenting that vastu is not worked.
Arranging the movable properties as per vastu is good, but first we should check the home vastu then we have to come for these small things.
Hope you understand this small logic. Follow the exact principles and stand as a leader in society. Don't approach quacks in the market.
Is It Advisable to Have 4 Bedrooms in the 1st Floor?
I have a one storey house, first floor has four bedrooms (two of these are in Northeast and Southeast of house and other two are Northwest and Southwest. The bathroom is in the West of the house. The stairs start from East and lead to West of house. The kitchen on the ground floor is Northwest and my living room on ground floor Southeast. Additional to this is the verandah which is in the West wall direction of whole house. My question is that my husband and myself sleep in the Southeast bedroom as its a large bedroom. My son and his wife sleep in the Northeast bedroom as this is another large bedroom. My unmarried/student daughter who sleeps in the Southwest bedroom as this is a small bedroom. Also, an extra room in the Northwest is a small bedroom. Please advise me of who should sleep where and how we can make Vastu style adjustments. The sun can be view from the front of the house in the summer but in the winter the sun has moved towards the Southeast direction of the house. Lots of arguments and problems are being faced in house with people and partners! I am concerned about health, happiness and education/job prospects - Thank you - Kavitha - Coventry - United Kingdom.
Constructions in India is different and other countries are purely different. In India nowadays most of people are looking for vastu principles or vastu constructions, but in other countries, people generally may not looking for the vastu principled house or other properties. They are looking only for the facilitation, air, light and look. Generally, Indians who know vastu may not accepts Western style or Eastern countries styles, nowadays most of the Indians are looking for Vastu structures.
You have total four bedrooms at 4 corners. Southwest, Northwest, Northeast, Southeast. Here the Southwest and Northwest bedrooms are smaller and Southeast and Northeast bedrooms are bigger. Based on the space available you have occupied the Southeast and your son occupied the Northeast b/r. Here we did not get one point from you, that who is the breadwinner in your family. Elder is different and the breadwinner is different.
If you are the breadwinner, it is better to occupy the Southwest b/r, and your son will occupy the Southeast and your daughter has to occupy the Northwest b/r. The Northeast b/r has to be kept always open, or has to provide only for the guests who are visiting your property a while in a year. If all these is not possible then ask your daughter to change b/r from Southwest to Northwest. You may use the Southwest b/r as your sitting room for reading or some other works. The southwest room is most recommended for the elders in the home.
In your ground floor, Kitchen is the Northwest part and you kept the Southeast as your living room or it may be your house living room, the whole West is the verandah or veranda, is it possible to make a small partition at Southwest part at ground floor, if so, better to occupy that room as your personal living room.
What about the Northeast part of ground floor. It was not mentioned in your email. The second best option (may not be possible for you, but we are publishing here for your kind information purpose) is that you may make another b/r at Southwest Ground floor for your son and you may use the Southwest first floor b/r as yours. Then everything will be under control and all will feel happy in that house, it is better to show your property with one expert vastu pandit, he will recommend you the best solutions.
North West Bedroom Vastu Remedies
When the master bedroom is at Northwest, the best remedy is to change the bedroom. If it is not possible and needs to stay in that home only and trying to get proper remedies, try with these simple thoughts. Keep one big mirror at Northeast of North and Northeast of east. Keep your bed only at Southwest corner. Try to arrange one door closure for this room and sit more time at Southwest of the house to ward off this Northwest master bedroom troubles.
Can We Use Carpets At Living Room And Master Bedroom?
Using carpets in the home is a good idea. If the location is clean and tidy, then one can happily use the carpets at their homes, even in the master bedroom. If dust is heavier then please clean the carpets daily, don't forget to clean daily, otherwise, bacteria and many viruses will store and may create loads of infections or developing allergies to the family members. We are highly recommending our visitors to have carpets in their homes. Buy only the costly carpets and colorful carpets. In Western countries, we may not find heavy dust, there residents can happily use carpets in any room including master bedroom too.
Wife Should Sleep on Which Side of Husband In The Master Bedroom
Wife should always sleep towards right side to the husband. This will be perfectly suitable when couple heads towards South direction and legs towards North direction.
Is It Good to Have Southeast Entrance Door to the Southwest Master Bedroom?
Generally, the Southeast entrance door to the Southwest master bedroom may be common in USA, UK, Australia, and New Zealand, but very less in India, the East facing and North facing homes may have Southwest master bedroom, no doubt this would beneficial to the residents, some of the homes have Southeast entrance for this Southwest master bedroom.
The master bedroom is at Southwest, the entrance will be at Southeast, in this case, it is possible to get heavy expenditures, quarrels, the possibility of unexpected accidents (accidents meaning, anything which is unnatural) irritation in routine life, things cannot go smooth, etc maybe occur, in certain cases like having direct main entrance door to the exact SE of the home will make more troubles to the residents, if there is an obstruction in between SW and SE direct touching then they feel more troubles with heavy expenditures and certain health issues, maybe minor, if there are no obstruction things in between southwest and southeast then residents have to face few challenges which may or may not solve.
The most painful thing is that unfortunately, some residents are buying such homes after having tiny Vastu knowledge through Vastu books and Vastu videos or Vastu websites, later they are panic about the situations. This unfortunate happening may not be applicable to all the properties but sufferers are heavier than the beneficiaries. One should be careful before buying the homes.
As Per Vastu Which Bedroom Should Give to Senior Citizens
Breadwinners are different and senior citizens are different. Breadwinners always occupy Southwest bedroom and senior citizens can occupy the remaining any other bedroom.
If Breadwinner is Working in Another Country, then Which Bedroom Should Be Given to Elders
If the breadwinner is working in another country, then parents can occupy the Southwest bedroom.
Where Should Widowed Mother Sleep in the Home as Per Vastu
Dear Sir, What is the ideal and second best location for the widowed mother of the family to stay in? The son and his wife will occupy the Southwest. The mother would like to stay close by. Kindly suggest her ideal bedroom location. Thank you. Hemant - Chennai.
Different experts have their opinions, but our opinion is the breadwinner should not occupy the Northwest bedroom. So widowed mothers can avail either Northwest bedroom or Southeast bedroom based on availability. Breadwinner safe occupied bedroom should always be at Southwest.
Vastu Testimonials Delivered By Respected Residents
Dear Suresh, I am pleased to inform you that like the way you provided consultation for my home and explained to me all the changes required inside and outside home. I really appreciate the diagrams that you prepared for my home with pictures and arrows showing the changes need to be done. Above all, you explained very well the reasons behind changes you recommended for my home with great clarity and sense of humor. No doubt in my mind, you are the best Vastu expert, I really appreciate your dedication by building and maintaining a very informative website that is helping thousands of people across the globe. Also, I sensed when I talk to you and when I was dealing with you, you follow honesty and integrity and you have a sincere desire to help others - Kotesware Rao - Dallas - USA
We are tech professionals and working in USA. After a year long search we brought the house. After buying the house I started looking for consultant who can help me evaluating the house. I came across Subhavaastu website which has lot of information. I contacted Mr.Suresh and requested him to help with our house vastu. It has been an incredible delight working with him.. He is very detailed oriented person and never compromises with his work. I am typically not interested to deliver the reviews. But after working with Mr. Suresh I decided to share my experience. Mr. Suresh has great expertise in providing vastu consultation to USA property. He is always available through email and phone l to answer questions. I am writing this review hoping it will help other people like me who lives in abroad. Please take advise before buying the house. I highly recommend Mr. Suresh as he has great experience with structure of USA properties and also he provides genuine consultation. I really appreciate Mr. Suresh's help in evaluating our house - Padma - Boston - USA
"I contacted Sureshji to consult on our current home. He was spot on in identifying vastu dosha in regards to the problems we were having. He suggested remedies but we are still looking for a new house. Since then I have been in touch with him for finding a right home for us. He is very sincere and truly wishes better lives for everyone. He doesn't compromise with quality and is always responsive to queries. He recommends solutions as per location as vaastu rules differ for each country. He is greatly contributing to the society with his knowledge of Vaastu Shastra and dedication towards his work. Keep up the good work Sureshji and wish you success and happiness!" - Megha - Virginia - USA
I have consulted Suresh Garu during December 2014 during the process of buying a house in Texas, USA. I have occupied the house for one year now, and feel like dropping a review regarding my experience during the entire process. I am very much satisfied with the kind of service I received from him. He is very knowledgeable and I was often stunned by his detailed analysis during the course of my interaction with him. He was very much accessible over phone (perhaps more than 10 times for one house plan!) and the price is very much reasonable especially compared with the cost of the house. I noticed his burning desire to help me in making informed decisions on certain things. I have seen some people pretending to know this subject and misguiding those who come for help by saying only what we want to hear. SubhaVaastu is definitely not that one. Finally, I am strong believer of leaving certain things to experts in those subjects. I have been in US for more than 13 years and have seen people doing their own corrections (by reading website articles) trying to save few dollars. Please don't do that. You would end up in causing more damage. I highly recommend you to engage SubhaVaastu in your next project - Satish - Dallas - TX - USA
Inspirational Quotations
"Never mind failures, they are quite natural, they are the beauty of life, these failures. What would life be without them?" - "Swami Vivekananda"
---
---
"Great Personalities speak about thoughts. Normal minds talk about occassions. Narrow minded gossip about others." ― Eleanor Roosevelt . . . Let you question yourself, "Who You Are"?
Joke Of the Day
Tinga Rao made a complaint in the police station and subject of the complaint is that the neighbour's wife is missing since a week.
"Then the Police asked why should you worry, when neighbours wife is missing."
"The cryptic answer of Tinga Rao was – "my neighbour is partying and enjoying the life for the past one week because his wife is missing. That I cannot tolerate"."
Follow us on Social Media