Details

This Page Hits:86932
Is It Important to Check Vastu for Rented Houses?
Generally, the Vastu never knows that the inhabitant is the owner or a tenant. It works based on the property Vasthu only. Vastu Shastra is an ancient Indian architectural science. In layman's terms, it can be defined as the science of construction. As a matter of fact, science is logical based on logical reasoning and empirical facts. It doesn't distinguish between people. That is why, no matter if the residential house is owned or rented, the vastu implications remain the same. It shows similar results for everyone in the house. The consequences are inevitable, positive or negative, should there be any vastu doshas in the residential house.
Rented House and Vastu: (Before reading this content, please read House vastu) Rent or payment for the temporary use of a property or hiring with an agreement to stay for a short time. The agreement may be in between landlord and tenant for monthly or yearly regular payments for the use of such property, or temporary dwelling by paying some costs.
In some areas, the renting, hiring, lease, agreement, etc may be used as different words as per their local understanding methods, ever since the system, it may be temporary.
In some areas, there is another system that is also there, no rent, no interest for the advance payment, for example, the tenant pays Rs.10,00,000/- as an advance to the property owner, for this no charge or rent for the said property. In some areas, the tenants are acting as landlords and landlords are rounding the court of law to vacate them, very nice system.
Many residents always enquiring experts about the results of a rented property Vastu.
Some asking about Vastu remedies for rented house. The significant point here is, how much time the resident living here. Based on that the results may vary
First check how many years residents planning to stay in a rented house. If they are planning to stay for a short period say about 6 months to one year and the property meets the requirements and if it is nice, then don't check Vastu.
If resident planning for more than 2 or 3 years stays in a rental house, then it is advisable to have one expert Vastu consultant assistance and get their recommendations. Generally, experts of Vastu Shastra may demand more money, so you should also check the value of what you are spending money for that rented property.
We came across some properties which are two lac rupees (INR) as rent for a home, it's true, it happened in Bangalore city in the year 2016. Even in Hyderabad, Mumbai, this Rs.2,00,000/- is for monthly rent. For them its highly recommended to have Vastu specialist assistance to finalize. .
If a honest Vaastu person visited that property he can find the facts and guide,based on his guidance residents can take the final decision. Generally, the expert guide you on the most critical issues of the home, and the consultant finds all Vaasthu issues, because you are taking the property on rent.
Vastu consultant generally asks some questions to inhabitants in his consultancy to know whether you are buying that property or taking it for lease. Based on your answer the consultant may point out the high priority and medium priority irregular Vastu defects/issues on that property.
Sometimes experts may never pay attention to medium priority issues on rented properties. If he objects to even for a small Vastu irregular things, then residents may not get a house for rent, though they may search for two years. You are aware of this fact.
But the same Vastu specialist is pointed on each low priority issue when you want to buy, this is the system many experts are doing in society. Based on many situations, generally, most specialists are taking decisions. Sometimes they are very serious about a small Vastu defect but in some time they won't care for medium defects also.
Many thought that rented means only houses, but there are many properties available for rent for example factories or industries, Hotel, restaurants, lounges, shops, car garages, hospitals, offices, choultry, cinema theaters or movie lands, fun club, Jim and fitness center, bar and restaurants, colleges, schools, educational institutions, Nursing homes, clinic, Hospitals, Bank Building, warehouses/godowns, etc.
There are some persons/firms, rounding the entire country for temporary placement of shopping malls, etc or shops, they are looking for exclusively short term shops | sheds | Tent | Portable Shelter | Temporary commercial cottages, etc, if their required period may be only for festival seasons then no need to check the Vastu, but its better to have good protection towards South and entrance should be North, Northeast-north or East, Northeast-east is good. For more information here we would like to publish the passage to their temporary sheds:
For North road shopping sheds the entrance may be towards Northeast-north, next best is North
For East facing or East road access should be Northeast-east, next best is East for their outbuilding.
For West facing or West road mall the entrance should be Northwest-west, next best is West.
For South facing or South road the best entrance is Southeast, next best is South.
Not advisable or negative entrances are Northwest-north, exact Northwest, Southeast-east, exact Southeast, Southwest-south, exact Southwest, Southwest-west. We never recommend corner entrance doors, except Northeast corner to under some terms or conditions.
Three Roads Rented Property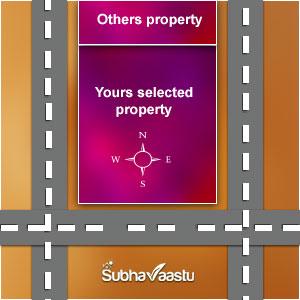 This is a property, where newly built, its a beautiful one and monthly rent of Rs.75,000/- INR, this was situated in Bangalore city. When tenants want to take lease this property, his wife asked to show this property with one expert. After visiting the property, he was suggested not to take rent of this property. Husband never hear these recommendations and was forcibly joined the property and within a span of one year, he, himself requested the same person to visit the property once again. Why?
This is an elegant and fashionable/posh property. The tenant is also having status in society and occupying the highest socioeconomic position in society, he never wants to compromise, because his business is like that. All of his clients were very rich and may use to visit the house regularly to settle down many deals. We should note one point if there is no North for the property and there is a road at West, South, and East, it's not recommended.
West Direction Rented Property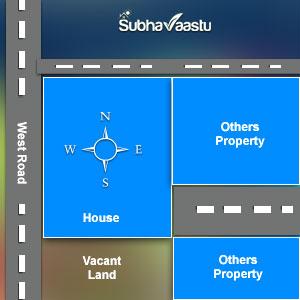 This property facing towards West direction. One of the famous doctors would like to take this property in Cochin, Kerala (to protect their privacy city name changed) and show it for Vastu evaluation. The consultant visited the property and pointed out two important negative things here, one is Easetrn Southeast street focus and South vacant land. Both points may damage negative forces. On a temporary basis, one may take this property on rent. For a long time stay or planning to buy then keep away from this property.
Northern Northwest Entrance Rented House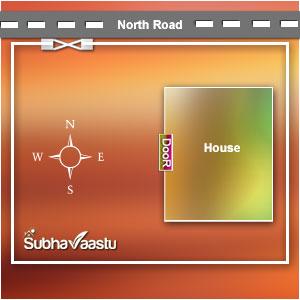 Widely known and esteemed politician spoiled his entire career. This residence is having North road. Wide range of open space in the West direction, and the home was constructed in the East direction, leaving a space of only 2 feet, West is having more than 50 feet of open space, and the West has a beautiful lawn, moreover, the home is a stunning beauty idol. By seeing all these orderly group structure, the politician took this on rent without observing Vastu, the home is like that, this is in Maharashtra state. He faced difficult situations in his career, and for smaller things also he has to use great physical or mental effort to accomplish power to control influence to settle down the issue.
To protect their privacy we hide some information about the negative impacts which he faced on this property. To get bright light in their career, Politicians require good East open space in their living properties. Wide West open space may damage their influence and career.
Northeast Truncated Rented Property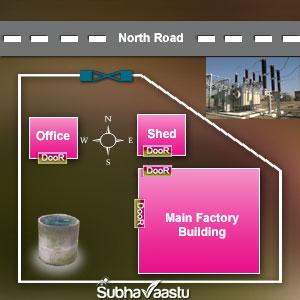 Observe the this property: Industrialist faced displeasure situations and continuation of labour interruptions, agitations and many more problems. Within a period of 11 months, the Industrialist searched for a renowned and famous Vastu consultant in India for his newly rented factory. The ill fortune is, that he was taken this property recommended by one person who claimed to be an expert, who served Talisman, which magically protects against evil and negative forces and was collected Rs.1,50,000/- and other expenditures about Rs. 12,000/- and was charged only Rs.1000/- for services. Poor Industrialist was in his spider trap and was paid whatever he demands and performed some reverent prayers also there.
The trinket or piece of jewelry usually hung about the neck was removed and thrown outside after knowing that he was cheated by the quack. Before taking this property, with great efforts, the Industrialist arranged money without any second thought, and with many hopes, he entered here and lost many valuables including time. The bad effects of the property with a short note.
The entire plot has Northeast truncated which may be generally inauspicious and may always create issues, overall he never observed the development on this premises.
The main factory building was constructed towards the Southeast and leaving empty space towards the Southwest, this may be the reason, always facing disturbances. Sometimes for smaller work also they have to use higher resources. Agitations, complaints, and machinery repairs may be continuously knocking on the door.
Southwest water well, which may damage everything, even reputation may also spoil.
Northwest entrance gate, which always brings negative energy into the property and created several restless situations and litigations.
The Office was situated Northwest of the entire property and frequent walks were observed to the main factory building and office.
There is a 40 feet space in between the main industry building and the shed which was shown in the above image, imagine the other measurements of the entire premises.
Some Properties to be avoided. This incident is the best case study that the investors should not go for cheap services. How can a person come for consultation for Rs.1000/- only?, a small boy studying in a 6th standard can easily understand this point, unfortunately, this industrialist did not.
Is It Good to Take Rent of a Home That Has Eastern Southeast Main Door?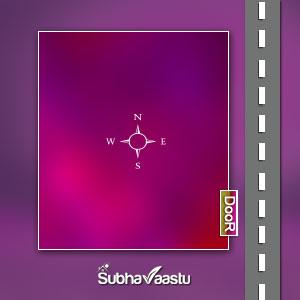 The main entrance door falls at the Eastern Southeast direction. Normally, this may create several headaches. Avoid this property. For the short term, no problem, but for the long term, better to avoid it. If the door is located in the Eastern Northeast, then it is considered to be auspicious. It is advisable to get expert advice before taking a home on rent for the long term.
It is Good to Take Southern Southwest House on Rent?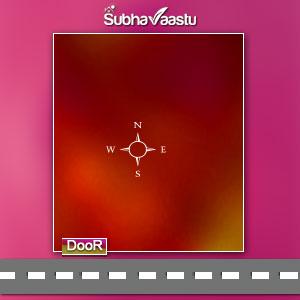 The Southern Southwest door may spoil the positive energy of the premises. This dwelling has a Southern Southwest door which is considered to be substandard. These Southern Southwest entrance homes may not be suitable for business people. It is generally observed that in mega cities in India like Mumbai, New Delhi, Kolkatta, Chennai, Hyderabad, Bangalore, Pune, etc many residents construct business establishments in Southern Southwest, with the road towards South.
Northeast truncated property which may not be good, always creates issues, may not observe the development there.
The main factory building was constructed towards the Southeast and leaving empty space towards the Southwest, this may lead to always disturbances in their fields. Sometimes for smaller work also they have to use higher resources to solve the issues. Agitations, complaints, and machinery repairs may be heavier.
Southwest water source/well, which may damage everything, even reputation may also spoil.
Northwest entrance gate, which always brings negative energy into the property.
The Office was situated Northwest of the entire property and frequent walks were observed to the main factory building and office.
There is a 40 feet space in between the main industry building and the Shed which was shown in the above image, so you may imagine the other measurements of the entire premises.
Some Properties to be avoided. This incident is the best case study that the investors should not go for cheap services. How can a person come for consultation for Rs.1000/- only?, a small boy studying in a 6th standard can easily understand this point, unfortunately, this industrialist did not.
It is generally observed that in mega cities in India like Mumbai, New Delhi, Kolkatta, Chennai, Hyderabad, Bangalore, Pune etc many are constructing business establishments in Southern Southwest parts, with the road towards South.
They are entering the house or the shop through the Southern Southeast entrance as they have sold out or hired out the above shop. Similarly, when there is a road in the West, the shops are built in the West or Western Southwest and sold or hired out to others.
So in such a phenomenon, they are entering the house or shop through the Western Northwest entrance. It is but natural then that Southwest has cut off to the road on South or West. Even then, are the inhabitants not happy? hence, we opined, that the authors of the books, should have some personal experience before commenting on the effects of Southwest truncation and so on.
Question: Good afternoon Sir, Happy Maha Shivarathri. I am Swapna here from Bangalore, Karnataka. I have a Vastu doubt to ask you. The Southwest corner of my house is having wardrobes on the West wall and a big window on the South wall. Is this bad? I want to keep the locker at Southwest, where do I have to place it? Inside the wardrobe or outside? I am facing financial problems very much. And people say Vastu is not applicable for rented houses. Is it true?
Vastu is applicable for own houses or rented houses, there is no doubt, the only important point is "the period of stay". Wardrobes towards the West wall is good, but having doubt on a big window in the South direction, you have not mentioned about surroundings information, particularly towards the South direction. If South is having constructions then you may use that window to open, if no constructions towards South direction and it is all open then best to close the South big window. For all of your problems, it's better to show your property with one expert nearby you, he will guide you the rest.
1. Short Term Period of Stay:
2. Long Term Period of Stay:
Short Period of Stay or Short Term :
...........................
If your plan is to have only short term arrangement, then it is recommended that don't check vastu of the property. Let us discuss what is the Short term and what is the long term here. A period of 3 months to 6 months is called as short term and more than 6 months is called as long term here. The particular period of agreement time is important for the changes. In most of the cases the results whether they are bad or good starts only after 6 months.
Generally, our elders says that we should wait for atleast one year to check the results of the property. This one year period includes Uttarayana and Dakshinayana and also across four seasons in one year period. Based on all these conditions, one should not check the results of a property within a period of 3 to 6 months, when can we get 100% perfect time of results (either bad or good), it's only based on surroundings of the property. Now check the below property.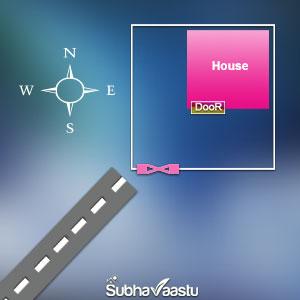 This house is having Southwest street focus and it has Southwest-south gate and Southern Southwest door. The entire house was constructed towards Northeast and due to this there is a open space towards Southwest, South and West directions. If you found this kind of property then it should be seriously think twice before taking such a property. So we should learnt some new things that some properties are there they may not be suitable even for the short term commitments also. In the above para content what did we discussed, no need to check vastu for a property if planning to take for short period, now what did written here, this is what the serious impact from surroundings and internal vastu effects and this may cause threatening and great harm to the residents.
Please note that for a certain period this property may provides good results, based on that the tenants may decides to continue here, that should be the wrong idea. Now check the below property.
Almost same property but some changes has to be observed here.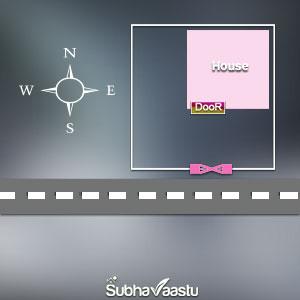 Please observe this image and above image carefully. The almost same property when compare with above one, but it does not have Southwest street focus and Southwest gate, the remaining every thing was same. If you are seriously looking for a rented property and that to a short term then you may join with this property. PLEASE NOTE THAT, we are not recommending this property even for the short term, but this may be the good one when compare with the above. Hope you have understand what did the meaning plays here. In your searches if you found both above two properties and there is no way for any other good property and you don't have time for new search, then you are advised to take this property only, not the above one.

Read this line also, this property is not at all good for the "LONG TERM", hope you have clearly understand this logic here. If not please try to again read another time for good understanding.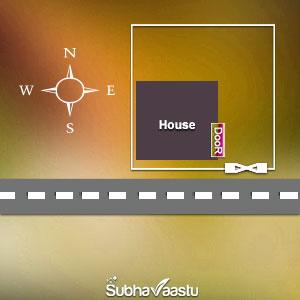 Observe comparison for the LONG TERM PERIOD:

House was constructed towards Southwest, main gate was placed towards Southwest, South road, more space towards North and East directions. Only issue was Southeast main door. It may harm for the Long Term Period people. This may be suitable for the Short Term Period People. Observe the below image for more information.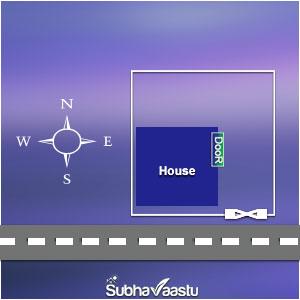 Slight changes observed here.

This home has Northeast-east main door, main gate was came towards Southeast, South road and more open space towards North and East parts. This type of properties are good for the Long Term and Short Term Periods.
Please note that we have given only some examples, don't take these examples as the final options and don't enter into agreement or contract based on these images.
Some body asking doubts that no need to check vastu for rented houses or Vastu is not working for rent properties. To clarify their questions we published some inquiries with changing of names below. We have already sent clear answers individually. Due to some limitations, we did not expose same here to protect our website visitors privacy. The object of publishing questions here is, whether vastu applies for rented properties or not. We received almost thousands of enquiries only on letting out properties. After completion of reading below, hope you may understand the significance of Vastu even for lease or rent properties. If you require we will publish another 500 questions here. Then you may understand the importance of Vastu working for rented properties.
A Few Residents Experience With Rented Homes Vastu
1. Hi Suresh Avure, I'm a vastu learner and we are moving to new rented house, so our query is the house has road on the both side south and north and house constructed up to 4 floors and each floor has 4 houses in which I'm renting one portion..but the house has bore-well in south west corner.so my query is does it effects all tenants in the house or the only guy who stays in that south west portion or the house owner who stays in first floor.. sometimes i think i should worry about vastu for the portion for which i'm paying rent.. Please revert with your valuable suggestion. My advance thanks for your time. Thanks - Nataraja, Bangalore, Karnataka, India.
2. Sir, i am working in air force. i have a South-West plot and i intend to register a house plan for approval. Can I have a plan for this S.W plot to build 2 houses so that one can be given for rent. thank you - Srinivas - Mumbai - Maharastra.
3. Dear Sir, My star is Maham (Simha rasi), my wife star is Tiruvonam (Maharam Rasi). We have a land in my wife name.. Total area is 60 X 90 feet. But we reserve for 30 x 90 for own house in future. In the other 30 x 90 We want to build line houses north facing ( 4 Nos. but one home for me other 3 houses for rental purposes) in my own land with bank loan facility. Can I provide each hose FOR 20 x 26 FEET. As per manayadi sastram, which size is correct for one house. Can I get loan facility with bank. Please advise me. Thanks - Saravanan - Chennai - Tamil Nadu - India.
4. Hello, We are thinking of renting a flat. The house door faces north west (leaning more towards north. There is a flat that is opposite to this. There is a north facing road and another apartment across this. Kindly advise - Surya Karthik.
5. Good afternoon Sir, Happy Maha Shivarathri. I am Swarupa Santhosh here from Bangalore. I have a vastu doubt to ask you. The South-west corner of my house is having wardrobes at west wall and big window on south wall. Is this bad? I want to keep locker at southwest, where I have to place? Inside the wardrobe or outside? I am facing financial problems very much. And people say vastu is not applicable for rented house. Is it true? Kindly reply me back - Roopa Narendra - Bangalore.
6. Dear Sir, In my Rented house, the overhead Concrete Water Tank is existing over my Bed Room. Is it Bad ? Because, after coming in this rented house, I am not able to save money, not only that the money is being washed out like water and hampering my mental peace in my family regarding financial crisis. Please give me the solution for that - Kishan Roy Chaudhdury - Ghaziabad
7. Dear Sir, We have recently shifted to rented house, i found that their is a lemon tree in the house. according to vastu is it ok or not. the tree is in south - east direction. Kindly suggest Thanking you - Rajesh - Chittoor - Andhra Pradesh.
8. Firstly i would like to thank you for all the good work and information. my question is- i live in a rented house with North facing Door. Its in third floor. Bit of the west side is missing (South west is there), it is used as stairs (outside). and again North west is the toilet. when i enter the house, i have to cross toilet/ bathroom and then the Main Door. so advise me the adverse effects. Thank you in advance - Prashantha kumar - Hyderabad - Andhra Pradesh.
9. Hello sir, my question is we r staying at rent & our house entrence is facing north directionin 3rd flr, we have stair case on our right side of the door for terrace , can we keep the gods photos i the north wall and secondly i have place my tv shelf in the Northeast cornear is i ok and gods temple in west direction facing towards east but next to the main dooris it ok,pls. guide me - Kavitha - Mumbai - Maharastra.
10. Hi i just wanted to know the charges for doing the vastu for my rented shop . I sell ladies dress materials in vasai .mumbai .just started it in dec . 2013 so was wanting to enhance the positivity for good sales and profits. Kindly let me know the same - Nelson.
11. Hi, We are planning to rent a bakery space for a Restaurant. We are trying to renovate. Main Entrance is facing West ( this is inside a complex) Has a Northeast door in the back. Restrooms are located in the Northeast direction, not sure where the restrooms should be. Need the advice where the Coolers should be( The walk in coolers are located at SouthEast Corner) - Chelsia Robert - Dallas - United States of America.
12. Dear sir, I need to know of my rented Shop Vastu which has facing towards west and my raasi is Scorpio, Nakshatra-Anusham-2.my rented shop size is length - 16" and breath - 8". I don't have any improvement in finances and business also. Kindly suggest solving the problem and to grow up with well settle. Narayana Raju - City and Country not known.
13. Please, help me, my kitchen is SW, i m facing SW while cooking, my sink it s on the corner of W and the stove on the SW,the paint it s allready yellow, please give me some remedies, i m not landlord, i can t brake anything, thanks a lot - Stef Mary - New Jersey - USA.
14. Dear Mr. Suresh, We are staying in a rented flat and I am trying to buy a flat for ourselves. However I try to save there is some problem or the other. I would like to give you descriptions of this house were we are staying. We are staying in Thane which is close to Mumbai. The main door is facing the East. As soon as we enter is the Living Room, followed by Kitchen, Common Toilet and then the Bedroom with attached Bathroom.
In the Kitchen the platform is situated in the South and the sink is in the West. The Bedroom's Toilet is on the East and the Landlady has a Cupboard which is in the South and cannot be removed. We have a Chestnut Bureau which is situated in the North. Also we have some ailments in this house. We request you if there is any solution that can improve our Finance and health issues - Rajasekhar, Place and Country not known.
15. We live in flat facing east.kitchen on n.e side.rented flat.there is servants toilet in n.e side.bedrooms are on n.e,s.w and north west side.3 bedrooms.facing financial problems,business problems.son in 12th std,doing board exams in march.pls help - Savitha - Cochin - Kerala.
16. Hello Mr.Suresh, Happy New Year to you !!! We are a Indian sweets and desserts manufacturing Company based in London. I just wanted to have a few tips about vastu for the kitchen and other areas. Is there any remedy if we cannot follow the vastu as we have a rental premises and many changes cannot be made to the structure. I have attached a map of the site for your perusal. Please respond with your suggestion. Kind Regards, Bala Sekhar - London - United Kingdom.
17. I am in a very bad position.my date of birth is 3-2-1960.time 11.30 pm place Nilgiri district in Tamilnadu. I was working for many good companies in sr. positions. from aug 2013 I have started my own business. I have rented office and I have shifted my residence also in the office. front room I am using as office.the office entrance is south west. my sitting is in Southwest facing Northeast.. Please suggest me - Showkath Maqbool - Raipur - Chhattisgarh.
18. Respected Sir, Because of financial problems,10 years back we had to sold all our properties including our very big house.Since 10 years, we are living in a rental house with out any improvement. Now we have to move from that flat to another. We have seen one flat which is east facing with perfect basic vastu in third floor. But to main building the South and West side surroundings are very down without any houses. Kindly, suggest us. Thanks & Regards - Pandaribai - Hyderabad
19. Dear Sir, I have a toilet on the south west corner of the office. this is rented office so i cant change the same so what is the remedy for the same. I am suffering with many problems - Sagar Marthand.
20. Dear Sir, Your website present design is very fine. However, I have a doubt in my mind regarding which direction suits me. Presently I am residing in an apartment with six floors with four flats on each floor. My main door facing North direction. East is blocked by another flat West is blocked by another flat In front of South and North sides are blocked by two big apartments There is no Sun or Moon visible at anytime. Eversince I occupied this rented house I have become bankrupt /cheated in financial matters, debts are mounting, Daughter's marriage delayed, Son not yet secured job. I am sleepless and worried whenever I stay inside the house. Kindly advise me which direction I should select if I have to shift from this house. Please state clearly which direction I shall be going when I step out from house. I did not get proper advice locally. Kindly help me and oblige - Naga Rajarao.
21. Dear Sir from last one month every day i am facing a new health problem and now problems are turning to worst. Sombody told me i have to change house because according to vastu this house is creating more health problem in me. I am staying in rented house this is last house in close street. Actually, earlier street was open but because of some issues few person has closed that one. Kindly help me - Miss Verma - Azamgarh - Uttar Pradesh - India.
Now a days selecting a right property is very difficult. So, for short term requirement, try to find out atleast minimum basic things. For Long term commitments, try to find out good vastu properties.
Question : I'm a vastu learner and we are moving to new rented house, so our query is the house has road on the both side south and north and house constructed up to 4 floors and each floor has 4 houses in which I'm renting one portion..but the house has bore-well in south west corner.so my query is does it effects all tenants in the house or the only guy who stays in that south west portion or the house owner who stays in first floor - Ramachandra - Bangalore - Karnataka - India.
Answer by our Team : Attachment or connection with the property is most important in Vastu. The second point is Time. So a Vastu shastri should first examine the Time frame where the inhabitant was occupied a property and the attachment with the property if the resident is partially using one portion. Based on this features and also should observe the vastu inside and has to observe the surroundings effects on the property. Vastu was written only on independent properties, we don't have collection where rushis were written vastu on apartments or flats, recently many experts in this field has researched many things on apartment flats and found many facts and also drawn some important significant useful facts to the society. If you are not occupied the ground floor of such apartment, then no need to worry at all. If you are occupying the first floor and residing at Northeast or other than the Southwest portion, then also no need to worry, if you are living towards Southwest portion exactly on top of this well, and if your flat owner accepts then you might just lift some heavy weight material towards Southwest corner to reduce any bad effect if that's the case. At first we should learn one thing while coming to the flats and apartment system. Whatever the effects to the apartment then most of the flat owners/ occupants might face such situations, not individually but altogether. There are many doubts also raised in this question and in all of our examinations while with flats Vastu. We will discuss everything later. At present there is no need to worry in any case.
Generally, people may raise such questions like :
We are staying in central part of New Delhi, would like to vacate the present home and wish to take a new property on rent. Can you please be share a thought which direction we should move from our present home. Someone saying that we should more only towards Northeast/East/North only, is it right, please guide us.
Answer by our Team : No doubt moving towards Northeast/East/North may be good, but in all cases its not at all possible to move such way. Because, if you are already moved towards Northeast, then where you have to move, can you vacate city and move towards Ghaziabad?, after that you have to move to Modinagar or Meerut or Nepal or Tibet or China?
One person by Akshith Patel, who is doing vastu consultant practice and stay in the rented home in Hauz Khas, present house owner asked him to vacate the property as his son is coming from USA and staying there for 6 months. So Akshith Patel thought to vacate the property and he wish to move only towards Northeast, i., Lajpat Nagar and taken one home and later on he has to vacant on some personal reasons and moved towards Jangpura, after some months owner needs to modify the property and requesting him to vacate the property, so Akshith Patel should move only towards Northeast, shall he move to Yamuna River and die there. All these are funny things. You may move to any where in your town or city. But you should take only the perfect vastu property. Then your life will be colourful, otherwise, you may suffer where ever you go.
In general always search to select a home at Southwest of your city or town and with this your office or shop or commercial place will come only towards North, East or Northeast. Regularly you are moving towards such places so you will be little benefited.
All residents who occupied Southwest may not be life long richer and all residents who occupied Northeast may not be life long poorer. Both statements are wrong. Only littte percentage is more beter for Southwest occupants.
Another question:
We are presently living in 12th floor in an apartment, now we want to move from this flat and we seen one apartment flat, we liked a home in 4th floor, somebody says that we should not come down than this 12th floor to 4th floor, is it right?
Answer by our Team : These doubts are not worth to believe. You may either select 4th or 14th floor, but it should be good in vastu.
If residents likes to know more information on Vastu, please do write one email, we will respond them asap. Below you can find the contact us page. Thanks in Advance.
Vastu Testimonials Delivered By Respected Residents
Dear Suresh, I am pleased to inform you that like the way you provided consultation for my home and explained to me all the changes required inside and outside home. I really appreciate the diagrams that you prepared for my home with pictures and arrows showing the changes need to be done. Above all, you explained very well the reasons behind changes you recommended for my home with great clarity and sense of humor. No doubt in my mind, you are the best Vastu expert, I really appreciate your dedication by building and maintaining a very informative website that is helping thousands of people across the globe. Also, I sensed when I talk to you and when I was dealing with you, you follow honesty and integrity and you have a sincere desire to help others - Kotesware Rao - Dallas - USA
We are tech professionals and working in USA. After a year long search we brought the house. After buying the house I started looking for consultant who can help me evaluating the house. I came across Subhavaastu website which has lot of information. I contacted Mr.Suresh and requested him to help with our house vastu. It has been an incredible delight working with him.. He is very detailed oriented person and never compromises with his work. I am typically not interested to deliver the reviews. But after working with Mr. Suresh I decided to share my experience. Mr. Suresh has great expertise in providing vastu consultation to USA property. He is always available through email and phone l to answer questions. I am writing this review hoping it will help other people like me who lives in abroad. Please take advise before buying the house. I highly recommend Mr. Suresh as he has great experience with structure of USA properties and also he provides genuine consultation. I really appreciate Mr. Suresh's help in evaluating our house - Padma - Boston - USA
"I contacted Sureshji to consult on our current home. He was spot on in identifying vastu dosha in regards to the problems we were having. He suggested remedies but we are still looking for a new house. Since then I have been in touch with him for finding a right home for us. He is very sincere and truly wishes better lives for everyone. He doesn't compromise with quality and is always responsive to queries. He recommends solutions as per location as Vastu rules differ for each country. He is greatly contributing to the society with his knowledge of Vastu and dedication towards his work. Keep up the good work Sureshji and wish you success and happiness!" - Megha - Virginia - USA
I have consulted Suresh Garu during December 2014 during the process of buying a house in Texas, USA. I have occupied the house for one year now, and feel like dropping a review regarding my experience during the entire process. I am very much satisfied with the kind of service I received from him. He is very knowledgeable and I was often stunned by his detailed analysis during the course of my interaction with him. He was very much accessible over phone (perhaps more than 10 times for one house plan!) and the price is very much reasonable especially compared with the cost of the house. I noticed his burning desire to help me in making informed decisions on certain things. I have seen some people pretending to know this subject and misguiding those who come for help by saying only what we want to hear. SubhaVaastu is definitely not that one. Finally, I am strong believer of leaving certain things to experts in those subjects. I have been in US for more than 13 years and have seen people doing their own corrections (by reading website articles) trying to save few dollars. Please don't do that. You would end up in causing more damage. I highly recommend you to engage SubhaVaastu in your next project - Satish - Dallas - TX - USA
Inspirational Quotations
"As long as we require someone else to make us happy. We are slaves" - Swami Vivekananda.
---
---
"Great Personalities speak about thoughts. 'Average Person' talk about occassions. 'Narrow Minded' gossip about others." ― Eleanor Roosevelt . . . Let you question yourself, "Who You Are, either 'Great Personality', 'Average Person' or 'Narrow Minded' ?
Joke Of the Day
"A book was released and the cover name is "How to change your WIFE", and within ONE week, "25 MILLION" copies were sold. The publishers found a mistake in the title, actually, it should be "How to change your LIFE", when publishers corrected and released the new book into the market. The first month's sales were 3 copies".
Follow us on Social Media