Details

This Page Hits:682040
Vastu Shastra Pooja Room | Puja | Dhyan | Bhakthi | Yogamudra | Bhajans | Satsang
"God gave you a gift of 86,400 seconds today. Have U used at least one second to say "THANK YOU, GOD?"
Vastu for Pooja Room: In olden (golden) days many elders suggested keeping the pooja room only at the Northeast corner, where God Eshwar resides.
Is Northeast Corner, the Only Place for a Prayer Room?
Not only Northeast corner but there are also several other locations that a resident can arrange the Pooja room as per Vastu, without any confusion. We provided each and every location for the pooja room, please go through below for a detailed description.
Is It Mandatory to Build a Pooja Room in the Home, Instead of That Is It Ok to Arrange God Idols in Shelf?
If there is no facility or funds to construct individual pooja rooms in the home, then residents can keep God idols in a shelf. There is no problem with this idea.
If residents like to construct pooja room, then please build the pooja room as per Vastu shastra principles.
In this section we tried our level best to provide detailed information on where to keep pooja mandap, puja dais, mandir placement, the best placement of pooja shelf, or even Satyanarayana Swamy Pooja arrangements.
Is Pooja Mandir Should Construct Only at Northeast Corner?
The pooja room placement is good at Northeast, care should be taken in this regard. Not only Northeast corner but also residents can arrange Pooja room at East, South, West and North directions too.
In some houses other than the exact North-west corner and Southeast direction corner inhabitants are keeping Prathimas / God Idols at remaining other places. Gods / Murthy or Moorthis / prathimas / idols face may be good towards East or West direction in the pooja room.
Gods may be prayed by facing any direction but faith and devotion may only count.
Most of the residents constructing a separate room for Puja at Northeast, we should not construct room at the Northeast direction with more shelves and keep the Deity's photos or Prathimas or idols and construct a platform for the idols there.
This will make heavy load and block the Northeast corner and the Gods will get antagonized with our decision of keeping this area to be heavily loaded. We can have open shelves and places to keep God's pictures there or a shelf in the Northeast room can be used for pooja purposes.
The North-east corner of the house should always be clean, it should not be disturbed with the name of any construction, like pooja room or kitchen or toilet, etc.
If there is no separate room available for pooja room in our home (home vastu) we can use any room (except Southwest room) by placing a bench or a shelf and keeping deities there.
Can We have Pooja Room In Kitchen?
Many residents enquiring about having a pooja room in the kitchen is good or bad?, due to population growth, our homes become tiny day by day. The majority of homes are small and very few homes are wide. Having an individual pooja mandir in the home is a challenge for many residents. Coming with apartment flats it is next to impossible to arrange one individual room for puja mandir, for them, it may be suggested to go with a puja room in the kitchen.
We Are Non-vegetarians, is It Bad to Have Pooja Mandir in the Kitchen?
If residents got this question in their mind, then they may leave non-vegetarian food preparation in the kitchen or they may not have pooja mandir in their kitchen, they have only one option, which one is easier to follow. Can you live without a pooja mandir in your house, then you can happily prepare non-vegetarian food in your kitchen. , answer in a short way is to keep the puja temple mandir in the kitchen, but arrange a door for it. It's not possible to make the door, then arrange one curtain at least or forget about pooja mandir or search for any other good place to keep God idols in your residence.
Is It Good to Have Northeast Floor Depression for Puja Room?
If a home has a Northeast pooja room and the floor of that puja room is depressed then this is a sign of good luck. The Northeast slope puja room enhances luck to the residents. We also suggest several residents to have a lower floor level for the Northeast pooja room.
Is It Good to Have Pooja Room in Southwest Room?
The room which is in the Southwest direction should be always occupied by the breadwinner of the house. It should not be weightless and it should be kept vacant. We found several homes that have Southwest pooja rooms become weak in finances. If a home already has a Southwest Pooja room, then they may construct a huge solid rocks platform and keep Idols on the platform may nullify the negative feature.
Is Northwest Pooja Room Bring Any Problems?
This Northwest room is not suitable for the pooja room. Normally, the Northwest direction is best suitable for the girls, guest room, garage, staircase, toilets, etc. Best to choose any other placement other than this Northwest direction for the pooja room. If residents always moving towards the Northwest regularly, then they may also face litigations, financial troubles, arguments, mental tensions etc.
Is Southeast Corner Direction Mandir Is Acceptable As Per Vastu?
Not exactly Southeast, better to leave some space at Southeast for kitchen room and keep pooja mandir facing towards East. Your face will be towards West when you are doing pooja. Please note that this rule applies when Pooja mandhir is mandatory at your house located at Southeast, otherwise plan pooja mandir in some other locations in the home.
Fixing 1 God Photo twice in the pooja room is preferable?
In some homes, residents keeping 3/4 same God photos in Pooja room, it's merely waste. Excess photos belong to the same God placed at pooja room never treated as Bhakti. While doing pooja we need to maintain devotion, dedication, proffer our time to God, devoted yourself to the divine is most important. Keeping on arranging the same God with several photos will decrease your dedication to devotion. Consecration is most important for doing pooja. It may not succeed if we keep the number of photos of the same God in Pooja's room.
Is it good to have 230 God Photos in Pooja Room
We observed one home in Bangalore city, which has 230+ god photos in their pooja room, every week to refine the pooja premises, they need almost more than half a day. They start cleaning the pooja room by 3:30 a.m and end by 12 Noon or 12:30 afternoon. We suggest giving away extra god photos to any nearest temple. They kept Lord Ganesha's 60 photos in that same pooja mandir. Having 2 Lord Balaji photos and like so. We suggest keeping only one Lord Ganesha photo and one Lord Venkateswara photo. Pooja mandhir should give us peace. Not creating any tension. Yes, if we have a lot of photos in Pooja mandhir, all the time will go to clean photos and mandir.
Even in bedrooms (if no separate room is available) the gods can be arranged on a shelf but the shelf has to be covered by a screen or by closing windows (we observed this type of pooja shelves in Dubai, most of our Indians are using only one room in Dubai and there is no other way for them keeping the pooja room or shelves except in the bedroom, honestly speaking there is only one room, it may be called as a bedroom, pooja room, kitchen, dining room, living room, family room, etc.).
Whenever we want to pray we can pray by opening the screen (or doors) and one should close the same, after the prayer. Any shed outside the house should be constructed at the West or South.
This will give beneficial results to the residents as this evades the South and West direction. But, the construction of shed should be avoided at the East and North direction.
Can we put Spiritual images/god photos frames/idols/religious wallpapers is it good to have in the bedroom. Many people have this question in their mind.
The simple answer is if you have many rooms, then don't put god images or photos or idols in the bedroom, if you don't have many rooms, you have only one room, then where is the other place to put God images, either you have to discontinue pooja or kept God images at bedroom, which is best one.
Think on this. We suggest many people, go for put God on the shelf if they have only one room. In Dubai, we found many employees are living only in one room, how to do pooja if we have the bedroom in one room, but they are not thinking on these things, they love God and doing prayers, hope you have the answer for the above question. Brilliant brain, keep it up. Congrats for understanding quickly.
If any temple shadow drops to the neighbor site, is that site is good to buy or not ?, generally some says that temple shadows are bad to the sites or houses.
Now we will discuss on this point. First, we have to observe in which direction the temple is located to the site/house. How much place or space the temple occupies or the approximate measurements of the temple, the tower (Temple Gopuram ) height is important.
Dvajastambam height has to be eyesight calculation requires. Our interesting site/home space has to be calculation required. The height of the building (if any) has to be counted. By seeing all the information then only we have to decide whether the site or house is good to buy or not.
Without getting all this information one should not say the site/house is good or bad. For all this, the buyers have to approach one expert Vastu Consultant and then only has to take the decision.
Without having a consultant opinion one should stop buying the property. Here we may read temple means Hindu Temple, Christian Church, Muslim Mosque (Masjid), all the constructions are one, God is ONE, but we divided the Great Almighty power into parts.
The pictures and idols of Gods worshiped in the pooja room should not face the south or north(Actually its not serious, but we are giving respect to our elder's voice only).
The picture of Gods casually hung on the walls of the house can be facing any direction. The photos and idols of god to be worshiped in the pooja room are to face either the East direction or the West direction. The person performing the pooja should either face the East or the North.
Is It Ok to Facing Towards Northeast While Doing Prayers?
If God idols are kept at Northeast of a home or Northeast of a room, then only residents aboe to face towards Northeast. Facing towards the Northeast while doing prayers is accepted. Indeed this is minor point when deal with Vastu.
Important Guidelines For Pooja Room Vastu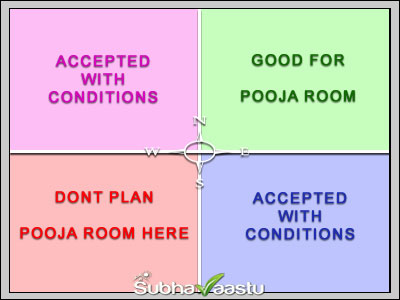 1) Pooja room should not be in the bedroom
2) Pooja room should not be above electrical appliances or gas stoves
3) Pooja room should not touch the same wall as the toilet
4) Pooja room should not be opposite the bathroom or toilet.
5) Pooja room should be clean and neat avoid dirt or clutter and keep it fragrant.
Know God Positions and our sitting positions while doing pooja
Mrs. Sumathi Srinivasan from Watford City - USA has requested to develop this Vastu pooja room link, as per her request we added some more articles here. In this website we submit many Vastu tips regarding pooja room and God Idol's placement and position, residents pooja sitting position, etc., don't miss to click the "learn more buttons" at "bottom" as we elaborately developed in continued next pages. Mrs. Sumathi Srinivasan is regularly visiting our website and constantly giving some hints, suggestions, ideas, thank you very much, Mrs.Sumathi Srinivasan, for your patronage in developing this public interest Vastu website.
Can We Have Two Prayer Rooms in One House
One prayer room is best for one family. This encourages cohesion in this family. However, when the family is living in more than one floor having more than one prayer room may be acceptable. Even in this case, Vastu principles shall not be violated.
Prayer room in any dwelling unit should normally be one. In any home, more than one prayer room has great disadvantages because in modern-day living it's a luxury to have one prayer room even.
Atleast doing prayer the family members may join together is a great advantage for family cohesion.
It may be possible in extreme cases, so family be one they are living in different floors at the same house, in which case having more than one prayer room may not be a negative factor as per Vastu.
Best is to understand the whole house as a prayer room and leave the premises to God to manage your affairs. Even in this case, the house should confirm to principles for effective reasons.
What Should Be Done if There Are Too Many Pictures of Gods in the Temple?
Puttaparthi Sri. Sathya Sai Baba once answered this question.
"If you want to remove too many pictures of Gods in your house, or if you want to remove the dirty ones, burn them properly. That way you will not feel any sin or guilt. If you still have any doubt in your mind, let the sin that comes from burning these go to Sathya Sai Baba."
Mylavarapu Srinivasa Rao in the title of religious doubts in some magazine also said that such things should be made of fire or water, just like Saibaba, that sin should may belong to Mylavarapu Srinivasa Rao and asked to get rid of unnecessary things.
The two elders said this. And then your choice.
This will be a perennial problem, as long as we think God is anywhere other than in you this problem persists. Best to try to see HIM in oneself.
Trust in God - Things Go Smooth in Our Life
A king who did not believe in the goodness of God, had a slave who, in all circumstances, said: My king, do not be discouraged, because everything God does is perfect, no mistakes!
One day they went hunting and along the way a wild animal attacked the king. His slave managed to kill the animal, but could not prevent his majesty losing a finger.
Furious and without showing his gratitude for being saved, the nobleman said "Is God good? If He was good, I would not have been attacked and lost my finger."
The slave replied: "My king, despite all these things, I can only tell you that God is good, and he knows "why" of all these things. What God does is perfect. He is never wrong!" Outraged by the response, the king ordered the arrest of his slave. Later, he left for another hunt and was captured by savages who made human sacrifices.
In the altar, ready to sacrifice the nobleman, the savages found that the victim had not one of his fingers, so he was released. According to them, it was not so complete to be offered to the gods.
Upon his return to the palace, he authorized the release of his slave that he received very affectionately. "My dear, God was really good to me! I was almost killed by the wild men, but for lack of a single finger, I was let go! But I have a question: if God is so good, why did he allow me to put you in jail?" "My King, if I had gone with you in this hunt, I would have been sacrificed for you, because I have no missing finger, therefore, remember everything God does is perfect. He is never wrong." Often we complain about life, and negative things that happen to us, forgetting that nothing is random and that everything has a purpose.
Every morning, offer your day to God, don't be in a rush. Ask God to inspire your thoughts, guide your actions, and ease your feelings. And do not be afraid. God is never wrong! Do you know why this message is for you? I do not know, but God knows because he never makes mistakes....... The path of God and his word is perfect, without impurities.
He is the way of all those who trust in Him. What you do with this message is up to you. May God put in your heart the desire to send it to someone. God knows why He chooses you to receive this message. Please bless someone with it. God is never wrong.
Trust In God: He never cheats.
Work Hard: Key for the success.
Help Others: Getting blessings to your family.
Be Sincere: Our life become a message to this society.
Daily Chanting Mantra to get Additional Money
How to chant Karaagre Vasate Lakshmi mantra - One needs to look at his palms and in the mind think that Goddess Lakshmi, Goddess Saraswati, and Govinda (Lord Vishnu) is present in his palm. It is believed that the first thing a man sees in the morning determines one's day.
Daily Hindu Mantra Lyrics to Chant in the Morning .. (Please note that this Mantra may be chanted by any religious people but they must chant with Bhakthi - surrendering to God, if one can do with heartful prayer, they will be blessed by Lakshmi - Goddess of Money, Saraswathi - Goddess of Education, Govinda - God of Universe)
Karaagre Vasathe Lakshmi
Karamadhye Saraswathi
Karamoole Sthitha Govinda
Prabhate Kara Darshanam
Meaning of the Mantra
Goddess Lakshmi lives in the tip of my palm,
Goddess Saraswathi lives in its middle,
And Govinda (Vishnu) lives at its base,
So I see my palm in the early morning.
108 names and Meanings of Lord Ganesha
Religion (Belief)
We all have believed in one or another religion. The main thing of any religion is their worship place i.e. Temple, Church, Mosque, Gurdwara, etc. Do anyone wonder why we visit these all places. There is always one or the other region for these establishments. Why we all visit Temples - It is not only religious reason but also there is a scientific supportive fact behind this act. There are hundreds of temples all over India in different sizes, shapes, and locations but not all of them are considered to be in the Vedic way.
Generally, the temples are located in a place where the earth's magnetic waves pass through. In simple terms, these temples are located strategically at a place where the positive energy is abundantly available from the magnetic wave distribution of north/ south pole thrust.
Because of its location, where high magnetic values are available, the Main Idol is placed in the center, and also because they place a copper plate written with some Vedic scripts, which is buried, beneath the Main Idol's placement known as "Garbhagriha" or Moolasthan, the copper absorbs the earth magnetic waves and radiates to the surroundings.
Thus a person who regularly visits a temple and makes clockwise pradakshina of the Main Idol's placement, automatically receives the beamed magnetic waves which get absorbed by his body.
This is very slow and a regular visit will make him absorb more energy, known as positive energy. In addition, the Sanctum Sanctorum is completely enclosed on three sides.
The effect of all energies is very high in here. The lamp that is lit radiates heat and light energy. The ringing of the bells and the chanting of prayers gives sound energy.
The fragrance from the flowers, the burning of camphor give out chemical energy. The effect of all these energies is activated by the positive energy that comes out of the idol.
This is in addition to the north/south pole magnetic energy that is absorbed by the copper plate and utensils that are kept in the Moolasthan. The water used for the Pooja is mixed with Cardamom, Benzoine, Holy Basil (Tulsi), Clove, etc is the "Theertham".
This water becomes more energized because it receives the positive-ness of all these energies combined. When persons go to the temple for Deepaaraadhana, and when the doors open up, the positive energy gushes out onto the persons who are there.
The water that is sprinkled onto the people passes on the energy to all. It is proven that Theertham is a very good blood purifier, as it is highly energized. In addition, temples offer holy water (about three spoons). This water is mainly a source of magneto-therapy as they place the copper water vessel at the Garbhagriha.
It also contains cardamom, clove, saffron, etc to add taste, and Tulsi (Holy Basil) leaves are put into the water to increase its medicinal value!
The clove essence protects one from tooth decay, the saffron Tulasi leave essence protects one from common cold and cough, cardamom and benzoin are known as Pachha Karpuram, acts as a mouth refreshing agents.
This way, one's health too is protected, by regularly There can be any other reason also in support of the facts. If you have any such thing in mind please let me know. I am sorry if I have hurt any person feeling or beliefs.
Miracle of God:
Dear Devotees, Today is 9/11. The 11th anniversary of the 9/11 world trade Center Attacks. I escaped the Hatch of death because of my Mantralaya Guru Raghavendra Swamy. I had moved to the USA, to start a new life on September 5th, 2001, and my office was located on WTC Tower 1 - 86th floor.
The day before 11TH September 2011, I had kept a photo of Guru Raghavendra in my cubicle and left, my boss had told me that I need to attend a meeting at 8:45 am. The next day morning I got delayed because I got up late and I never leave my house/hotel with doing pooja to my Guru and hence I was doing pooja and started from my hotel at 8:45 am instead of reaching my office at 8:45 am.
When I reached the Exchange Place station which is across from Manhattan (Hudson river in between), I saw the WTC (World Trade Center) building on fire, my colleague told me that he thought that a small plane had hit the building, I wanted to still make it to office, but I found out that no longer were PATH trains running into the WTC and hence I was watching from other side and saw the 2nd plane go in around 9:13 am, I was praying that all my colleagues be safe when the building was about to collapse and finally collapsed at 10 am.
I heard later from my colleagues that my colleagues walked down 86 floors and when the last employee who was an American closed his moth with kerchief walked out building collapsed behind him.
I thanked Raayaru for not only saving me but my colleagues also from this disaster. Immediately I posted the miracle on our mailing list that only had 200 members then, today the mailing list has more than 13000 members and as I remember the sad day today in my life, I wanted to write to you all about the greatness of our Great Guru Raghavendra again.
He is Karuna Samudhra and Dhaya Sindhu, he knows our problems and helps us like a mother will and does. Today as I sit across from the WTC site gazing at the new tower and the site, It brings to me the memories of how my Guru gave me lease of my life and saved my colleagues as well.
Feel free to write your comments to me any time. May Hari, Vayu, and Guru Raghavendra always bless us with the happiness that we deserve. In service of Hari, Vayu, and Guru Rayaru - Rajaram.
Another Miracle of God :
It is with great joy and emotions that I share my experiences with this website. My brother, Mr. Ashok Kumar Gupta, and Bhabhi, Mrs. Veena Gupta, are visiting us from India. I requested them to make their plans in such a way so that they would be at our home for at least three Thursdays.
I had a small mandir in one room dedicated to pooja and was planning to clean and change the mandir to increase the size. However, because of my work, I did not get a chance to do so before they arrived on October 11th evening. On Saturday, October 13th, I requested Ashok Bhai to help me put wallpaper on the mandir frame and asked bhabhi to join us in the room to give us company and to guide me.
As I was taking Baba's statue and all the pictures out of the old temple, Udi started coming in abundance from the Baba's big photo on the wall and as we turned to see, Om, Ram, and Shyam were written on Baba's hand and within the ray coming out of Baba's hand. I was in tears with joy that Baba has arrived and has blessed the project.
We fixed the mandir by the night and the next day Bhabhi and Bhai left for Boston. No more Udi while they were gone. They came on Tuesday and Baba came too.
There is one framed photo in the mandir, that is a photograph of Baba blessing with Udi in my bhabhi's own mandir. There was a large amount of Udi on that photo and on Baba's statue.
Pooja room in Basement:
Our pooja room is small and we were expecting almost 60-70 devotees for the group pooja on Thursday. We decided to make an arrangement in the basement. Now we had a situation – how to move a photo with Udi on it. Ashok Bhai and I carefully carried the big photo to the basement's make-shift mandir.
In the morning of Thursday, we find the figures of Om, Ram, and Shyam disappeared. Bhabhi went down to the basement and prayed and, to my great joy, new figures were formed again. On Wednesday, 10/17/2012, an evening a friend had invited us for dinner and we were somewhat late coming back home.
I forgot to put Baba's charan in a thali. There was no Jal that Thursday. We had a great Amritvani recitation on 10/18/2012. Many devotees came for darshan and Amritvani. One friend, who is a physician with a very tight schedule, showed up.
She was just speechless and overwhelmed as her schedule changed in such a way that she could come to our house for darshan and Amritwani unexpectedly. Bhai and bhabhi left for New Jersey for 3-4 days on Friday, 10/19. I was anxiously waiting and preparing for the next Thursday.
Again Udi started to come on Tuesday morning from all photo's and Baba's statue. I was determined not to accept any invitation for Wednesday. This time I put Baba's charan's in a thali on Wednesday night. However, there was no jal in the thali till the morning of Thursday.
I was dismayed and felt that I am being punished for being negligent the last Thursday. But Baba is kind and Jal appeared by 9:30 a.m. when the devotees started to come. Baba gave enough Jal to be distributed to HIS devotees. This time over 80 people participated in a much powerful Sai Amritvani.
I and my husband wholeheartedly thank Baba and my bhabhi for blessing our house. Bhabhi and Bhai will be leaving for Atlanta on Thursday, 11/1/2012, to be with their son. I am blissfully happy that we have one more Amritvani with bhabhi.
Today the 10/30, Baba's already has shown again his presence with Udi on all photos and Baba's statue. Beautiful figures of Hindi words "RAM" and "SHAM" have been formed with Udi on the photo in the make shift mandir in the basement. I humbly beg and pray to Baba to not abandon us now.
Baba: please always stay with us and guide us to the rightful ways for leading our lives. Veena and Arjun Adlakha - Columbia - USA.
Can we have Pooja Mandir in the Basement
Residents can arrange pooja mandir at the basement, the key point here is when planning for pooja room in the basement, then please make sure that the basement should be super clean, tidy, and decluttered. Then residents can arrange a pooja mandir in the basement otherwise they may plan puja mandir only at the kitchen floor. Most of the basements are
Shirdi Saibaba Miracle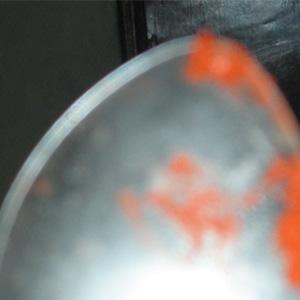 Jai Sairam, I am a Sai bhakth, 2 years ago i got blessings of Shirdi Saibaba in the form of 'OM' on a spoon I left in the society temple. The picture is attached. We have a small temple in our society. as Thursday is Saibaba's, the day we ladies use to make some food at home n after evening Aarti distribute to the people there. One Thursday I made HALWA n took as for Prasad, to distribute I took with one serving spoon too.
After the aarti, we distributed Prasadam with the help of a spoon to everyone, by mistake I left my spoon in the temple n reach home. The second day I asked pandit Ji I left my spoon he said yes it's there kept safely. I thought next Thursday I will go to the temple n then take it. Next Thursday when I went n asked for my spoon, Pandit Ji told its there on the shelf. To my surprise when I took my spoon I saw some Sindhur on it.
First I thought maybe it's just Sindhur, I looked at it n found out that it's "OM' written on it. I showed it to everyone and clicked pictures and sent it to my friends n family, all of them said yes it's "OM' I was so happy to see Baba's blessings. OM SAI RAM - Beena Singh - Ghaziabad - Uttar Pradesh.
(Here the picture was not clear, we requested Mrs.Beenaji to send us the good quality image. We will update the image again when she sent me the good image. - Publishers - SubhaVaastu.com website )
Sri Guru Raghavendra Saved The Student:
Namaskara, I am Sushma G pursuing a master's in Sri Aurobindo College. In my college, my classroom is on the 5th floor. I used to lift all the time from the ground floor to the 5th floor to reach my classroom. My classes start at 8'o clock. One day I went early to the college by 7:30 itself. I said Hi to the watchmen's uncle and went in to use the lift. I went into the lift and pressed the 5th-floor button and also the non-stop button. I was alone in the lift. I was the first person to use the lift on that day because I came early and what happened you know lift suddenly stopped in the middle, total darkness in the lift, no light, no proper ventilation to breathe, my mobile is not working, my mind became blank because of the shock and even I forgot to press the bell button. I immediately started chanting Raghavendra, Raghavendra......After 2 minutes suddenly the lift door opened by itself with Raghavendra's grace and I came out. Raghavendra saved my life. If it was late to open the door by 10 minutes I was no more because it was too suffocating in the lift. I thank Guru Raghavendra thande. Om Sri Raghavendraya Namaha - Sushma - Bangalore - Karnataka.
Spirituality And Religion:
Spirituality and Religion, both are very interconnected terms. Sometimes one is for taken as the second. In earlier days the way to attain spirituality was through the following of the guidelines given in religion, but laterally it has derived itself apart from religion. I think this association of both in earlier days still misguide some. In the words of Yogi William Irwin Thompson, "Religion is not identical with spirituality; rather religion is the form spirituality takes in civilization."
What is Spirituality? Everyone has their own answer for this although all of them lead to one common point, the point where one achieves a true peace of mind of oneself. Spirituality for me means an ultimate or immaterial reality, an inner path enabling a person to discover the essence of their being. It is a source of inspiration or orientation in life.
Now another important question, what is religion? This one is easy to answer but very difficult to understand due to its depth and wide range of beliefs. Religion can be said as the path for the search of God and His grace. It is based on traditional ways and guidelines laid by our ancestors to be followed by the followers of that religion.
Thus, on the basis of the above wordings, we can come across to a point that there is the existence of many different "spiritual paths" – emphasizing the importance of finding one's own individual path to spirituality.
One might say then, that a key difference is that religion is a type of formal external search, while spirituality is defined as a search within oneself. The experience of 'spirituality; the human emotions of awe, wonder, and reverence, are also the province of the secular/scientific, in response to their highest values, or when observing or studying nature, or the universe.
Although, this post of mine will not be able to answer all of the questions and doubts of everyone as both Spirituality and Religion are very wide topics and their knowledge is non-ending. Even the Gurus are in search of their complete knowledge but have never succeeded to know all.
Please give your valuable views and suggestions to lighten more on the concept you believe is the correct of the two. Please pardon me if I have unknowingly hurt anyone's feeling or belief and correct me if I have said something wrong.
Sri Sathyanarayana Swamy Pooja and Vastu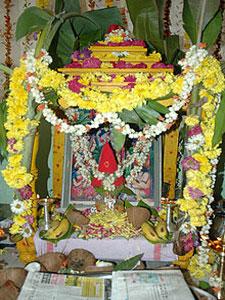 Many residents asking about Satyanarayana Swamy Pooja and placement of God in which direction. We have observed that God facing to West and people who perform pooja have to face the East is good. So the entire Satyanarayana Swamy pooja mantapa will come towards East, so God is facing West direction, residents who performing pooja facing towards East direction. In many places, we have observed this same system. We found Guntur, Vijayawada, Tenali, Ongole, Kurnool, Visakhapatnam, Bangalore, Chennai, Hyderabad, Warangal, Raichur, Mantralayam, Kadapa, Nellore, Coimbatore. We did not find anywhere God seeing other directions except East. Remaining is your interest.
West Placement of Satyanarayana Swamy Idol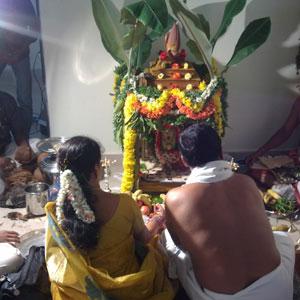 Here residents arranged Satyanarayana Swamy God mantapam towards East direction, hence God facing towards West direction and residents facing towards East direction. A person who visited this place gave us this information.
Some Archakas have their own opinion and placing Mantapa (mandapam) towards South or West, so here SS Swamy facing towards East or North directions and residents facing towards West or South directions.
Is the Sliding Door Is Good for Puja Room
Sliding door is accepted for Pooja Mandir. Arranging a sliding door is not a mistake to keep to our deity rooms. Don't worry.
Question from Anitha, Singapore
Respected sir, I would like to know as I have mandir with drawers below it, is it against Vastu or its fine as some friends told me it shouldn't have drawers below the mandir for a house - Anitha - Singapore.
We come across many mandirs with drawers (shelves) below the altar, they did not complain of any difficulties. They never troubled with this structure. No need to worry about these tiny arrangements. Visitors say many things, we should not give weight to their comments. Just listen and leave, this is the best idea to life.
Can We Keep the Puja Room in Top Floor
Definitely, residents can keep puja room on the top floor. Only the main problem is elders cannot climb the staircase to perform regular pooja when the puja mandir is on the top floor. Other than that, keeping pooja mandir on the top floor is OK.
Can We Keep a Big Long Hanging Temple Bell in Home
Generally, temples have long hanging bells, if you are interested to keep long hanging bells at your home, it is not a mistake to keep them at our home. It's OK to keep the long-hanging bells at homes too. Ours is Gruhaalayam. Our elders already stated that we have to treat our home as Aalayam (temple). Gruhaalayam (House+temple).
Question On Pooja Mandir Idols
Sir, if we need to keep 7-8 idols what is the best way to arrange them in the pooja room at home. For e.g. placing all idols on the same platform or we can have shelves within the temple at different heights and put one idol on each shelf - Ankit - Bengaluru.
Question from Shri Jaya Prasad
Dear Sir, there are 2-3 Vastu defects in our house. local Vastu consultant suggested to demolish them. I want to try Vastu correction without demolition. Is Srivastu Chowki or Vastu Dosh Nivarak Sri Yantra or Meru Chakra is all-in-one Vastu Yantras that rectify all Vastu defects inside and outside the house? I got this info from the internet. (This Srivastu Chowki or Yantra is not suggested by the local Vastu consultant.) can it use without analysis of the floor plan of the house by the Vastu expert? If yes, Can anyone who belongs to any religion or caste can keep or use it in the house? Is there any side effects or bad effects of using it? - Jaya Prasad - Bangalore - Karnataka - India.
Dear Jaya Prasad Ji, Yantras will work, but the truth and fact is that from where you did get yantras is the biggest question here. If Yantras were served to you by any seer or Matt pontiff then they will work. Many people in our society now selling bogus yantras, it is their business.
So first check the system whether they performed a systematic procedure to prepare yantras or not. In most cases, these yantra providers never do any procedure performances.
Providing Yantra means, it took lots of time to do poojas, mantra Japa, etc, otherwise, they never work. After getting the yantra also one should be careful in doing the regular kriyas otherwise the power of the yantra may not rejuvenate - Narayana.
Puja Room In Northwest
Namaste Suresh Ji, can we keep the puja room in the northwest corner of the home Vayusthan? - Dhruti - Panaji
Is Puja Room Wall Can Touch the Lift Wall?
Puja room wall can touch with Lift wall. Some experts have opinioned that people who use the elevator wear shoes, so puja room should not touch the lift. But the elevator has its own private walls, it never touches the lift room construction walls. Trust, this doubt is cleared now.
Greatness of OM
For producing sound we use muscles of throat, mouth, tongue and lips. OM is such a sound which does not need the assistance of any of the above.
The correct way of expressing OM is starting from the naval center of the human body. Infact, every living being can produce the sound of OM. When creation took place in the huge churning in the space the sound produced was OM.
It is for this reason that we call OM as sacred.
The life activity starts from Naval in the human being and that is the reason why one must practice pronouncing OM from the Naval.
The expression of life is nose, heart, brain, etc, but actually the source is naval and further several meanings have come from about of the expression of OM like creator, sustainer and the destroyer.
Namah Sivaya is a great expression of telling everything around is SHIVA'S and we accept that phenomenon - not mine, not mine, not mine.
This is explained in an expanded form of the first mantra of Isavasyopanishad.
Ishavasyam idam sarvam yatki~jcha jagatyam jagat |
Tena tyaktena bhu~jjitha ma grudhah kasyasviddhanam ||
(isha vasyam idam sarvam yat ki~jcha jagatyam jagat |
Tena tyaktena bhu~jjitha ma grudhah kasya svit dhanam ||
Everything in the universe whether static or dynamic is owned by Easa - God. However small insignificant or large it may be. Hence do not covet HIS property. Giveup the possessive nature.
Vastu Testimonials Delivered By Respected Residents
Dear Suresh, I am pleased to inform you that like the way you provided consultation for my home and explained to me all the changes required inside and outside home. I really appreciate the diagrams that you prepared for my home with pictures and arrows showing the changes need to be done. Above all, you explained very well the reasons behind changes you recommended for my home with great clarity and sense of humor. No doubt in my mind, you are the best Vastu expert, I really appreciate your dedication by building and maintaining a very informative website that is helping thousands of people across the globe. Also, I sensed when I talk to you and when I was dealing with you, you follow honesty and integrity and you have a sincere desire to help others - Kotesware Rao - Dallas - USA
We are tech professionals and working in USA. After a year long search we brought the house. After buying the house I started looking for consultant who can help me evaluating the house. I came across Subhavaastu website which has lot of information. I contacted Mr.Suresh and requested him to help with our house vastu. It has been an incredible delight working with him.. He is very detailed oriented person and never compromises with his work. I am typically not interested to deliver the reviews. But after working with Mr. Suresh I decided to share my experience. Mr. Suresh has great expertise in providing vastu consultation to USA property. He is always available through email and phone l to answer questions. I am writing this review hoping it will help other people like me who lives in abroad. Please take advise before buying the house. I highly recommend Mr. Suresh as he has great experience with structure of USA properties and also he provides genuine consultation. I really appreciate Mr. Suresh's help in evaluating our house - Padma - Boston - USA
"I contacted Sureshji to consult on our current home. He was spot on in identifying vastu dosha in regards to the problems we were having. He suggested remedies but we are still looking for a new house. Since then I have been in touch with him for finding a right home for us. He is very sincere and truly wishes better lives for everyone. He doesn't compromise with quality and is always responsive to queries. He recommends solutions as per location as Vastu rules differ for each country. He is greatly contributing to the society with his knowledge of Vastu and dedication towards his work. Keep up the good work Sureshji and wish you success and happiness!" - Megha - Virginia - USA
I have consulted Suresh Garu during December 2014 during the process of buying a house in Texas, USA. I have occupied the house for one year now, and feel like dropping a review regarding my experience during the entire process. I am very much satisfied with the kind of service I received from him. He is very knowledgeable and I was often stunned by his detailed analysis during the course of my interaction with him. He was very much accessible over phone (perhaps more than 10 times for one house plan!) and the price is very much reasonable especially compared with the cost of the house. I noticed his burning desire to help me in making informed decisions on certain things. I have seen some people pretending to know this subject and misguiding those who come for help by saying only what we want to hear. SubhaVaastu is definitely not that one. Finally, I am strong believer of leaving certain things to experts in those subjects. I have been in US for more than 13 years and have seen people doing their own corrections (by reading website articles) trying to save few dollars. Please don't do that. You would end up in causing more damage. I highly recommend you to engage SubhaVaastu in your next project - Satish - Dallas - TX - USA
Inspirational Quotations
"As long as we require someone else to make us happy. We are slaves" - Swami Vivekananda.
---
---
"Great Personalities speak about thoughts. 'Average Person' talk about occassions. 'Narrow Minded' gossip about others." ― Eleanor Roosevelt . . . Let you question yourself, "Who You Are, either 'Great Personality', 'Average Person' or 'Narrow Minded' ?
Joke Of the Day
"A book was released and the cover name is "How to change your WIFE", and within ONE week, "25 MILLION" copies were sold. The publishers found a mistake in the title, actually, it should be "How to change your LIFE", when publishers corrected and released the new book into the market. The first month's sales were 3 copies".
Follow us on Social Media