Details

This Page Hits:18812
Vastu for Five Star Hotels | Three Star Hotels
Is it important to follow Vastu for 5 star hotels?
Let's discuss in detail below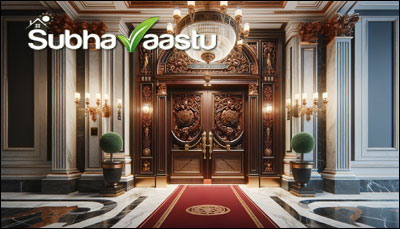 Vastu for Five Star Hotels: Applying exact Vastu principles to the 5 star hotel is a challenge. A good idea is before constructing the Five Star Hotel or the Three Star or a star rated hotel.
The main concept of the 5 star hotel is great hospitality provided to their guests. They were born to serve. They never spare even a small mistake in their operation. They spent crores of rupees to facility their respectable guests.
Single Star Hotel (Tourist):
Shower with western commode or bathtub with WC
Single table along with one or two chair
Toilet body wash or a soap
Complimentary or extended breakfast (tiffin)
Compulsory provision for color Television with remote control
Offering beverages in hotels
Locker facility or deposit possibility
Regular and daily room cleaning with phenol fluids using at toilets
Reception center service
Facsimile facility at reception area.
Publicly available telephone for guests

Single star with Super Tourist facilities also available in some hotels to get next upgrade to two star category.
Two Star Hotel (Standard):
Including Single star hotel facilities these below are the additional facilities at rooms occupied by guests.
Essential Bath essence, Gel for shower (Some hotels arranging Toilet tissue papers)
Towels for Bath
Morning Complimentary Breakfast buffet
Complimentary some sanitary items like shaving kit, toothpaste with toothbrush
Shelves to keep various items like used cloths, hangers etc
Accepting most of the Credit Cards like Visa, Master card etc.
Reading light next to sleeping bed or on top of the table.
---
Three Star Hotel (Comfort):
Including two star hotel facilities these below are the additional facilitates offered to guests:
24 hours accessible reception including three piece suite
Preferred bilingual staff (for ex: English and French etc)
Luggage service at reception area.
Offering beverages at rooms occupied by guests.
Telephone facility
Accessing Internet in the room, (some hotels offering only near to reception lounge areas)
cleansing tissue papers
Some hotels offering Heating facility in the bathroom including hair-dryer.
Dressing mirror,
Luggage rack, or suitcase table
Ironing, washing, pressing, laundry facilities
Shoe polishing facility utensils, Sewing material/kit,
Additional blanket and extra pillow.
Four Star ( First Class):
Including Three star hotel facilities, in addition, these below facilities are also provided to guests
24 hours reception available
Seating lobby with beverage facility services
complimentary breakfast buffet
'A La Carte' restaurant in hotel premises
Available of minibar in the room or serving on demand within 24 hours of the day.
Bath robe and slippers on demand
Cosmetic products (e.g. shower cap, nail file, cotton swabs), vanity mirror, tray of a large scale in the bathroom
Upholstered chair/couch with the side table
Facility for Internet access to all guests rooms.
Five Star - Luxury:
Reception opened 24 hours along with multilingual language spoken staff wearing with suits
valet parking
Doorman service
Personal concierge and page boy
Internet-PC in the room
Spacious reception hall with several seats and beverage service
Personalized greeting for each guest with fresh flowers or a present in the room
Minibar and food and beverage offer via room service during 24 hours
Personal care products like flacon
Mystery guesting
Locker safe in the room
Within one hour Ironing service, personal shoe polish servicing
Turn down service even at evening times.(optional).
There are some few categories in Five star hotels, they are Presidential Suite, Royal Suite, King's Place, King Suite, Pride Chambers, Ambassador Avenue, Paradise Club Suite etc. Some hotels specially picked some attractive names to their special suites. This is good way of increasing value to their properties. This is not a wrong system, most of the 5 star hotels are maintaining such standards as per name of those Unique suites.
One hostage Tip: When your guest is checkout, then arrange atleast two water bottles and biscuit pockets with at least one scribbling notepad and your hotel visiting card in a carry bag. Why all this, let us discuss about one incidence, once we checked out ITC Windsor at Bengaluru/Bangalore, leaving towards Hyderabad, within 4 kms, the entire traffic was jam due to heavy rains in the month of October first week. We all struck almost 2 hours in that traffic.
No water, no food, if the hotel may served with these simple cost items, we may be so happy then, in such situation we were be cornered for 2 hours without water or food, actually its a late checkout at about 6 p.m, we did not have supper or even light snacks too at that time. If hotel was served with any kind of biscuits and water bottles, we may be really feel very happy then.
Anyway after reading this you may be pleased to follow this simple tip. Your guests noticed that you are caring for everything after leaving your premises, it extends their affection on your property and may lead for the next visit or recommendation to their near and dears. Getting money by doing business is not a evil, particularly star rated hotels has to concentrate only on hostage facilities to the guests. Hope this tiny article helps you to increase your property occupancy, Good luck.
If star hotels may follow Vastu Shastra principles, then the attraction multiplies, with unknown attraction guests or guest groups or companies or customers may visit again, may be due to some attraction or hospitality.
The underline suggestion point is that some educated people or somebody may not have to hear the word Vastu, this is very common in bureaucrats, only some body who heard about Vaasthu and its positive powers on a property, those will generally check the properties with one competent vastu consultant, my request is if you don't like to apply Vaastu principles to your dream project, please just forget about vastu 'word', construct the hotel with small changes, like change the main entrance door from Southeast-east to Northeast-east like that, then the hotel business shines and it creates more confidence to the management.
If you are interested on vastu to apply for the star hotels, then please approach only the best expert vastu consultant. If expert visited the property he will thoroughly check everything and guide further. Surrounding vastu is the most important for hotels that to 5 star hotels or heavy constructions.
Don't forget to check the influence of the neighborhood before selecting a plot for the construction of the hotel. The experienced person can easily identify defects of the neighborhood and advise suitable recommendations that will fetch hotel business.
One more important thing is that swimming pool, don't construct the pool towards West, South or Southwest directions at your hotel premises if the swimming pool is planned at top floors that is a different thing. Nowadays terrace pools are common, for example, President Hotel in Mumbai and Dasapalla Grand in Visakhapatnam, and Novotel in Chennai.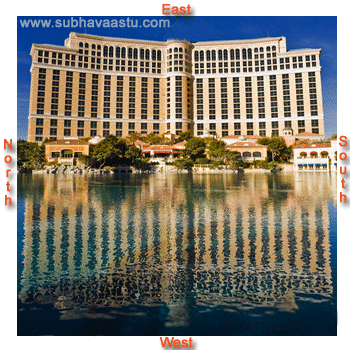 In this image water is moving, water pond or pool is towards West side, this may be bad feature and may lead to instability to the hotel business, after passing some years, management may change due to losses or ill-treating or partnership issues. May failure in punctilio also.
The Below image speaks truth about Pool effects towards East Side: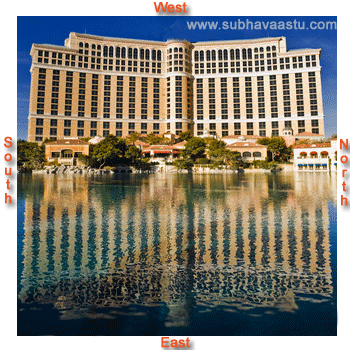 Here the water pond or pool is at East direction, this is good and provides satisfactory results to the management. Guests may visit this property regularly. Through this water body Hotel renders excellent services to their guests, and they will be more happy with the hospitality and fame will automatically increases and finally leads to development in occupancy.
Pool towards North Direction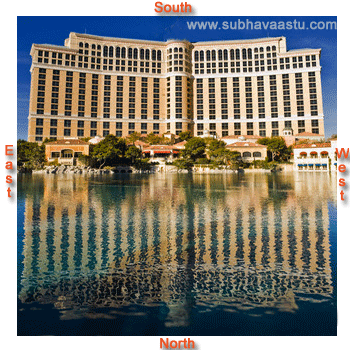 Here the waterbody or pool or pond is towards North side, this type of construction is best method for Hotels and encouraging business and management will get good business offers from wide chain groups from different parts of the country or world. Passing some years may blesses this property with high volume of occupancy ratio.
Pool In The South Direction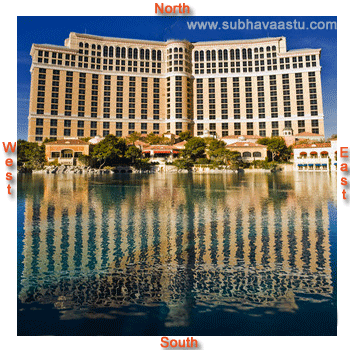 Water pond or pool is at South side, this is not at all suitable for the hotel industry, its against to vastu principles. If you already done this, then you are advised to approach one expert. After he visits the property, he can take care of the things there. Gradually this pool may hurt the financial status of the hotel and management may be weak year after year. Management can't expect healthy business in these properties. More chances are there for degrading in fame and hospitality.
Normally, the Northeast Swimming pool attracts positive powers to the property. Just FYI.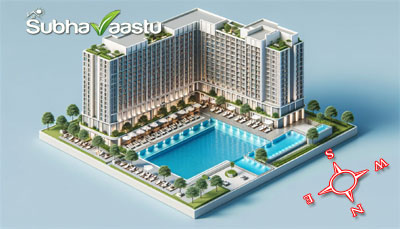 The entire building is towards South, West and covering Southwest corner, the pool is towards Northeast, this placement of pool is the minimum principle in vastu. It helps the property with more confidence and positiveness to the property The guests once came here, may have interested to visit again. That specific interest or attraction is called as Vastu, very simple. This vastu is not belongs to any community or caste or religion or region, its a science of construction.
A different style stands the hotel name, life long, check below image.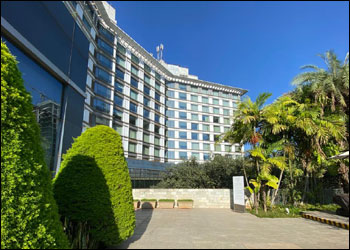 Tallest and widest buildings are common, people are interested to visit the properties with different construction styles. See this building structure and construction style.
The management is generally taking all precautions in maintaining the room standards in five star of three-star hotels. Five star and three star hotels are popular in cities, there are some more star rated category hotels like a single star, double star, four-star somewhere there are seven-star hotels constructed in metropolitan cities. Guests are selecting the hotels based on their budget. Hospitality is too important for star rated hotels. Staff should not disturb the guests, on the same way they should be always available to the guests. Some guests are very serious and some are jovial while some are balanced. Anyway, many star rated hotels feel that guests are king to them.
Hotel and room atmosphere is too important for occupancy or bookings. Concentrate on surroundings, quality, hospitality, customer care, service, pleasing, staff co-operation, food taste and quality, hygiene, lighting, air flow and vastu.
Southwest bed is recommended in Royal Suites: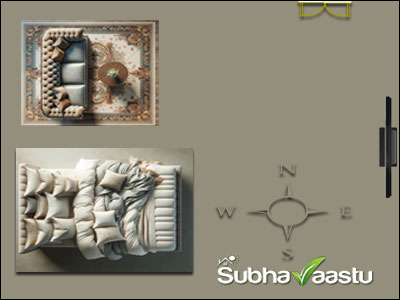 Now we are coming to interior parts of the hotel. Entire Southwest is best part for bed. Once the guest receives positive feeling in the property, he is usually visiting this property again and again. This placement is positive for guests, directly and indirectly, positive for management.

Please note that it is always better to approach one expert before selecting an area for star hotel construction.
Some model bedrooms: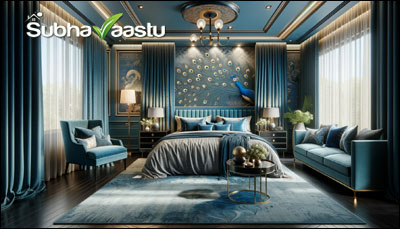 Observe the room maintenance here. Rich quality always brings good talk and may definitely raise the occupancy ratio.

Now a days many star hotels are maintaining fresh flower vase in rooms, fragrance and appearance will be more with flowers or colors.
Check another image :
Touch, feel, look, royal maintenance, once guests enter into room, they smell the fragrance of rich quality odor here, it leads to adequate relation with the property.

Nowadays many hotel managements are attracting their guests with surprising gifts and invitations for special occasions, more discounts, due to these guests may not forget about hotel.
One after another hotel is taking birth and giving max discounts for the MNC companies and many other organizations. Generally, hotels are now attracting corporate guests. If we go to Electronics city in Bangalore (Bengaluru) city, there are some five-star hotels in Electronic city, these five-star hotels are particularly useful for these corporate companies.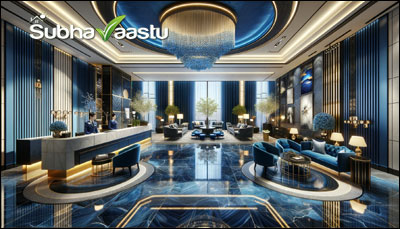 Guests attachment with the property management (receptionist) is important, in some small hotels the manager is always available and welcoming guests, generally, guests are visiting again and again by their warm welcome. Guests love their attitude and particularly many guests are first looking for their interested manager at that desk or reception counter or area or lounge.
Some hotels are maintaining royal suites. Now we will check some of them.
Royal guests are preferably looking the high quality or royal suites in hotels, in some five star hotels, royal suites are kept reserved only for their reputed royal guests. In some hotels, management is not interested to spare that room to general opening to all, though for full charge of payment. Management is not interested to degrading that suites, booking to other guests.
Some other ROYAL SUITE Rooms :
Chandeliers are important for Royal suites. King size bed and with all amenities and Maharaja treatment to guests.
Another Suite:
The suite rooms should have good ventilation and air flow. If guests requires there should be possibility of making the room dark as on his wish. Some guests are visiting the hotels only for taking rest or enjoyment or entertainment or consignments or business deals or contracts and deals or final settlements. Some politicians are also too interested to stay in these Maharaja suites.
Maharaja Suites for Royal guests :
Special rooms for special guests. Heaven on earth. Many people have a dream to enjoy atleast one day in royal suites.

Management should be very careful regarding hidden cameras. Some hotel staff are now a days fixing the hidden cameras in five star hotels to gather information or blackmailing for money etc.
Some guide lines for star hotels as per vastu principles :
1. Guests should feel total relax when they enters inside, that is the positive vibrations what he feels, it definitely came by the maintenance, look, furniture, decoration, atmosphere and vastu.
2. Guest face should be towards South and legs towards North, he should feel homely atmosphere in that hotel property.
3. Heavy weights such as shelves or ward robes should come towards South, West and Southwest parts.
4. In the toilet the mirror should be preferably located towards North direction.
5. Suite rooms may be planned at top floors only, so guests may not feel a disturbance.
6. The writing table or computer desk in star hotels should be very near to the North or East directions, in such a way that the guests sits before the table facing towards North or East direction.
7. Bed should always be fit towards Southwest leaving atleast 2 or 3 minimum feet from the South and West walls.
8. The generator may be located towards the Southeast part of the property. Even in Basement also generator is best suitable at Southeast. If this generator came towards Southeast in the basement then there should be one room at Southwest is recommended, store room is best suitable at Southwest.
9. Kitchen is best suitable towards Southeast.
Toilets, Bathrooms or Anterooms :
Where is the best place for Toilets and anterooms in five star or three-star hotels?
Toilets:
As per vastu the toilets are best suited at Northwest corners or next best place is Southeast corner.
Toilets should always tidy and clean, we are not here to say about cleaning to the five star managements, they are maintaining particular department for cleaning and verifying. Supervisors are regularly checking these rooms and they won't leave a small inch, if they found any dust or rust or something, they will immediately take action and sometimes they may take punishments on staff who are attending the said rooms.
Lighting in toilets: 
Requires good lighting and fresh air flow at toilets is recommended. Believe it or not some bureaucrats or some delegates are likes to spent more time in toilets by reading news papers. In my observation I found one toilet 14 X 16 which is having sofa sets and LED TV, this toilet which I found in Mumbai. The owner is having factories and farm fields. He likes to sit there atleast one hour at morning, in this session he completes the news papers and taking rest. If he requires full privacy then he enters into toilets. Its his hobby. Fragrance observed here.
Toilets should not come towards Northeast: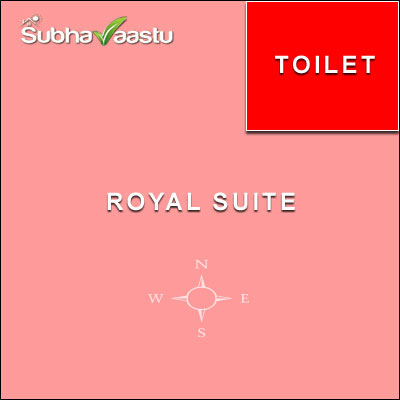 Toilets should not come towards Northeast corner of the Maharaja (Royal) suites, it obstructs positive powers, once there is no positive power then generally guests may not comfortable, if guests works were successfully completed in their visit, then they again visit hotel, if they found some thing wrong happens, then guests may not visit again , gradually management may loose business.
We should not forget one thing, that five star hotels means most of them are link hotels or getting guests from chain hotels directions/bookings, in such case the hotel main office center is not affected, but indirectly this bad vastu hotel property reflecting the entire institution, finally some adverse decision may taken by the management that may be very bitter to the bad vastu hotel manager or supervisor or management.
Maintaining Five Star hotel is not easy as we thought to be, it's very tough to maintain the standards, guests should not feel. Everything should be properly maintained, no excuses entertained, management has specially trained the staff and permit them to serve to guests.
Lifelong probationary period for the service people. Here guests are so lucky, they will enjoy the richness and amenities provided by management, only thing is their pockets should be more weight. Then every thing will be luxury.
Southwest is not recommended for Toilets: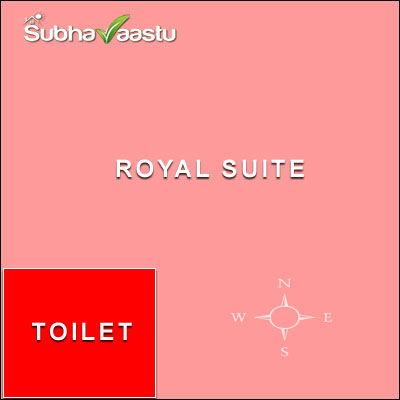 Southwest part is also not recommended for toilets. This Southwest corner is best suitable for keeping items like "safe" or keeping stock items like closet etc or Bed. Bed is particularly suitable towards Southwest part but there are some norms, where to place the bed, so we cannot recommend bed should be towards Southwest, not with the terms of vastu but look wise its worst to keep bed towards Southwest in Royal Suites, other types of rooms may accommodate it with look wise but in royal suites its not recommended to keep bed at Southwest.
Look and feel is important for Star rated hotels, observe one lounge below :
The look of the main entrance doors of the Royal suite should be more impressive and fascinating. Then guests may have interested to occupy or revisit the property again.
In elevators, playing mild music is recommended. Now, many star hotels are playing background music in elevators and reception counter areas and lounge. The music plays a important role in maintaining pleasant atmosphere.
Now we are discussing about the Place selection for Huge constructions or Five Star Hotels :
For your kind information we have created one image to understand about the neighborhood support. In this image West direction there are high mountains, it results to standard in business, supporting for getting fame and name and particularly stability in all kinds. Plan your project like this and earn handsome profits from your dream projects. West and South and Southwest should be taller constructions or occupied properties or hills, mountains fetch attractive occupancy ratio. North, East and Northeast should always be slope or depression. The below image is only for your kind observation purpose only.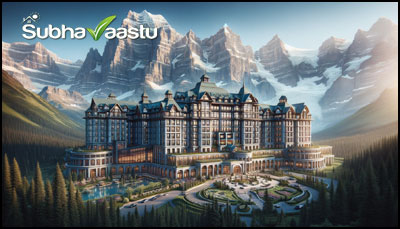 If there is no hills or mountains to the property, then West or South or Southwest parts should be elevated and loaded with heavy goods when compared with other directions. This helps to get standard of the structure as per vastu, it helps to get good business, occupancy ratio will be good year after year. Vastu never works within days. Please note this point. Before consulting an expert. North, East or Northeast may be left for lawns, this North or East or Northeast space should be more open when compare with West, South or Southwest sides.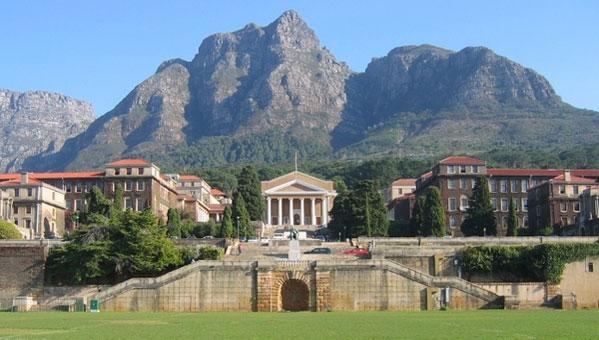 This above image is only for your understanding purpose, we have created this image, along with the neighborhood vastu, we should be more concentrate on inner side vastu compliance. The best way to have more profits from the hotel is first we should capture the neighborhood vastu, then only observe and alter the inside vastu if there is any corrections may be required. The total life of the star hotel is only based on selecting the plot. We should not forget this key point.
Street Focus to Star Hotels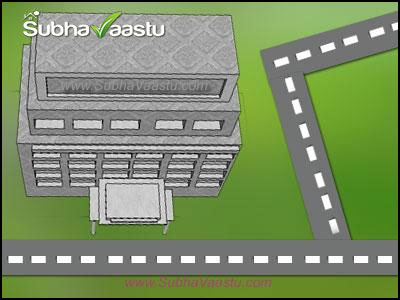 Generally five star hotels means the property should be bigger size, if the property is bigger then there is more chances to have street focus or thrusts to the property. Before buying the property we should be very very careful on street focus. If the street focus is good then no problem, otherwise the management may be ready to face many challenges. What is street focus, click this link to get more info on Street focus. First we have to observe on which part the street focus is hitting to our property, like East, West, North, South or Northeast, Northwest, Southeast or Southwest parts. In this image there is one street focus is hitting to the property, it is not straight, its tilted, that also we have to consider it. top vastu pandits can easily find all these hidden secrets.
Have you observed the above image, the street is hitting to the property to one corner, so we should check the street focus length, width, and force to the property and we should calculate the entire property measurement (generally Vasthu experts can easily understand the measurements only through eyesight, only in some peculiar cases needs to measure the dimensions of the plot), where exact the street focus is hitting, from where the street started, everything has to be thoroughly evaluated and finally we should come to the decision.
Regarding street focus we should be very careful, otherwise, management may become king or a ...... ? so require alert on selecting the property for bigger constructions. For your kind information below links may provide some information on Street focuses:
2. Northeast-east Street Focus.
4. Southeast-east Street Focus.
6. Southeast-south Street Focus.
8. Southwest-south Street Focus.
10. Southwest-west Street Focus.
12. Northwest-west Street Focus.
14. Northwest-north Street Focus.
16. Northeast-north Street Focus.
There are many other hidden street focuses to the properties. We will enlarge this subject at appropriate links. Street focuses are very common phenomenon for bigger structures, management should exercise care and caution in selecting the plot in their interesting city, so that ill effects of street focus can be avoided and can be obtained favorable street focuses.
Vastu Testimonials Delivered By Respected Residents
Dear Suresh, I am pleased to inform you that like the way you provided consultation for my home and explained to me all the changes required inside and outside home. I really appreciate the diagrams that you prepared for my home with pictures and arrows showing the changes need to be done. Above all, you explained very well the reasons behind changes you recommended for my home with great clarity and sense of humor. No doubt in my mind, you are the best Vastu expert, I really appreciate your dedication by building and maintaining a very informative website that is helping thousands of people across the globe. Also, I sensed when I talk to you and when I was dealing with you, you follow honesty and integrity and you have a sincere desire to help others - Kotesware Rao - Dallas - USA
We are tech professionals and working in USA. After a year long search we brought the house. After buying the house I started looking for consultant who can help me evaluating the house. I came across Subhavaastu website which has lot of information. I contacted Mr.Suresh and requested him to help with our house vastu. It has been an incredible delight working with him.. He is very detailed oriented person and never compromises with his work. I am typically not interested to deliver the reviews. But after working with Mr. Suresh I decided to share my experience. Mr. Suresh has great expertise in providing vastu consultation to USA property. He is always available through email and phone l to answer questions. I am writing this review hoping it will help other people like me who lives in abroad. Please take advise before buying the house. I highly recommend Mr. Suresh as he has great experience with structure of USA properties and also he provides genuine consultation. I really appreciate Mr. Suresh's help in evaluating our house - Padma - Boston - USA
"I contacted Sureshji to consult on our current home. He was spot on in identifying vastu dosha in regards to the problems we were having. He suggested remedies but we are still looking for a new house. Since then I have been in touch with him for finding a right home for us. He is very sincere and truly wishes better lives for everyone. He doesn't compromise with quality and is always responsive to queries. He recommends solutions as per location as Vastu rules differ for each country. He is greatly contributing to the society with his knowledge of Vastu and dedication towards his work. Keep up the good work Sureshji and wish you success and happiness!" - Megha - Virginia - USA
I have consulted Suresh Garu during December 2014 during the process of buying a house in Texas, USA. I have occupied the house for one year now, and feel like dropping a review regarding my experience during the entire process. I am very much satisfied with the kind of service I received from him. He is very knowledgeable and I was often stunned by his detailed analysis during the course of my interaction with him. He was very much accessible over phone (perhaps more than 10 times for one house plan!) and the price is very much reasonable especially compared with the cost of the house. I noticed his burning desire to help me in making informed decisions on certain things. I have seen some people pretending to know this subject and misguiding those who come for help by saying only what we want to hear. SubhaVaastu is definitely not that one. Finally, I am strong believer of leaving certain things to experts in those subjects. I have been in US for more than 13 years and have seen people doing their own corrections (by reading website articles) trying to save few dollars. Please don't do that. You would end up in causing more damage. I highly recommend you to engage SubhaVaastu in your next project - Satish - Dallas - TX - USA
Inspirational Quotations
"As long as we require someone else to make us happy. We are slaves" - Swami Vivekananda.
---
---
"Great Personalities speak about thoughts. 'Average Person' talk about occassions. 'Narrow Minded' gossip about others." ― Eleanor Roosevelt . . . Let you question yourself, "Who You Are, either 'Great Personality', 'Average Person' or 'Narrow Minded' ?
Joke Of the Day
"A book was released and the cover name is "How to change your WIFE", and within ONE week, "25 MILLION" copies were sold. The publishers found a mistake in the title, actually, it should be "How to change your LIFE", when publishers corrected and released the new book into the market. The first month's sales were 3 copies".
Follow us on Social Media